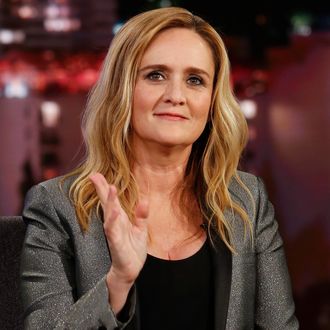 Samantha Bee.
Photo: Randy Holmes/ABC via Getty Images
Before Samantha Bee came under fire for calling Ivanka Trump a "feckless cunt" on last night's episode of Full Frontal, she was scheduled to be receive an award Monday night at the Television Academy Honors. Following the backlash over Bee's remarks, the late-night host apologized for her choice of insults, saying, "I crossed a line, and I deeply regret it," and while she still attended the Honors event, press was banned from entering. A reporter from IndieWire made it inside, however, and was able to see her speech.
"Every week I strive to show the world as I see it, unfiltered. Sometimes I should probably have a filter. I accept that. I take it seriously when I get it right and I do take responsibility when I get it wrong," Bee told the audience, according to IndieWire, before adding that she regretted the scandal had taken attention away from the issue being reported on during the segment. "Stories about 1,500 missing unaccompanied migrant children flooded the news cycle over the weekend. So last night we aired a segment on the atrocious treatment of migrant children by this administration and past administrations. Sometimes even the ones who look best in swim trunks do bad jobs with things. Our piece attracted controversy of the worst kind."
Bee continued, "We spent the day wrestling with the repercussions of one bad word, when we all should have spent the day incensed that as a nation we are wrenching children from their parents and treating people legally seeking asylum as criminals. If we are okay with that then really, who are we?" The host, who was being recognized for Full Frontal's MeToo coverage, also reportedly thanked Turner Broadcasting for strongly supporting her program. She apparently drew sustained applause and laughter when she told the crowd, "There is power in saying what you feel without apology … okay, and sometimes you also have to apologize." The White House, naturally, has condemned Bee and called for TBS to take swift action against her show.