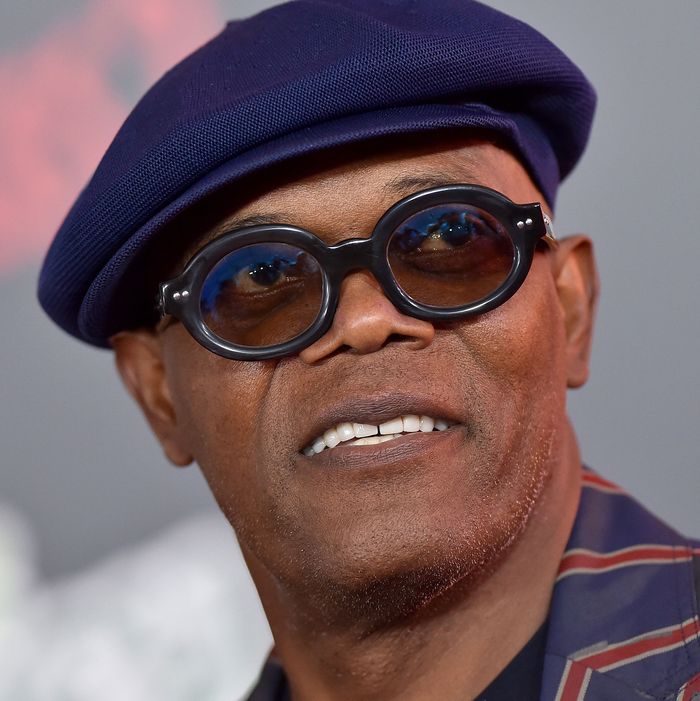 Photo: Axelle/Bauer-Griffin/FilmMagic
Samuel L. Jackson is sprawled out on a couch at the London Hotel in West Hollywood, looking content as can be. And why not? He's there to promote Incredibles 2, which most box-office watchers predict will be the biggest animated film of all time, and is soon to wrap work on the superhero spectacular Captain Marvel, where he co-stars with Brie Larson. The 69-year-old is one of Hollywood's most prolific actors, and he's got plenty on his plate right now.
Still, don't mistake his swagger for security: Even someone like Samuel L. Jackson still worries where his next job will come from. "I don't know what I'm doing after September," Jackson sighs, and that open window has weighed heavily on his mind as of late. I note that at least he's booked all summer, which doesn't sound so bad. "Well, it is for me!" Jackson protests. "I know I've got movies in the can that are coming out, but what's gonna drive me to get up every day, aside from going to the golf course?"
Fortunately, three of those upcoming movies are among the most anticipated of his career. Below, Jackson talks about Incredibles 2, the unlikely Unbreakable sequel Glass, and Captain Marvel.
Incredibles 2
Right now, Pixar is keeping Jackson busy with Incredibles 2, though Jackson long wondered if the sequel would ever come. It's been 14 years since Jackson voiced the ice-slinging Frozone in the first Incredibles film for director Brad Bird, and a lot has happened in the superhero space ever since, including ten years of the Marvel movies that Jackson frequently co-stars in. During that time, Bird would reassure Jackson that he still wanted to make Incredibles 2, though the actor can understand why it took so long.
"The first movie was perfect, and it's a daunting task to do another movie after that," said Jackson. "Not only does it need to be that good, but it needs to be just a little bit better than you're expecting to justify the fact that you did it."
Still, Jackson is no stranger to sequels. He is planning to film a follow-up to last summer's surprise success The Hitman's Bodyguard, and next year, he'll be seen in two sequels to films he made all the way back in 2000: Shaft, which resurrects his rebooted take on the iconic detective and casts him as the father for new lead Jessie T. Usher, and Glass, where he'll reprise his character from M. Night Shyamalan's Unbreakable. To return to those roles, and to give Frozone another go-round, makes Jackson feel like he's been making all the right moves in his career.
"All those things validate that you've made a character who's lasting, that it brings them joy, which is an important thing about the entertainment business," says Jackson. "As long as we're entertaining people, they'll say, 'I want to see that character again. It makes me smile.' They do what movies should do, which is help you escape the drudgery of life and enjoy the ride."
Glass
That constant drumbeat of fan interest is one of the reasons why Incredibles 2 will be so big and why Glass is being made at all. Though Unbreakable ends with the tease of a sequel, as Bruce Willis's near-invulnerable character is coaxed to be a superhero by Jackson's crafty Mr. Glass, the film didn't make enough money in 2000 to justify green-lighting another. Over the years, though, fans continued to demand an Unbreakable follow-up, and after Shyamalan snuck Willis into a tag for his horror hit Split, the director came up with a clever way to merge the two movies: The new film, Glass, is a sequel to them both, giving Unbreakable's Willis and Jackson a worthy foe to deal with in Split's James McAvoy, who suffers from a monstrous multiple-personality disorder.
"All of a sudden, my character has the thing he wanted: the heroic good guy, the bad guy, and I get to be in the middle of them," says Jackson. "It has a distinct satisfaction if you remember what his theory was all along, that there are people out here with extraordinary powers who can do extraordinary things. And it's amazing to watch James have an argument with four different characters in front of my face."
Still, Jackson had no idea the sequel was coming until he saw Split himself.
"I remember when Night called me last year to say, 'I need you to watch this movie I just made, and after you watch it, I'll tell you what I'm thinking.' So I watched Split, and at the end of it, we get Bruce in the café and the woman talks to him about Mr. Glass." Jackson gasps in surprise, recalling the moment. "I was like, 'So are we gonna make this movie?' And Night says, 'Well, it depends on the opening weekend.'" Days later, Split shocked the industry with a $40 million first weekend, and its total gross of $108 million was Shyamalan's biggest in almost 20 years. Jackson would finally get his sequel.
Captain Marvel
Avengers: Infinity War ends with a mid-credits tag that features Jackson and teases Captain Marvel, but the actor claims that bit came together awfully late. For over a year, Jackson told the press that Fury wouldn't appear in the movie, but in that cameo, Fury is turned to dust by the power of the movie's population-halving apocalypse, surviving just long enough to send a message to Brie Larson's Captain Marvel via an intergalactic beeper.
"I had no idea, it came out of the blue," says Jackson, who was asked to film the tag while making Captain Marvel in Atlanta. He claims he didn't even realize how Fury would perish until he saw the finished film, though Jackson suspects he knows how it will all be resolved in the next Avengers sequel: "Who's really dead, and who's really in the flaky wind of Marvel dust, I don't know, but I do know there's a solution that they didn't even have to tell me, just because I know who Captain Marvel is and what all that means."
And who is Captain Marvel? On the comic-book page, she's a former pilot named Carol Danvers who gains superpowers that dwarf nearly any other hero's, and on the big screen, she'll be played by Oscar winner Brie Larson. Before Captain Marvel joins the decimated Avengers group next summer, she'll first be seen alongside Jackson in a stand-alone movie, due out March 8. The 1990s-set film lets Jackson play a younger version of Fury and gives Marvel its first movie with a woman as the lead.
Jackson and Larson first worked together and became friendly on Kong: Skull Island, and he's trying to add a veteran's counterbalance to her big moment. "She's taken this responsibility very seriously: 'I've got to represent not just me, Brie as an actress, but every woman on the planet as a strong woman. This character means so much to the franchise!' And it's like, breathe. Just breathe," says Jackson. "You are who you are and they hired you for a reason, so just do you."
Still, he's excited by Larson's level of commitment. "She wants it to be a special film, she wants it to represent women, she wants it to be a film that has heart and depth," he says. "Brie grabs information from everywhere: Who was the first female pilot? What were her struggles? She wants to make sure all of that is embodied in the character to give it the justice of the woman's struggle, to follow her from where she was to becoming this great force, because she's the most powerful character in the Marvel universe."
And in addition to that, Larson is a potential source of jobs. When the actress recently made her directorial debut on the film Unicorn Store, Jackson hit her up to ask for a role: "She was trying to find another actor, and I said, 'Why are you chasing him when you've got me right here?' She said, 'You would actually do my movie?' And it's like, yeah!" Jackson scoffs, as though his participation is the most obvious thing in the world. If you're a director with a September project, you'd best get dialing.