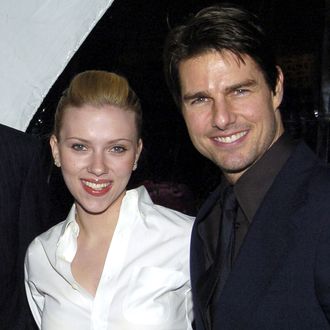 Scarlett Johansson and Tom Cruise.
Photo: Jeff Kravitz/FilmMagic
Scarlett Johansson is not here for your assumptions about her love life. Especially ones that aren't "She can date literally whoever she wants because she's Scarlett friggin Johansson." On Wednesday's episode of Megyn Kelly Today on NBC, former Scientologist Brendan Tighe recounted a story of how he accidentally saw some reports of women who had auditioned to date Tom Cruise when it was sent to his printer by mistake. At the time, Tighe was a member of Cruise's Scientology security unit, and he said he remembered Johansson from the reports because hers was the only name he recognized.
However, Johansson is having none of it, and issued a statement to The Hollywood Reporter shutting this whole thing down, "The very idea of any person auditioning to be in a relationship is so demeaning. I refuse for anyone to spread the idea that I lack the integrity to choose my own relationships. Only a man aka Brendan Tighe would come up with a crazy story like that." Ouch. To be fair, Tighe did say he saw that another actress, Erika Christensen, was required to "disconnect" from Johansson when the audition "didn't go well." Clearly.