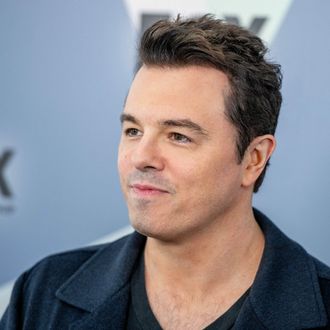 Seth MacFarlane.
Photo: Roy Rochlin/Getty Images
Seth MacFarlane created Family Guy, American Dad!, The Cleveland Show, and The Orville for Fox, but, if his tweets are any indication, his connection to the network has only been negatively affected by its ownership of Fox News. On Saturday, CNN's Brian Stelter tweeted about Tucker Carlson's Friday night broadcast, in which the Fox News host urged his audience not to trust other networks. Retweeting the comment, MacFarlane expressed his dismay that the news branch of Fox would encourage their audience to "blindly obey."
Said the Ted 2 director, "This is fringe shit, and it's business like this that makes me embarrassed to work for this company." In his comments, Tucker Carlson reportedly told viewers to "always assume the opposite of whatever they're telling you on the big news stations."As the Hill points out, Fox News shows consistently rate number one among cable-news programming.