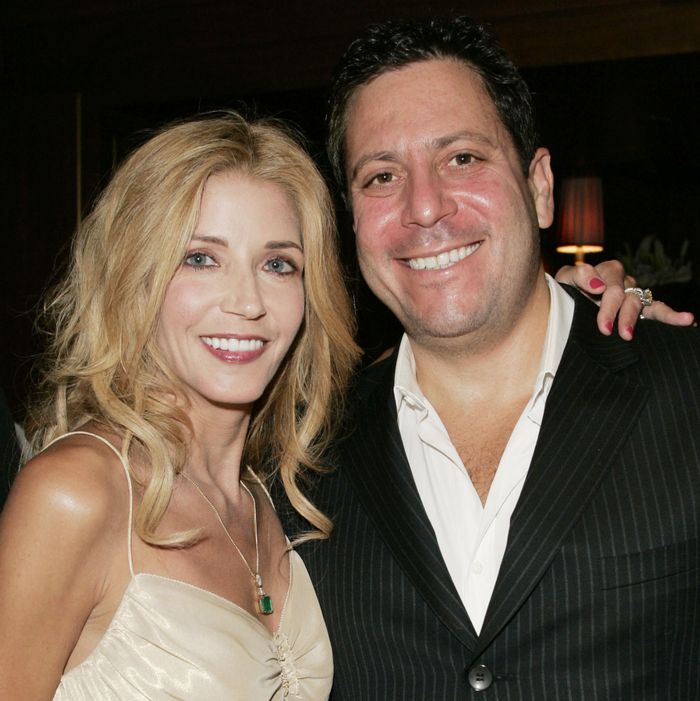 Candace Bushnell and Darren Star.
Photo: Donato Sardella/WireImage
The following is an excerpt from Sex and the City and Us by Jennifer Keishin Armstrong, out this week.
Just before the birth of the "Sex and the City" column, Bushnell had gone on an assignment that would change her life—and, even more, the life of her column. In fact, without this one routine assignment, the Sex and the City we know would never have come to pass.
Vogue had asked Bushnell to write a profile of Darren Star, a TV producer who had worked with Aaron Spelling to create Beverly Hills, 90210 and Melrose Place. Star had a new show on CBS, Central Park West, that transplanted his flashy, soapy approach to New York City, with Mariel Hemingway as a glamorous magazine editor and Lauren Hutton as her boss's suspicious wife. Star was branching out on his own without Spelling, and the critics would be watching to see if Star was the real deal.
In the September 1995 piece, Bushnell follows Star—dressed "California-style" in a black Armani jacket and jeans—on a late-night visit to an S&M club called Vault, which he's scouting for Central Park West. Star couldn't have known at the time that it was the effect of this profile, not the show he was producing, that would resonate decades later.
Soon after the two met for the piece, Star moved to Manhattan, and Bushnell swept him into her orbit to show him around the area—for Central Park West research, of course. He had never met anyone more fun. She personified all the clichés: "A force of nature," he says. "She opened a lot of doors." She took him to clubs, and of course to Bowery Bar. They commemorated their friendship in ultimate Hollywood fashion: Bushnell would take the first half of her column pseudonym from Star's nightlife columnist character on Central Park West, Carrie Fairchild, played by Mädchen Amick.
Star—a handsome gay man with brown, spiky hair—connected with Bushnell as a fellow suburban kid made good. He spent his childhood in Potomac, Maryland, a middle- to upper-class DC suburb full of politicians, ambassadors, and their families. Young Darren took film classes in high school and hoped to work in the movie industry as a writer and director. He used his bar mitzvah money to get himself a subscription to the show business trade publication Variety. While other kids partied or played sports, he made his own movies with his Super 8 camera. After graduating high school, he moved to California to study writing and film at UCLA, from which he graduated in 1983. Degree in hand, he took the classic first step toward a Hollywood career: He became a waiter.
He soon, however, got his first industry job. Star was working as a publicist for Showtime when he sold his first screenplay to Warner Bros. at age twenty-four. Doin' Time on Planet Earth, a comedy about a teenager in Arizona who comes to believe he's an alien prince, premiered in 1988, directed by Charles Matthau. It made little critical or commercial impact, but it helped launch Star's career. He could now quit his job to write screenplays full-time. His next project would be If Looks Could Kill, with 21 Jump Street's Richard Grieco as a high school French student who's pulled into an international spy ring on a class trip.
As Star awaited that film's release, he fulfilled a lifelong dream by moving from Los Angeles to New York City, a place whose glamour he had long admired from afar. But soon after, he got a call from Paul Stupin, a movie executive who'd just taken a job as head of drama at the new Fox television network. Stupin asked if Star would write a high school show, given his teen-oriented script experience. Stupin hoped to pair him with the much older producer Aaron Spelling (a golden TV touch who'd created 1970s hits The Love Boat and Charlie's Angels) to create a high school series. Star thought he'd be crazy to turn down the chance to work with such a legend, which seemed like the perfect way to kill time while he waited for If Looks Could Kill to come out. So at age twenty-eight, he moved right back to Los Angeles to make a show with Spelling.
The gamble paid off. Together, Spelling and Star created a series called Beverly Hills, 90210, which followed the melodramatic lives of a group of wealthy Los Angeles teenagers. With the money Star made on the pilot, he paid cash for a Porsche.
The show premiered in October 1990 to unimpressive ratings, but Fox executives decided to air the second season in the summer, when there was minimal competition for audiences. The strategy worked. Teenagers home from school for the season fell for it by the millions in July 1991. But good fortune brought with it a heavy burden: 90210's second season would be unusually long, twenty-eight episodes instead of a standard twenty-two. Not about to fix what wasn't broken, Fox ordered thirty the following year and thirty-two each for the next five years. This made for an insane production schedule; the 90210 staff had almost no hiatuses to break up long seasons of twelve-hour workdays.
Amid all of this, Star's movie, If Looks Could Kill, came out in March 1991 to disappointing box office returns and reviews. In a typical review for the film, the Washington Post called it "insipid, tiresome, and full of gross kids." But by now Star had little time to notice.
90210 became what remains the most iconic series of the teen drama genre by dealing with timely issues (date rape, drug abuse, suicide, and many others) as well as teen sex and angst-filled relationships. But Star wasn't content to stop there. For the 1992 television season, Star created another show for Fox, the young-adult drama Melrose Place, which featured even more unapologetic sex and sensational plot lines about twentysomethings. Fox once again followed its supersized 90210 strategy and ordered thirty-two episodes of Melrose each of its first three years.
In short, Star spent the early 1990s becoming rich and successful, and working too hard to notice. The ratings numbers told him millions watched, but he rarely got the chance to see his shows' popularity on the outside, beyond the Fox lot. Because he was in his early thirties, this streak hit at the perfect time in his life; he had energy and ambition to burn, with few other responsibilities to distract him. He'd look back on it later in life and wonder how he did it.
Bolstered by his success, he moved again to New York, this time to make a show about the city: Central Park West. He and his golden retriever, Judy Jetson, settled into a three-floor apartment owned by model-turned-restaurateur Eric Petterson.
Finally living in his dream city, Star took lunches and breakfasts at 44, a restaurant known for its publishing-industry clientele, so he could get a better feel for the magazine world he planned to depict on his new series. He went to charity benefits and book parties for further research.
After meeting Candace Bushnell for that 1995 article, he had more material than he ever dreamed possible. As he hung out with Bushnell, he got to know her friends, including her paramour, Ron Galotti—a.k.a. Mr. Big. He loved to read about them in Bushnell's new column. He admired how she mixed journalism and her own personal stories. He respected the way she exposed herself, writing about her "crazy experiences," as he says, for the world to see. He told Bushnell that he wanted to be the one to option the column. He thought it might make a great follow-up project to Central Park West someday. This seemed like the answer to Bushnell's quandary as well. She couldn't decide whom to give it to—ABC, HBO, or a movie company. A broadcast network like ABC seemed so sanitary. HBO seemed so niche and male-centric, with its signature boxing matches and standup comedy specials. She had no idea what a movie company might do with her work.
But Star was her buddy. Star had witnessed the column's happenings and met the people featured in it. With Star involved, she'd be able to follow how the project was proceeding.
After all of the mid-Rollerblading courtship and Media Beach cajoling she had been through, she decided this was the answer. Reports put the price at a mere $60,000; she'll only say it was "a little bit more." "I wasn't in a position [to negotiate much]," she says. "It was my first thing." Mediaweek reported the acquisition, quoting Star as saying Bushnell had "a unique voice that is ready to be captured and put on film." He described her as "irreverent, vulgar, funny …
a '90s Dorothy Parker." He didn't know yet how he'd adapt the "Sex and the City" columns, which he thought were "great social satire, but too rarefied" for television. He later told the New York Times, "Only 500 people in New York know or care about that world. I needed to make it more accessible."
But that was for later. For now, he took pride in the work he was doing for CBS on Central Park West. He had long wanted to make a glamorous show set in New York City. At the time, TV's main vision of New York came via the grit of Law & Order. Star aimed to bring the posh world of New York media, of glossy magazines like Vanity Fair, to television audiences. He wanted viewers to have a taste of the life he'd discovered there: producing Central Park West by day, clubbing and dining with Bushnell at night.
New York City itself had entered a time of transition with the election of Rudy Giuliani as mayor in 1994. It was no longer the crime-ridden New York of the 1980s, not yet the theme park New York of the 2000s. Shifts in public life foretold the city's future: A smoking ban in restaurants. An Old Navy discount chain store in the hip gay haven of Chelsea.
Neighborhoods were transforming faster than many residents could stand. Bowery Bar, Bushnell's preferred hangout, battled neighborhood residents who wanted the establishment to operate under a restrictive special permit. They worried Bowery Bar would set a precedent for similar clubs, which, according to reports, "could change NoHo from a refuge for artists and light manufacturing to a trendy neighborhood flooded with late-night revelers." The Meatpacking District was shaking off its slaughterhouse past to become a nightlife hot spot as well. A waiter at the neighborhood's fashionable new restaurant Florent told the New York Times its customers ran the gamut, from old New Yorkers to young hipsters: "Everyone and everything, butchers, drag queens, club kids, weddings." Many longtime New Yorkers rolled their eyes at these developments—signs, they said, that New York was over.
But the changes also indicated a shift toward a Manhattan that was more inviting to the rest of the country—that is, the majority of television viewers.
Darren Star invited columnist Candace Bushnell, author Bret Easton Ellis, and publisher Ron Galotti to his apartment on the evening of September 13, 1995, to watch a little television. The first episode of Star's Central Park West was airing on CBS, and they would witness it as a group at Star's posh rental near Union Square. They watched as a sultry Latin beat and crooning saxophones played over the opening credits. Mariel Hemingway, Lauren Hutton, and Michael Michele looked seductive in black-and-white images while "Created by Darren Star" flashed across the screen, signifying his first solo TV effort without Spelling.
By the time the end credits rolled, Bushnell wasn't blown away by Central Park West, though she saw its potential. Like all of Star's work, it was fun and glamorous. But, she says, it "missed the New Yorkiness."
He had her to help him get a better feel for true New Yorkiness, but, as it turned out, not in time to save this series. CBS had just gotten a new president, Les Moonves, who would take the network from last place to first in the ratings—unfortunately for Star, Moonves did this by focusing on CBS's core audience, older viewers. They were hardly the target for Central Park West, nor Star's specialty. Central Park West lasted thirteen episodes before the network stopped production, tried to retool it, and then dumped the remaining episodes onto the schedule the following summer. Central Park West closed down for good.
Star was disappointed that his first show about New York City, and his first show without Aaron Spelling, had failed. The experience had also tried Star's patience with big network shows that were subject to intense scrutiny, meddlesome executives, and constant pressure to produce bigger ratings. So that summer, as the remaining episodes of Central Park West aired, he started to think about how, specifically, to adapt Bushnell's columns as an independent film. Done correctly, he thought, they could make for a great, honest movie about sex and relationships from a female perspective, with a New York sensibility. Perhaps this, instead, could be his ticket to a respectable solo career.
He liked the idea of returning to film. Though he had tried to push boundaries on 90210 and Melrose, TV overall remained, as he says, "this anachronistic space" where characters spoke in euphemisms, sex was vaguely alluded to, gay characters were rare and chaste, and nobody used dirty language. He wanted nothing to do with it anymore. Central Park West had broken him. Sex and the City could show the world he could make it without Spelling, and do so in the more prestigious world of film.
Forces began to align toward Sex and the City's Hollywood moment with Star's entry into the equation. But momentum pushed him back in the television direction. ABC's Tarses and HBO both remained the show's most enthusiastic suitors, and they could still give Star's version of the series a TV home. Plus, Star's name had more pull in the world of TV. Over the summer of 1996, as Bushnell and Star Hamptons-hopped, they debated where they'd like the series to end up. Star wondered if a show could even be called Sex and the City on a major broadcast network like ABC. He didn't know what Tarses wanted or why she wanted it, but taming the material for broadcast rules made him nervous. He didn't want another Central Park West experience. HBO, on the other hand, seemed so New York; it was based there and would be more likely to produce the show there. Star loved his place in Manhattan and didn't want to give it up. He also admired the one show he knew from HBO, The Larry Sanders Show.
In his meetings with HBO, Star explained to vice president of original programming Carolyn Strauss that he saw Sex and the City as a modern, R-rated version of The Mary Tyler Moore Show—a series about sex and relationships from a female point of view.
This intrigued Strauss. She'd read Bushnell's columns and was interested based on those alone—she thought Bushnell's world would be, as she says, "a fun place to hang out" for television viewers. Strauss liked the female-centric approach, too, even though, as a gay woman, she didn't relate to Bushnell and her man-crazy friends.
In Star's meetings with ABC, Tarses tried to argue that her network could realize Star's vision for the series—and, yes, the network would call the show Sex and the City. But she understood HBO's advantage when it came to unfiltered content. In the end, Star gave it to HBO. Its reach couldn't match ABC's, but at this point in his career, he longed for freedom more than commercial success. In fact, he specifically did not want commercial success. He wanted to make something special that he could be proud of.
Tarses had lost, and she understood why. Her tenure at ABC would last two more years, with a few middling new hits like Dharma & Greg, the critically adored and barely watched Sports Night, and a fizzled Fantasy Island remake. From there, she went into the production side of television, where she could create the shows she liked best; her credits would include acclaimed singles-focused comedies My Boys and Happy Endings. She wouldn't have to spend any more time in uphill battles to compete with permissive cable networks for great shows.
Bushnell was happy with Star's choice of HBO, which would, in fact, keep the production entirely local—with less chance of screwing up Sex and the City's inherent New Yorkiness.
As HBO's victory over ABC in the battle for Sex and the City demonstrated, the cable channel's new philosophy, while it more aggressively pursued original programming, was impossible for broadcast networks to counter: HBO executives would search for series that met their own quality standards, thus ensuring that artistic merits came first. In evaluating a show, they asked whether it was good and whether it would get attention—not whether everyone in America would watch. Broadcast networks, which run on advertising dollars, had never cared about quality as much as they cared about ratings. They couldn't, if they wanted to survive. Their business model had to prioritize commerce over art. HBO, as a channel viewers paid a premium for, didn't have to worry as long as viewers paid. This resulted in the channel buying not only Sex and the City but also The Sopranos and Six Feet Under, and later Game of Thrones and Westworld—playing a leading role in what we would eventually call the Golden Age of Television.