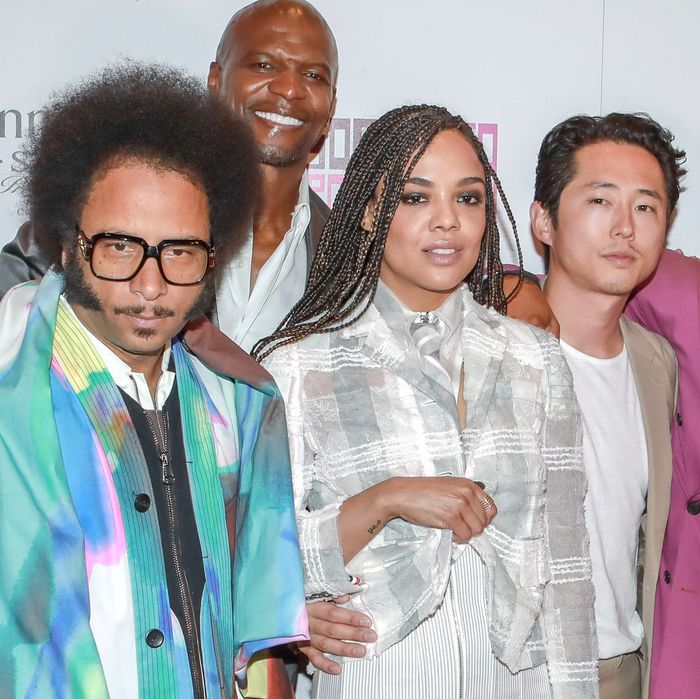 Photo: Gonzalo Marroquin/Patrick McMullan via Getty Image
Sorry to Bother You is Boots Riley's dreamy leftist opus, a satire of America, capitalism, and race. It's also a movie unabashedly in support of labor unions: Cassius "Cash" Greene (Lakeith Stanfield) takes a job at a telemarketing company right as there's some organizing afoot. Squeeze (Steven Yeun) and Cash's girlfriend Detroit (Tessa Thompson) are rebels and revolutionaries who believe in the power of numbers. Cash is pro-union, too — until he gets a promotion and becomes a code-switching "Power Caller."
At BAMcinemaFest's opening night screening of the film, Vulture caught up with all the actors to ask how they got a spot in their own union, the Screen Actors Guild. "I grew up in a pro-union town, Flint, Michigan. A lot of times, that's the only way we can get protection," Terry Crews told Vulture. "There's power in numbers. We have to protect each other, we have to stand for each other. Sometimes unions get a bad rap, there's always power in the people." See the rest of the cast's answers below.
Lakeith Stanfield
"Short Term 12. I was very excited. It was a work-permitter. It felt like a graduation, a stamp of approval that I could finally really do this thing. My dad got my original SAG card framed!"
Omari Hardwick
"I'd done a lot of extra work on In The House. That was Maia Campbell's show, produced by Debbie Allen, and LL Cool J was in it. I think I became a featured extra. I got the qualifications to become SAG then, but I chose not to become a SAG member at that point! I felt like I could go to USC or UCLA and do student films, and you couldn't do those films if you had your SAG card. I was so about the craft, I was like, 'Nah, I need to be able to do films from the up-and-coming directors still in college.' I qualified on In The House, but my first SAG job was Sucker Free City, which Spike Lee directed."
Tessa Thompson
"This is a cool shout-out to the union. I was not a child actor, but I did two commercials just by happenstance — my dad just knew the casting director. I didn't act again, but when I was in my early 20s, I auditioned for a guest-starring role on Cold Case, and I got it. I was super broke, I had eight jobs. I was working at a Chinese restaurant, I was bar mitzvah dancing, and I couldn't afford to join the union right away. I wrote them a letter about how I'd been in the union as a kid, how I hadn't officially left but my dues had lapsed, and now I was really trying without support to pursue acting exclusively. I asked if there was anything they could do. All I did was pay my reinstatement fee, which at the time was like $70, and I got to join the union and do that episode of Cold Case. That was my first job, and it started my career."
Jermaine Fowler
"The Eric Andre Show! Dude, I was living in Bushwick, Brooklyn. I was at my friend William's house — he's my neighbor — and I was like, 'Yo, man, I gotta do this Eric Andre Show, but they're making me pay $1,000 to join SAG. I don't have a thousand fucking dollars, man!' He was like, 'Yo, you gotta find a way to do it. You've gotta do that show.' I found a way, got the money, I showed up, did the show. It was something I will never regret doing. It was such a good first TV show to do. Everyone should invest in themselves."
Armie Hammer
"I'm not sure what the movie ended up being called, or if it ever even got released. I think it was called either Laura Smiles or Laura's Smile. I played a waiter, and they cut my head off from about chest up, and you only see me walk up with an apron and say, 'Hey, do you guys need anything else?' And that's all I said! But because I actually said something, they had to give me a SAG card."
Terry Crews
"I got Taft-Hartley'd in. It was wild. The director just wanted me, and I got an off-chance audition, and out of the all the SAG actors — I wasn't SAG — and he was like, 'We're gonna put him in.' I was in from there. After that it was a wrap! I've been a part of the union ever since."
Steven Yeun
"I think I got it for a Milky Way commercial in 2009. I just jumped in a pool of a caramel and swam in it."
Sorry to Bother You opens July 6.