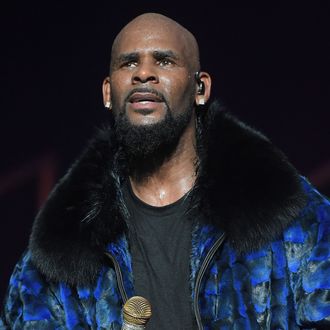 R. Kelly in 2016.
Photo: Prince Williams/WireImage
Earlier this month, Spotify said it would be removing R. Kelly and XXXTentacion — who both have a variety of abuse accusations swirling around them — from its curated playlists due to a newly implemented policy around "hate content and hateful content." Their music would remain on the streaming service, but the company would no longer promote it. Some artists started threatening to pull their music if Spotify upheld the new rules, and today the company has officially said it will "move away" from the short-lived code of conduct. In a new statement, the streamer addressed the concern of some artists that "mistakes made in their youth would be used against them," and said the following:
That's not what Spotify is about. We don't aim to play judge and jury. We aim to connect artists and fans – and Spotify playlists are a big part of how we do that. Our playlist editors are deeply rooted in their respective cultures, and their decisions focus on what music will positively resonate with their listeners. That can vary greatly from culture to culture, and playlist to playlist. Across all genres, our role is not to regulate artists. Therefore, we are moving away from implementing a policy around artist conduct.
The backtrack comes a day after Spotify CEO Daniel Ek admitted, "We rolled this out wrong and could have done a much better job," saying it was intended to prevent hate speech but was deemed "too ambiguous and open to interpretation." The new statement does, however, say that Spotify will continue to remove music from its service that qualifies as hate speech, meaning its "principal purpose is to incite hatred or violence against people because of their race, religion, disability, gender identity, or sexual orientation." XXXTentacion will be returned to playlist circulation, but the company currently has no plans to promote R. Kelly.