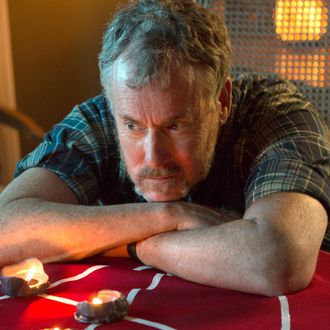 John C. McGinley in
Stan Against Evil.
Photo: IFC
IFC has revealed the guest stars and premiere date for the third season of Dana Gould's Stan Against Evil. Renewed back in January, the John C. McGinley and Janet Varney–starring series will return in October, and in addition to repeat appearances from Deborah Baker Jr., Nate Mooney, and David Koechner, season three will include the following newcomers:
Scott Adsit (Big Hero 6, 30 Rock) as Bill, an apathetic demon-plumber who becomes intertwined with the Miller household.




Maria Bamford (Lady Dynamite, Arrested Development) as Nurse Pickles, a stern, no-nonsense nurse who may not be as helpful as she seems.




Matt Braunger (Agent Carter, Up All Night) as Dr. Barlow, an earnest, academic-type surgeon at the local hospital.




Christopher Mintz-Plasse (Superbad, Neighbors) as Zach, a character in a popular fictional vampire show who makes a connection with Stan's daughter Denise. 




Eddie Pepitone (Old School, The Muppets) as Lenny, a balding, middle-aged townie who, in a prior life, dressed up as a gorilla for local birthday parties.
Season three debuts on IFC Halloween night at 10 p.m.