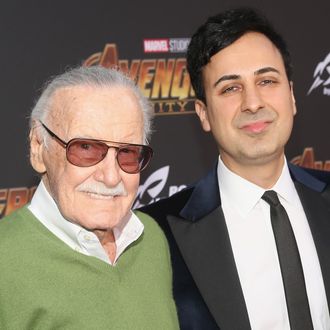 Stan Lee and Keya Morgan in April 2018.
Photo: Jesse Grant/Getty Images for Disney
In a grim set of developments, the man Stan Lee described as the primary manager of his affairs and business has been hit with a restraining order by Lee, and is now being investigated for elder abuse. Keya Morgan was one of the primary figures in The Hollywood Reporter's investigative piece from earlier this year about the dark, messy battle for Lee's estate that has allegedly been roiling among family members and associates.
In a recent Twitter post, Lee was clear about his connection to Morgan, saying "My only partner and business manager is @KeyaMorgan, not all the other people making false claims." A few days after that, Morgan was arrested on suspicion of filing a false police report, and released on $20,000 bail. Then this afternoon, Lee filed for the restraining order, which was granted on a temporary basis. (A request for a permanent order will be decided in court on July 6.) News of the Los Angeles Police Department investigation into Morgan's alleged elder abuse came after that order went through, according to THR.