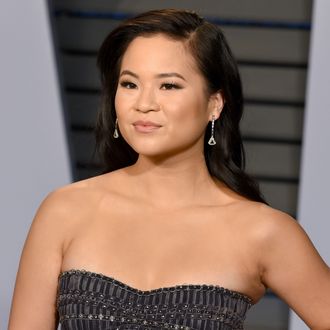 Kelly Marie Tran.
Photo: Presley Ann/Patrick McMullan via Getty Image
Kelly Marie Tran, a human ultralight beam and star of The Last Jedi, has wiped all the photos off of her Instagram account. The Twitter account Star Wars Facts is attributing the decision to a stream of harassment she's received. Her page is still active — and still has "Afraid, but doing it anyway" written in the bio — but all of the posts are gone. Tran has not commented yet on the decision to delete her photos, but Last Jedi director Rian Johnson posted a tweet this afternoon referencing his experiences with Star Wars fans on social media.
Outside of Instagram, the Rose Tico page on Wookiepedia had to be locked down after the peer-editing tool was used to add racist language. Tran, who has spoken passionately about being a role model for girls like her who have never seen themselves reflected in Star Wars, said in an Instagram caption from last year that, "Guys, can I tell you a secret? I avoided public social media for a long time purely because I was afraid. I was terrified of being picked apart, of being scrutinized, of being seen." You can read the complete text about self-acceptance on E!, since a campaign of harassment and cruelty has apparently caused Tran to delete the primary source. Fellow Star Wars heroine Daisy Ridley fully erased her Instagram account two years ago, saying it was too toxic for her to be a part of.