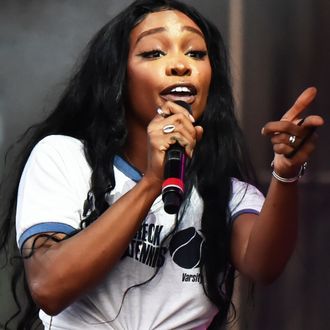 SZA.
Photo: Kevin Mazur/Getty Images for Firefly
After taking time off from her tour to rest her swollen vocal cords, SZA tweeted that last month that her voice was permanently damaged. But now, things are looking up! In tweets posted Sunday night, the singer updated her fans, assuring them that her voice is on the road to recovery. "Thank u to the incredible team of doctors and vocal technicians that have taken time to see me over the last few weeks in every city," SZA tweeted Sunday night. "I'm blessed to say my voice is not permanently damaged and I've been working daily to get back." She also thanked her fans for their prayers.
In May, SZA announced that her vocal cords were "permanently injured" and that her "priorities are fucked up." She later deleted the tweets.