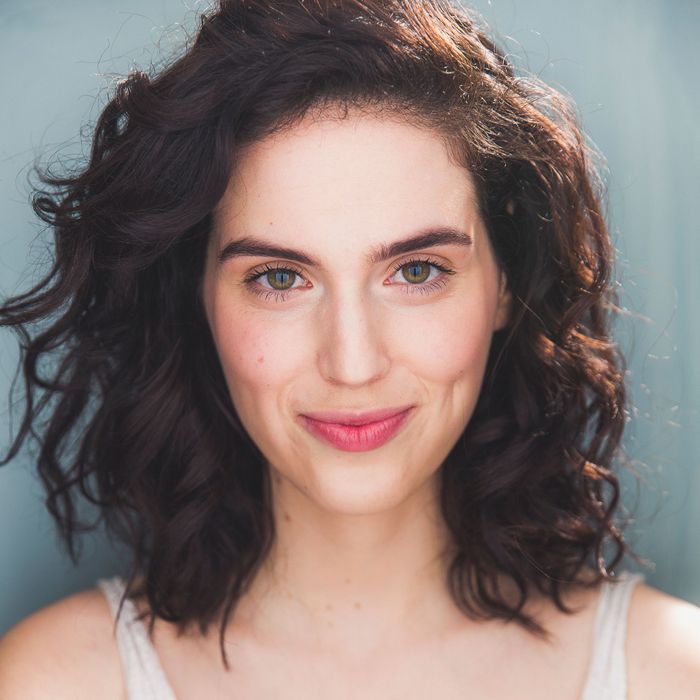 Photo: David Noles Photography/Courtesy of Eva Victor
Eva Victor (@evaandheriud) is a Brooklyn-based actor, writer, and comedian originally from San Francisco. She is an associate editor and staff writer at Reductress and an actor with the Story Pirates. She can be seen hosting the monthly Reductress show Haha Wow! at UCB Hell's Kitchen and eating a very toasted everything bagel!
This week, Victor talked with me about some of her favorite jokes and what it's like writing for Reductress. You might recognize her work — she's written some of site's most popular articles, like this one and this one!
I was walking home once and saw this man gently peeling off the tinfoil on a burrito with the most care … as if he was unwrapping the greatest gift he'd ever received … I thought, "Ohhhhhhhhh, that's what I'm looking for." Shout-out to that dude, I guess!
Are the tweets that refer yourself true or fictional?
They're truth, oh gosh, they are so true. I am a gross girl! Sometimes I tweet stuff and then I'm like, "Eva pull back," because it's so disgusting and personal. I talk about past relationships and my bodily functions and I can't help but think, in the end, all I want is someone to say "Please stop."
People sometimes tell me I scare them (maybe it's because I'm five-foot-eleven or maybe it's because I'm a coldhearted bitch) but the truth is I'm actually here to make friends!? But also if you wrong me, it's over. Haha, help!
Are there any topics that feel off-limits to you?
When it comes to experiences that aren't mine, I try to shut up and listen. I'm a sexual-assault survivor, so that experience has informed who I am and what I care about. I can speak to it in a nuanced way, while there are obviously topics that I won't understand firsthand. The news can be really triggering and can make me really emotional, but I feel very moved to speak out about my experience in the hopes it helps someone feel less alone or scares some bad man somewhere. Talking about my assault is so personal and emotionally draining, but other women's experiences and support got me through my darkest times. TO CONCLUDE, I LOVE WOMEN!! GOOD NIGHT!!
Ah, to stand in the clit of Park Slope. A true honor, thank you New York! I wrote this because I want every person to know if they're getting this type of feedback consistently, they're truly out of touch and could stand to listen a little better! Aren't I fun?
How can you tell if an idea is better as a tweet or as a Reductress headline?
A lottttt of my tweets are rejected headlines … shh … But in general if it's long-winded and confusing, it belongs nowhere, but I will tweet it anyway.
When I'm coming up with Reductress headlines, I usually go about it one of two ways. I either think back on my week and ask myself "Who wronged me this week?" which is actually insane but true (usually it's men doing weird shit). I try to reflect on what happened to me by saying, "Oh, this is a behavior that I recognize!" (i.e. a man being flaky or trying to make me laugh or some other kind of nightmare). I sort of have blind faith that my life resembles other people's.
The other way I pitch is looking at women's magazines since Reductress is a satirical version of those. This is where I get my celeb news (yes, it's news, hmu if you're still eating cookies to deal with the Tatum-Dewan split) and my fashion news (need help, I have one bra). I also get a lot of ideas on the subway because it's the only time I'm with more than five people.
How did you start doing comedy? What comedy do you do in addition to Reductress?
I did improv and sketch at Northwestern and at a theater in Chicago. I started doing improv because I was bad at singing. That's true! Ask my mom or literally anyone! Now, I do stand-up and characters. It's fun, and I love it. Sorry, it's fun, okay?!! I also host a show at Union Hall with Natalie Rotter-Laitman, and Haha Wow! at UCB with Taylor Garron. My girls!
I wrote this piece for the cool website I work for and Christy Carlson Romano responded (and not to brag, followed me) and the truth is, my 13-year-old self is still reeling. Hands down my first smile of 2018. I want Christy Carlson Romano to yell at me until the day I die! Sorry, that's just the truth!
Whose work are you inspired by, comedy or otherwise?
I was actually just asked this question by someone else and I literally showed them your New Yorker page, Karen … I said, "Read this! It's good, okay!!"
Oh my gosh, I'm so flattered! I think it'll be weird if I include that, though.
Omg PLEASE DO! I'll be mad if you don't!!!
(Eva won this argument.)
Who else do you like? Are there any articles or shows you enjoy in particular?
Nicole Silverberg is my smartest friend and I look up to everything she writes/does. This helped me during a sad time. And read this!
When it comes to TV shows, I want to say Grey's Anatomy (shoutout to my Grey's Facebook group, my home away from home), Insecure (shoutout to this show for helping me through a sad breakup), Killing Eve (shoutout to BBC for keeping me guessing), and finally, The Bachelorette (shoutout to contestant David who, in a surprising twist, "fell out of bed and landed on his face"). I LOVE TV!!!!!
Karen Chee is a Brooklyn-based comedian who writes for The New Yorker, McSweeney's, and Shondaland, among other cool websites.