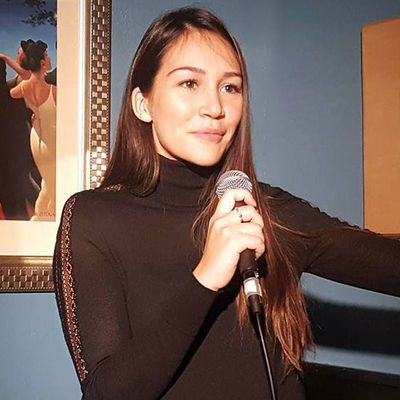 Photo: Matthew Lynn/Courtesy of Sara Wren
Sara Wren (@sarawrencomedy) is a Canadian stand-up comedian based in Toronto. Having only started performing last fall, she has already been on stages across the U.S. such as Gotham Comedy Club in New York and Laughing Skull Comedy Lounge in Atlanta. Next week she embarks on her second U.S. tour, starting with a Weekend Showcase at Flappers Comedy Club in L.A., Friday June 29.
This week, Wren talked with me about using Twitter as a writing exercise and using it as a platform to test (and delete!) new material.
Ninety-nine percent of my tweets never reach a stage. I use Twitter as a creative writing exercise and try to post a joke daily just to get the juices flowing. I really like the challenge of only using a few characters to convey a message.
Who's your target audience on Twitter?
I have absolutely no clue. I imagine it would be someone who doesn't take my stuff too seriously. I teeter between poking fun at serious topics and telling straight-up silly jokes. I don't take myself very seriously, and I think to understand my tweets you'd need to get that too. It wouldn't be anyone who doesn't like dirty or dark humor. Oh! Also, I don't do political.
How have your tweets changed over time, if at all?
I've had my account for a long time, but I didn't start actively tweeting until about a year ago. When I think back to my earlier tweets they were all one-liners and I didn't put any thought into it. Now, I actually spend more time crafting some of my tweets, which I know sounds ridiculous, but it's become a fun hobby. If a funny thought pops into my head I'll draft it and save it for later when I have time to actually reword it. I'll also create scenarios, set scenes, have a dialogue, and tell a bit of a story, whereas before I never did any of that. It's still a lot of my random thoughts though.
There are some jokes that only translate well if read on Twitter. Setting a scene or doing an action is completely different online versus a stand-up set onstage. Online I can have a pretend doctor boyfriend who I fight with … or a marine biologist husband in the next post, and people are still onboard with it.
How would you describe your voice on Twitter?
Oof, this is such a hard question! I don't think I have a "brand" per se. I guess I try to share as much of my personality as I can on Twitter. I like to think I'm a confident and self-aware woman who doesn't shy away from unconventional topics. It's definitely not PG, it's not clean. A lot of my POV on Twitter is me saying something unexpected or uncouth. I do have a personal agenda; I'd like to get to the point where me talking about certain topics isn't as jarring, and equally entertaining coming from a woman. I'll sprinkle in some self-deprecating tweets, but for the most part there is a strong theme of sexual acceptance and uplifting women.
I often don't make self-deprecating jokes because it's not my "brand," but as my close friends and family know, I make fun of myself TONS. It's one of the most relatable things I think you can do.
How did you first get into comedy?
It's something I always wanted to do, but I didn't think I was funny enough. My first step into comedy wasn't on a stage though. I used to stream online using Periscope and tell jokes weekly. In combination with tweeting, that is what gave me the confidence to finally go to an open mic. I was WAY overdressed, had never used a mic before, and performed in the back of a sports bar to three comedians. No one laughed. For some odd reason … I was hooked! The adrenaline rush of performing something you wrote and rehearsed yourself was exhilarating. I miss streaming and I hope to start doing it again, or a podcast once I have a more routine schedule!
Do you ever delete tweets? If so, why?
All. The. Frickin' time! Sometimes it's too dark but I try to get away with it. I will actually see my followers drop significantly if I post something that was a little too heavy. Usually I don't care — I understand there are boundaries I cannot cross … yet. I'll admit if I post a joke I wasn't too excited about and see it's not performing well I'll delete it too. People may say they don't care about the numbers, but we all do to some extent. Especially if you are in comedy — it's an extension of you in a way.
Karen Chee is a Brooklyn-based comedian who writes for The New Yorker, McSweeney's, and Shondaland, among other cool websites.