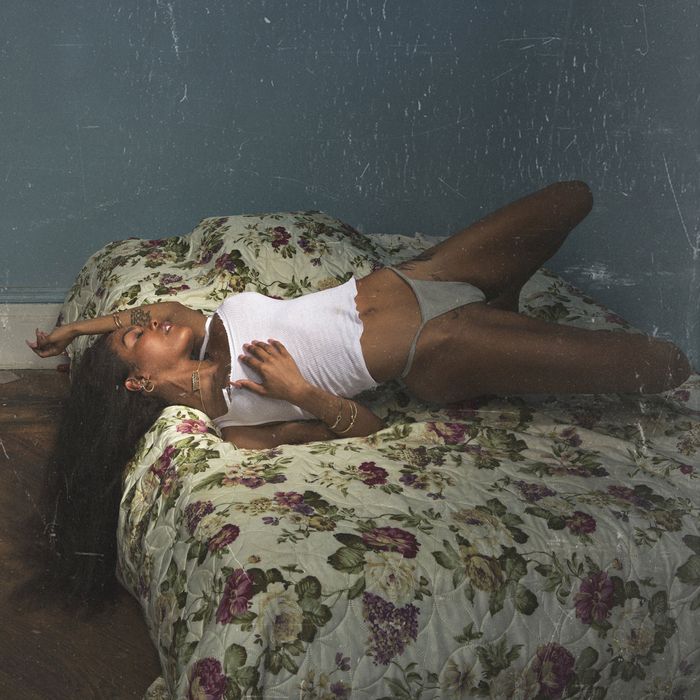 Teyana Taylor's
K.T.S.E.
Photo: GOOD/Def Jam
The first time I heard Teyana Taylor's voice, she was telling people to Google her. I thought it was outrageous behavior, using a debut single to snap on people for not remembering her name after an appearance on MTV's My Super Sweet 16, but it's also textbook Harlem arrogance to call your shot and then nail it. Nearly a decade after "Google Me," Teyana is a singer, dancer, and reality-television star with a show dedicated to life with her husband, Sacramento Kings shooting guard Iman Shumpert, and a record deal that nets her beats by Kanye West. Taylor's new album K.T.S.E. (or Keep That Same Energy) closes out G.O.O.D. Music's battery of month-long Wyoming projects on a self-assured high note. Like Pusha-T's dignified, scathing Daytona, Teyana's record is almost too good for the glut of disconcerting Kanye press that preceded it. Where West's records found him recovering from several personal and professional crises, and Nas's Nasir chatted up sterling riches and wonky conspiracy theories under a pall of questions about abuse in his relationship with Kelis, Teyana's record is just a great traditional R&B album about the joys of monogamy and motherhood. Like a light rain at the end of a scorching summer day, K.T.S.E. feels like relief.
K.T.S.E. is different from the last three Wyoming records because it seems slight but also fussed over. The strength of the melodies and words here is different from the sense on YE and Nasir that everything ought to have spent a little more time in the oven. "Gonna Love Me" is spectral hip-hop soul with a passionate lyric about craving attention from hubby while he's at work, a lover's thirst anthem in the spirit of Faith Evans's "Soon As I Get Home" or Ginuwine's "So Anxious." "Issues/Hold On" matches sounds from '60s soul and Lauryn Hill hits to a lively, lilting melody that owes more to Cole Porter than the Fugees. "3Way" is a classic story-song about adventure in the bedroom that's both dreamlike and vivid, just like a real, hot-blooded fantasy. What makes these songs float is Teyana's velvety vocal tone, which is rich in its low end and sweet in whispers. Her lines in "3Way" drip slowly over gossamer production like syrup over pancakes. She can nail rap flows still, as opener "No Manners" shows, and she can punch up to a high shout, as she does on "Never Would Have Made It," where she repurposes the Marvin Sapp gospel tune of the same name for a tribute to her 2-year-old daughter, Junie.
At its root, K.T.S.E. is just a succession of well-placed soul and gospel chops. The production team — Mike Dean, Che Pope, BoogzDaBeast, and Kanye, alongside a few more G.O.O.D. Music regulars — uses voices from decades past the way Ye's "chipmunk soul" records used to, like a narrator speaking directly to the artist's struggles and desires. For the most part, the songs are named after lyrics they borrow, like an old Dilla tape. "Gonna Love Me" stokes the singer's longing over Delfonics leader William Hart's yearning lines from the group's 1970 self-titled album's closer "I Gave to You." "Rose in Harlem" snatches the first line of the Stylistics' "Because I Love You, Girl." What sets these tracks apart from old Kanye (and maybe puts them in a league with Wyoming Kanye) is the sparseness of the sound. "3Way" reduces an old Sisqo sex song to thick jam. "Hurry" and "Issues" both repurpose small-band soul vamps without much embellishment. There's scarcely a programmed drum on the whole album; the result is the kind of warm, muted melodicism you'd sooner hear on a Ka or Roc Marciano record than a Kanye one.
Tender beats allow Teyana to showcase her range as a vocalist and a writer, to conjure feelings of joy and anticipation while working through trust issues. The only mistake is the closer, "WTP," and really it's only a tonal one. The song reimagines the early-'90s house anthem "(Work This) Pussy," adding toasts from Mykki Blanco and audio from the seminal New York ballroom culture documentary Paris Is Burning. The beat is deadly, and the timing on the Pride week tribute to gay and trans artistry is impeccable. But closing an album of quiet reflection with a fierce, industrial vogue night jam feels jarring, like The Life of Pablo leaving loudly on "Fade" (whose video starred Teyana) before Ye tacked "Saint Pablo" onto the track list. Go figure that "WTP" is track eight.
Kanye's rule of sevens for the Wyoming projects was ultimately smart business. It gave Pusha-T his closest stab at a perfect record since the Clipse and dampened the sting of knotty, imperfect Kanye and Nas albums. (As much as Kanye swears the campaign was an act of creation unburdened by his famous perfectionism, I still have a faint suspicion that, on some level, it was partially an attempt to give people mad at Kanye and Nas something else to talk about, to get fans to reconsider their talent.) I was always curious why Teyana's record would be scheduled in the closer slot, but after a few days with it, I'm almost certain it was an attempt to leverage everyone's star power on a great record by an artist who deserves more shine. Rap labels are all built for this purpose, but few seem to have the time to tend to everyone they sign. If there's a silver lining to any of the stress of the last month, it'll be that underrated talent like Teyana and Kid Cudi and 070 Shake each got their moment. With the right commitments, the biz could run like this all the time.