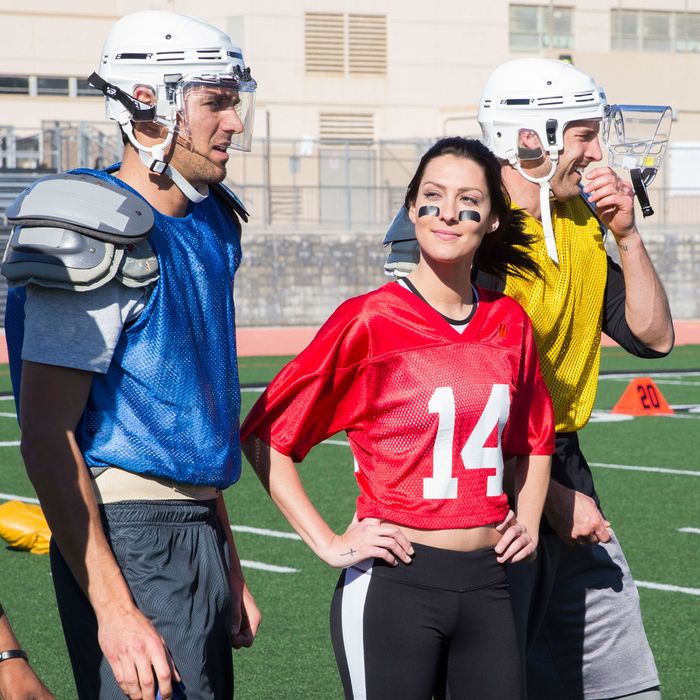 The excitement. The nerves. The chemistry. Footage of the historic summit between Trump and Kim interrupted my episode of The Bachelorette tonight and I found it just as romantic as any one-on-one date. Think about it. Donald Trump stepping out of the limo … I mean, Air Force One in his best suit that clearly doesn't fit hoping that this time will be different. That this time will be the night he meets his person. The person who completes him. The one dictator who takes him seriously and will treat him with respect. Kim Jong-un waited in front of a picturesque tableau. Is this going to be when Kim breaks down his walls and is finally vulnerable? It's not easy to open up again, but maybe Kim is willing to try. Relationships are starting to form and feelings are developing. What a special night.
All right fine, let's get to the episode.
When the episode begins, it's raining at the mansion. Almost every scene this week was rainy and it reflected the emotional turmoil, both in Becca's heart and our geopolitical state. David and Jordan are still feuding and it's making me like David a whole lot less. No one expects you to be the moral compass of the house when you arrived in a chicken suit. Meanwhile, Colton and his chin are worried because he's going to need lots of time with Becca to explain his relationship with Tia.
We're getting right to it and it's time for the first date card of the week. Wills, Jason, Jordan, David, Jean Blanc Ralphio, and Colton and his chin are headed to the spa with Becca. But it's not like a regular spa. It's a spa laden with the emotional weight of Colton's failed relationship with Tia. Becca is going to parade the men in front of her coven of girlfriends and their worthiness will be judged. Most of the date is pretty standard "GUYS IN THE SPA?!? DO THEY EVEN KNOW WHAT THAT IS!"
While Becca is introducing the guys to her friends, she completely forgets Jason's name. In case you're having trouble keeping up at home, Jason is the one who looks the most like a villain in an '80s teen movie. Colton feels incredibly uncomfortable while Jean Blanc Ralphio uses one of those scalp massagers from a Brookstone and makes obscene noises come out of Becca's mouth.
Becca takes Tia aside to ask her about Colton and you can tell that Becca just wants to fuck Colton. There's no reason for all of these dramatics, and Tia looks increasingly uncomfortable with talking about it. Tia says that she and Colton never did anything more than kiss, and Becca is READY for the next step. At the cocktail party, Jean Blanc Ralphio steals her away in the smoothest way and all the other dudes are pissed. But Becca is most excited to spend time with Colton to tell him that she's ready to take the next step with him.
They both are acting like they survived a national tragedy to be together. Like their love required, say … an international summit? Relax, Becca. This is not Love Story. Love means never having to say "I dated your friend."
While Becca and Colton are scaling mountains to be together, David and Jordan are being petty idiots. It's revealed that Jordan got a congratulations email from Tinder on reaching 4,000 matches. In Jordan's defense, he doesn't seem to be too excited about the email and thinks it's a little silly. He does brag that he's at a 100 percent match rate. What does David do? Does he stay the fuck out of it and let the person he hates construct their own demise? I mean, Jordan says things like "professionality."
David tells Becca that Jordan is bragging about his Tinder account, and Becca gives Jordan a sarcastic high five. Jordan tells her that he's a golden retriever.
The best part of the group date was the camera cut to Wills with his eyes closed, wishing it all to end.
Colton gets the group-date rose.
It's time for the one-on-one date! Chris R. heads to the Capitol Records building. She asks him, "Do you know what this building is?" and he says, "No." Um … what? Not only is it a widely recognized landmark, it says what it is at the top, Chris. Becca lists all of the historic performers who have recorded there: Katy Perry, Halsey, Sam Smith. And that's it.
Richard Marx is there to help Chris and Becca write a love song to each other. Chris has a full-on emotional breakdown because he wrote a letter to his father asking him to be a part of his life and his father completely ignored the letter. It's one of the only emotional breakdowns in Bachelor(ette) history that feels emotionally justified and makes me feel for the person breaking down. Becca asks him to open his heart to someone he met a week ago and confess every feeling he has for her. He manages to pull himself off of the floor to write down a few generic lines about Becca.
In the end, Richard Marx sings one line of Becca's poetry and they head to dinner where Richard Marx DOES NOT perform "This I Promise You" and he gets the date rose.
Back at the house, someone is being rolled out on a stretcher. There's blood everywhere. Everyone is rattled to their core, and Jordan seems oddly calm for all the commotion. Who could it be? What happened?
David fell out of his bunk bed like a goddamned 8-year-old.
Who is rolling around in bed so damn much that they're flinging themselves out of bed in such a deep sleep that the sensation of falling wouldn't wake them up? Did the film Inception lie to us? I hope his token wasn't his fucking face because he fell ON HIS FACE and cracked it open. He's taken to the hospital. You can tell where Becca's head is at when host Chris tells her that someone got hurt and Becca's first question is "Who did this?" Gravity did, Becca. Gravity did.
For the final date of the week, Clay, Leo, Christon, Ryan, John, Eric, Mike, Lincoln, Connor, Blake, and Garrett head to the football field.
At this point, I'm pretty sure Becca's sexual orientation is "The Rose Bowl."
They run a few drills with some female football players who are members of a league where everyone has to show off their midriffs. Lincoln keeps refusing to do the drills at 100 percent and everyone takes this as a lack of character. Everyone needs to lay off Lincoln. Football to him is different than our football!
It's to start what feels like the 19th sports-related group date, everyone is stunned that Clay, the active professional football player, is good at football. Becca says that Clay is normally a sweet teddy bear, but seeing him in his element is very sexy. If you took a drink for every time someone said "in his/my element," you would be rolling off your bunk bed, too.
Clay makes a dramatic run as the quarterback for the last play of the game, but manages to hurt his wrist. He came onto The Bachelorette to play a game of fake football against software sales reps and banjo enthusiasts and breaks his wrist. C'mon man, I know for at least half of these guys, Ballers is their favorite TV show and there were EXTENSIVE story lines about football players fucking up and injuring themselves and RUINING THEIR CAREERS. Everything Clay does and says makes my heart melt, including fucking up his wrist in a scrimmage on The Bachelorette. He's rushed to the hospital and all of the other guys head to the cocktail party. They are all secretly glad that he's not there, so they can get their time with Becca. Garrett and Blake are both sure that they're going to get the group-date rose. (Any moment between Becca and Garrett feels gross because he thinks bigotry is hilarious and she's into him.) Clay returns triumphantly and gets the group-date rose. I desperately love him.
Unfortunately, Clay has to have surgery on his wrist and is debating if he'll be able to find another woman like Becca again if he leaves.
You are a pro-football player. I BELIEVE DEEP IN MY HEART that you will find a basic woman who wants to date you.
Clay explains to Becca that he has to leave because he has family members who rely on him and playing football is what pays his bills. Becca and Clay share a tearful good-bye, and I was standing at the edge of my own driveway crying, clutching a rose.
TO BE CONTINUED …