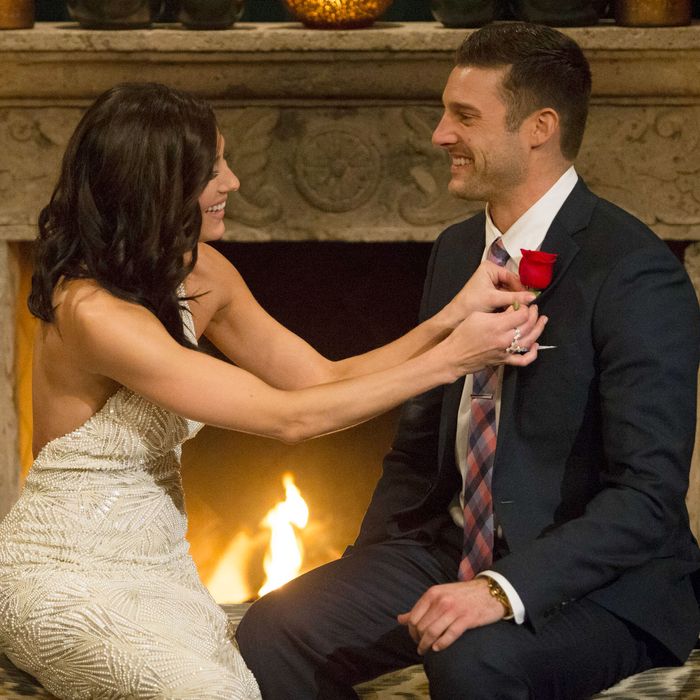 Many a Bachelor or Bachelorette season has been spoiled before the final rose. If you read the blogs that really dig into reporting, every season get spoiled. But generally, those spoilers linger on a subsurface level. They're accessible enough — if you really want to know, the winner's name is usually only a casual Google away — but strong hints about who the Bachelorette will ultimately pick don't tend to make news outside of niche reality-TV websites. Especially not within the first weeks of a new season.
This season of Bachelorette is different. Spoiler of the spoilers: It's because of grossness and social media! To better explain why this particular Bachelor-related spoiler cycle feels unusual, here's a rundown of the most recent events in the ever-churning world of Bachelor discourse.
First, a contestant liked odious Instagram memes
This is a good reminder for everyone, really, but it's an especially important (and sadly belated) reminder for Bachelorette contestant Garrett Yrigoyen: Other people can see what you like on Instagram. As reported by the HuffPost, screenshots of Garrett's Instagram activity began to circulate on an anonymous account last week, and then blew up after former Bachelor contestant Ashley Spivey posted the screenshots on her Twitter account. The screenshots show Garrett liking anti-immigration memes, fat-shaming memes, transphobic memes, and images suggesting that Parkland student David Hogg is a "crisis actor." These posts are from a conservative Instagram account called MericaSupplyCo — and now we all know that Garrett hit the heart icon on many of them.
The Bachelorette has a history of contestants with troubling social-media activity
This has happened before! On Rachel Lindsay's Bachelorette season, contestant Lee Garrett's racist tweets surfaced while the season was airing. It was disturbing and infuriating that someone with that history was given a platform on national TV, but it was especially troubling that it happened during Lindsay's season as the first black lead of the franchise. It was not surprising, however: The Bachelorette was already promoting Garrett as someone likely to get into fights with black cast members and deploy racist stereotypes. (ABC, maybe cool it with jerks named Garrett.)
This time, it's a bigger problem for the franchise
Garrett Yrigoyen's social-media activity is just as disgusting as Lee Garrett's, and it's infuriating that once again, ABC either did not know or (more likely) did not care about it before casting Yrigoyen on the show. But this time, The Bachelorette has another problem: Yrigoyen gets a much more prominent, positive edit. Lee Garrett was obviously cast as a dramatic early-season burnout villain, someone that producers knew would create a lot of conflict and then get kicked off in a big dramatic scene. They cast Lee Garrett to be good TV. (Another tip: Don't cast racists because you hope they'll be good TV!)
But Yrigoyen is not a dummy meant to go home quickly; he's not a Bachelorette redshirt. Becca gave him the first impression rose in the season premiere, an episode that reminded the Bachelorette audience that first impression roses often go to the final winners. Even if you only watch the show and ignore any other promos or spoilers, it's obvious that Garrett is meant to go the distance. Last season, the implication was that it's somehow okay for The Bachelorette to cast a racist man, kick him off, hold a disingenuous healing session during a reunion episode, and then pretend that the franchise has fixed its problem of giving a national platform to racist people with damaging beliefs. Will the show deem it less okay if someone who thinks David Hogg is a "crisis actor" actually wins the whole thing? It'll surely put a damper on the whole romance angle if you find out your fiancé liked what's meant to be an unflattering image of an overweight "leftist woman" with a shirt that says "I'm a fukin feminist" — especially if, like Bachelorette Becca, you were a Hillary supporter.
We *know* it's a bigger problem because ABC has treated it that way
After the reports of Yrigoyen's Instagram activity blew up, there was a swift response from Yrigoyen himself, who confirmed that the account was his and posted a multi-image apology. He said that he never realized "the power of a mindless double tap," and insisted that the "likes" were "not a true reflection of me and my morals." And then came the response from Becca, who gave a lengthy interview about how she wants the audience to be "open" to every contestant, and how she feels that filming the Bachelorette without the buzz of social media helped her get to know the men "without any added fodder or any distraction."
So, here's the big spoiler: According to several reality-TV sites, including Reality Blurred and Reality Steve (as well as TMZ photos), Garrett will win this season. His social-media activity is a problem because he's the new Bachelorette royalty, and ABC would really prefer if the audience thinks of him as Becca's one true love rather than a racist, transphobic, misogynistic conspiracy theorist.
But unlike in the past, you didn't need to trawl TMZ or Reality Steve to suspect that Garrett is going to win. The response to the controversy is its own spoiler, and Becca's interview in particular is a giant giveaway. Her repeated insistence that the audience try to keep an open mind toward not just Garrett but all of the contestants feels the most damning: It's painfully obvious that she's following a careful Bachelorette damage-control sheet. She swears she fell in love with two men and people really need to follow her "journey" to understand how it all goes down. She promises she got to know the real Garrett, but then redirects to everyone else. She even asserts the authenticity of the infamous "unedited" breakup scene with Arie, even after Arie admitted it was significantly altered. She's following a Bachelorette protocol list like it's stapled to her eyelids! None of that would be necessary if she weren't in lockstep with a wider effort to protect the season's winner.
As with the tone-deaf conclusion to Arie's Bachelor season, the role of Lee Garrett on Rachel Lindsay's season, and the gross controversies about Bachelor in Paradise, this scandal is one more bit of evidence that The Bachelor franchise is out on an island by itself, drifting further and further away from the real world. That Garrett's social-media activity didn't disqualify him during casting is a problem all its own. The other big issue is that, for the first time, the season has been widely spoiled before it's even really begun. The tenuous boundaries between the show and its huge behind-the-scenes world of promos, spoiler blogs and podcasts, and tabloid leaks has fully collapsed. Unfortunately, the question that remains is not whether the show will still be successful if its winner liked some terrible things on Instagram, but whether the Bachelorette audience will still watch if we already know who wins.