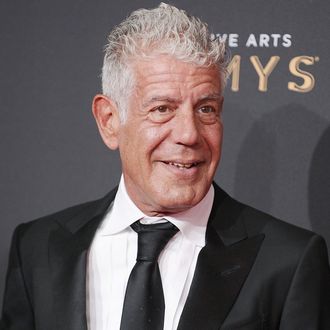 Anthony Bourdain.
Photo: Jason LaVeris/FilmMagic
After writer, chef, and TV host Anthony Bourdain was found dead Friday morning, Vulture phoned Bourdain's book editor Daniel Halpern to discuss Bourdain's literary work. In the '90s, Halpern paid $100,000 for the paperback rights to Bourdain's megahit Kitchen Confidential, and helped Bourdain kick off his writing career. Later, the two collaborated on a new imprint, Anthony Bourdain Books. Halpern shared his favorite titles from the imprint (two of which are due later this year). See Halpern's choices, below.
L.A. Son: My Life, My City, My Food, by Roy Choi
Los Angeles food-truck king Roy Choi writes about eating, cooking, and addiction in L.A. Son. Choi's memoir includes recipes and food stories from his own upbringing, and the food that inspired his own cooking. He also writes about the gambling addiction and drinking, which, Choi told NPR, began his career: "The worst thing that happened in my life actually was the gateway to what I was supposed to do in life."
The Mission Chinese Food Cookbook, by Danny Bowien and Chris Ying
"Danny Bowien, and a few others like him — mostly first-generation immigrants from Asia — are changing, redefining, and defining forever what 'American cuisine' really is," Bourdain wrote in his forward to Bowien's cookbook. The Mission Chinese Food Cookbook is full of Bowien's memories and observations, and some really good recipes. It's helped by Chris Ying's voice, a longtime friend of Bowien (and the editor-in-chief of Lucky Peach), who prods him in revealing Q&As throughout. The book chronicles Bowien taking the restaurant bicoastal and maintaining his own vision.
W-D 50: The Cookbook, by Wylie Dufresne and Peter Meehan
Manhattan's Lower East Side is immortalized in this story of Wylie Dufresne's iconic restaurant wd~50. It's part oral history, recipe book, and guide for young chefs with dreams of opening up their own place. "In New York, wd~50's influence is hard to avoid, and this is clear from the giant family tree that Dufresne managed to cultivate there," wrote Grub Street, "and the cameos — from chefs like J.J. Basil and Stupak — sprinkled throughout the book."
We Fed an Island: The True Story of Rebuilding Puerto Rico, One Meal at a Time, by José Andrés
We're still reckoning with the devastation in Puerto Rico after Hurricane Maria. (Or, at least, many of us are. The president is not.) Chef José Andrés reckons with the loss by cooking … and cooking, and cooking. Andrés and his team fed hundreds of thousands of people for free, using community kitchens to help Puerto Rico's people heal. The book, to be published this September, outlines his process and the broken practices of NGOs and charities when addressing similar crises.
Prisoner, by Jason Rezaian
Washington Post reporter Jason Rezaian spent 18 months detained in an Iranian prison. His forthcoming memoir Prisoner will be released in January and tell stories from his childhood as an Iranian-American growing up in California, reporting from Iran, and his imprisonment. Weeks before Rezaian's arrest, he and his wife filmed a segment with Bourdain for Parts Unknown, and Bourdain acquired his memoir. "It's an important story. Harrowing and suspenseful, yes. But it's also a deep dive into a complex and egregiously misunderstood country with two very different faces," Bourdain told the Post in 2016. "There is no better time to know more about Iran, and Jason Rezaian has seen both of those faces — the warmth and hospitality of the people, and the cruelty and absurdity of its security apparatus. I am very proud to be publishing him and grateful to have him back."