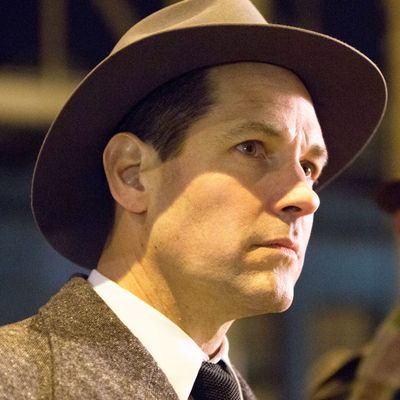 Paul Rudd as Moe Berg in
The Catcher Was a Spy
.
Photo: Dusan Martincek/IFC Films
The tight-lipped protagonist of The Catcher Was a Spy is Moe Berg (Paul Rudd), a major-league catcher whom Casey Stengel once described as "the strangest man ever to play baseball"— and Stengel, it turns out, didn't know the half of it. In Ben Levin's film (based on Nicholas Dawidoff's 1994 biography), Berg is a man who has dedicated himself to blending in: as a Jew among Gentiles; a (probable) gay man with a female lover; and a spy for the OSS, the CIA precursor that smuggled him into Switzerland in the last year of World War II to assassinate the German physicist Werner Heisenberg. True story!
Veiled, though. It's hard to build a movie around a willed enigma, and The Catcher Was a Spy leaves you thinking, "Hmmmm, fascinating…" instead of, "Wow!" You watch coolly, with a Mr. Spockian detachment. The movie is well-crafted, but it doesn't have the fullness you'd expect in a movie with so much believe-it-or-not weirdness. It feels more like a nifty anecdote.
Part of the problem might be Rudd. He's good — he's never not — but even when he presses his lips together and slits his eyes to show cunning, he can't keep a lid on the boyish amiability that made him a star. He's soft-faced, where Berg in photos is hard, dark-hued, unwelcoming. The strategy of the screenwriter, Robert Rodat, is to give you puzzle pieces that purposely don't fit together, no matter which way you turn them, including mildly kinky love scenes between Berg and a piano teacher played by Sienna Miller. Berg longs for her but leaves her behind, then longs for her but doesn't follow through. What is he hiding from? When Berg's OSS superior (Jeff Daniels) asks, "Are you queer?" Berg demurs, saying he's good at keeping secrets. You wonder: "From himself, too?" So much ambiguity, so little definition.
Lewin made the very fine and very wholesome quadriplegic sex drama The Sessions, and he keeps the movie brisk and low-key, as discreet as its hero. The prestige cast (including Guy Pearce, Tom Wilkinson, Giancarlo Giannini, and Mark Strong as Heisenberg) is so un-histrionic that I actually welcomed Paul Giamatti's bizarre, from-nowhere accent as a physicist smuggled into Switzerland with Berg: Amid the fog and cobblestones and Le Carré–like poker faces, it's good to have some dinner-theater tackiness. I wish there were more curlicues, more ragged edges, more baseball. (No one remarks on Berg's temperamental suitability for the job of catcher, a position that demands talent at both devising and concealing strategies.) To appreciate a thriller as unsensational as The Catcher Was a Spy, you have to have a fondness for spies who show their skill by making no unnecessary scenes — by keeping everything inside their heads, happy never to have to pull a trigger.
Full disclosure: Nicholas Dawidoff wrote The Catcher Was a Spy — on a manual typewriter, I should add — while subletting my Village apartment in the early '90s. He was a fine tenant under trying conditions (i.e., a neighbor who played ghastly original songs at all hours) and my baseball cap is off to him for his subsequent good fortune.