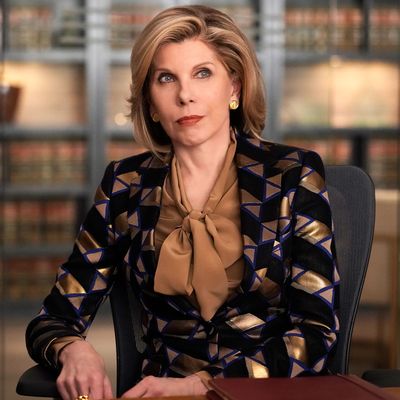 Photo: Patrick Harbron/CBS

The 2018 Emmy race has begun, and Vulture will take a close look at the contenders until voting closes on June 25.
In the 12th episode of The Good Fight's second season, one of the show's many distinctive judges has an exchange that is both deliciously pointed and a clever evocation of the story's most indelible thematic pursuit, in miniature. "It's still true that we live in a democracy, but the fact is within these four walls you're in a monarchy," she tells an ICE agent trying to get the best of her. Here is a woman completely in control of her faculties, using anger as her fuel to get the job done.
This moment exemplifies how The Good Fight is a clever seduction. Showrunners Michelle and Robert King have used a cornucopia of glossy pleasures — characters that speak in the cadence of con men, impeccable costuming with gently informative character revelations, rapid-fire linguistic manipulations, smart direction that utilizes the architecture of its actors and luxe interiors — to coax viewers into a dynamic consideration of a prescient topic: the intimate and political dimensions of women's anger in a fraught cultural atmosphere.
The Good Fight deepened in its sophomore season by exploring the knotted reality of women's anger in an America routinely hostile toward their well-being and autonomy. The Kings smartly pushed the ostensible lead Maia Rindell (Rose Leslie) to the margins, allowing for other characters to take the spotlight in exploring this theme, namely Diane Lockhart (Christine Baranski), the staunch Democrat and fiercely competent lawyer who has weathered a multitude of obstacles but has become undone by the current horrifyingly ridiculous political atmosphere. In doing so, the season proved to be an alluring confection that confronts the surreality of the modern American political moment — the overreach of ICE, the complexity of the #MeToo movement, the Twilight Zone–level ludicrous nature of the current White House — through Baranski's tremendous leading performance. In using the complicated terrain of female anger, these disparate political and social issues reveal that The Good Fight has an unflinching brio and intelligence about interrogating modern political life in ways no other series has been able to pull off.
At the halfway point of this year, female anger has proven a totemic theme snaking through all of pop culture, from Beyoncé's Coachella performance to the harrowing dystopian world of The Handmaid's Tale. Female anger is an equally important centralizing force in The Good Fight. Every woman in the series is found at a turning point, often forced to recalibrate themselves in painful and infuriating ways, whether out of survival or desire. Maia's memories are riddled with inconsistencies as she reflects on the devastation her parents' Madoff-like Ponzi scheme has caused. The firm's fledgling investigator, Marissa (Sarah Steele), feels unheard and disrespected by her older male colleagues. Liz Lawrence (a sly Audra McDonald), the former wife of partner Adrian Boseman (Delroy Lindo) who joins the firm after leaving her position as a U.S. Attorney, constantly butts against injustices. Most pointedly, in episode nine — when the firm finds the Donald Trump pee tape and one of the Russian women in the footage is forced to choose between the truth and freedom — it becomes apparent how anger is a necessary guiding light for these women. This is never more true than with Diane Lockhart.
When Diane begins this season, she's adrift. Despite rebounding from a series of cataclysms both personal and professional in season one, the current political moment has left her feeling unmoored. She starts microdosing psilocybin, she has a fling with an Antifa activist, and she imagines news reports growing ever the more unbelievable. (In one hallucination, Trump adopts a pig as the official pet of the White House. In another, he comments on the existence of mermaids.) Diane is eventually shaken from this hazy existence in which her strongly held belief in justice feels toppled, she's constantly on the offensive, and her slice of the world is sent reeling.
Meanwhile, the Kings framed the season by a series of increasingly unnerving lawyers' deaths, which eventually hits the firm close to home when Adrian is shot by an unseen assailant. "Day 471," the tenth episode, proves to be a pivotal turning point. After Diane discovers a legendary rival, Solomon Waltzer (Alan Alda), is using Adrian's injured post-shooting state to pick off their clients, the bubble she's created for herself is finally punctured. It's almost instantaneous. She tosses the hallucinogens. Her posture straightens. She has a plan, which unfurls in the clever confidence-game fashion the show excels at: She confronts Solomon under a clever guise and gets the DNC to leave his firm by leaking intel that he took on one of her old clients, Lemond Bishop (Mike Colter), an infamous drug dealer in Chicago. It's clear that her anger has reawakened her. "It's all right if the world is crazy, as long as I make my little corner of the world sane," she tells Solomon, her voice bristling with pointed rage. It's a triumphant moment that acts as the thesis statement for Diane's arc and the show itself.
The generational shift within feminism — both in what the movement represents and its defining causes — is an incredible history to track. It's also one that hasn't been discussed with enough depth when it comes to current feminist conversations. In having Diane — a gorgeous, 60-something powerhouse who is competitive, has an active sex life, and is surrounded by women of different ages and backgrounds — The Good Fight is able to explore a variety of intersecting, of-the-moment feminist concerns that other shows merely glide over.
The season's 11th episode proves to be the most complex and at times infuriating entry along that line, but it also allows Baranski to accentuate a new dimension of Diane's anger. "Day 478" focuses on a photographer suing a former fling for mentioning him on a site named "Assholes to Avoid," which catalogues sexual improprieties and assaults by powerful men, an online whisper network meant to warn other women for their safety. It's a murky retelling in which accuser and perpetrator agree on the facts — their attraction, that they both made out, that things got more sexually heated — but not on what they mean. He thought everything was consensual; she felt that he was coercing her, not picking up on the cues of her discomfort with the trajectory of the evening.
The characters in The Good Fight have always had a prickly morality, which is why it proves fascinating to watch Diane defend the perpetrator who wants the website taken down. (In many ways, it echoes a moment earlier in the season, when Adrian must reckon with how he unknowingly curtailed women's ambitions because of his own desires.) A host of questions arise as the episode continues: What does it mean that a feminist like Diane would represent a man like this? How do earlier generations of feminists feel about the current movement? Where do we draw the line in such murky, uncomfortable stories about assault, sex, and consent? With tensions running high, the men and women of the firm argue these questions. As Emily Nussbaum notes in her excellent piece, "And as messy as the episode is — at certain junctures, it feels like something that was cooked up during a pissed-off boomer book group on the Upper West Side — it manages to define the Kings' central precepts. They are pragmatists. They loathe ideologues." The episode ends with a confrontation between Diane and Gretchen Mackie (Zoe Winters), the young woman behind the "Assholes to Avoid" site, which brings up the tension between different generations of feminists.
"My guess is you never thought of yourself as a traitor," Gretchen tells Diane. "You know what your problem is? Women aren't just one thing. And you don't get to determine what we are. Next time, hire a lawyer and do your list right," Diane sharply retorts. While I may be of the current generation of feminism, I felt livid watching Gretchen talk down to Diane as if we have nothing to learn from feminism's second wave. It's an episode that set me aflame because it tackled a subject matter, however messily, that has proven too thorny for other shows to consider: the generational divides within feminism and the uncomfortable positing of womanhood and victimhood being intrinsically linked. The Good Fight may be a luxe spectacle, but it is startlingly prescient in how it argues that women are more than the pain that the world inflicts on them. Here, anger is not only a potent means to reshape our personal lives, but a hopeful emblem reminding us that that is possible in the first place.
Baranski was nominated six consecutive times for her performance on The Good Wife, but has yet to win an Emmy. When I spoke to her while moderating a panel for The Good Fight's second season, she noted that playing the character since 2009 has allowed her to deepen her approach and understanding. Remarkably, Baranski has continued to add more dimension to the character over the years, displaying an intense understanding of Diane in moments both bold and fleeting. Early in the second season, Solomon uses her marital history to inject doubt within the jury about her ex, a ballistics expert named Kurt McVeigh (Gary Cole). "I will not be that wife," Diane later says to Kurt, in a bracing scene that uses screwball-esque comedy patter to chart the pitfalls of their estranged marriage. Baranski pivots from icily pointed comments about where Kurt's loyalty lies to a shaky-voiced consternation. Baranski takes great care to show the full breadth of Diane's anger here, including its righteous, personal, and professional roots.
I am constantly in awe of her walk: poised, pointedly impactful, elegantly sharp. Baranski plays Diane as the kind of woman who isn't afraid to take up space in a room. Instead, she relishes it. When Diane finally begins to use her anger as fuel, starting in the season's tenth episode, her walk has a bracing cadence. This is a woman on a mission, fully aware of all her splendor and fire, it seems to say.
Baranski never portrays Diane with molten, all-consuming anger. Her rage is elegant, almost refined in its presentation, but just as incendiary as a vicious eruption. The Good Fight is imperfect — it doesn't understand the rhythms of Chicago, despite using the setting to open up political dialogues; its darkly comedic edge sometimes trips into outright farce; its approach to the black characters is uncomplicated and indistinct, despite the tremendous weight provided by great actors like Audra McDonald and Delroy Lindo; and the show suffers behind the walled garden of CBS All Access — but Baranski's performance is such a prickly, inspiring, physically astute depiction of female anger, it makes the series a necessary and highly entertaining treatise that couldn't exist any other time but now.