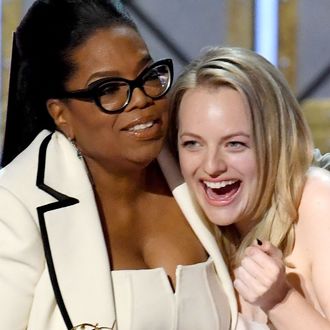 Photo: Kevin Winter/Getty Images
Amid the pervading bleakness of The Handmaid's Tale, June caught a brief bit of warmth in this week's episode thanks to the sound of a very familiar, very comforting voice. After discovering a potential getaway car early in the episode, June tunes into what's dubbed "Radio Free America," a resistance radio station broadcasting from somewhere "in the Great White North" — and it's hosted by Oprah Winfrey.
Here's what Winfrey says in her short, uncredited cameo before turning the airwaves over to Bruce Springsteen's "Hungry Heart":
And now, this news. The American Government in Anchorage today received promises of economic aid from India and China. In the United Kingdom, additional sanctions on Gilead were announced, as well as plans to raise the cap on American refugees relocating from Canada. Now, a tune to remind everyone who's listening, American patriot or Gilead traitor; we are still here. Stars and stripes forever, baby.
So, how did The Handmaid's Tale manage to snag her for a surprise appearance? "We'd heard Oprah was a fan of the show, and had a story idea, and thought, wouldn't it be wonderful if … So we asked and she said yes, and it was a lovely, easy process," said creator and showrunner Bruce Miller. "The radio segment she recorded was inspired by the free radio of the Allies from World War II. It was an absolute honor to have Oprah featured on the show, and especially thrilling as she was the one who presented us with the Emmy last year."
Indeed, Winfrey seems to be a dyed-in-the-wool fan. Earlier this year, Moss said that Winfrey had a dressing room next to hers during the Hollywood Reporter's Emmys roundtable and "kept popping back into the room to ask questions about the show or to make comments or ask what was coming up for a specific character … Then she'd leave and I'd close the door and have a silent freak-out moment, just screaming silently, that Oprah Winfrey even knew what the show was and then she would pop back up with more questions."