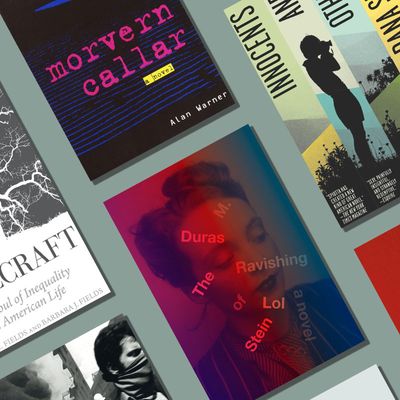 Bookseller One Grand Books has asked celebrities to name the ten titles they'd take to a desert island, and they've shared the results with Vulture. Below is The Mars Room author Rachel Kushner's list.
The Ravishing of Lol Stein by Marguerite Duras
Duras … There is no one like her, who speaks with such simple and yet high-flown authority. Her tone is Biblical, absolute. She brushes off mediocre narrative expectations, and with this novel, a critical moment in her extraordinary writing career, and life, made something entirely new.
Ingrid Caven by Jean-Jacques Schuhl
I can't help but include this book on any list I'd ever make of books I love. It is bewitching, playful, poetic, and really beautiful. Ingrid Caven looks like Marlene Dietrich and sings like Lotte Lenya. She was Fassbinder's muse on film and Schuhl's in life, and the book creates a fictive plane of reality in between all four, plus postwar German history, plus the 1970s.
Mercury by Ariana Reines
Until she writes another book of poetry, this collection, Mercury, for me is the apotheosis of Reines's output and voice. You can read it like it's a novel, turning pages until you get to the end, building a sense in your mind of the funny, gorgeous, odd, dirty, gnostic visions of one female gaze.
The Brothers Karamazov by Fyodor Dostoevsky
This novel will shatter those who are ready for it, ready for Dostoevsky's courage to plunge into the abyss of human cruelty, and his wisdom at locating what grace there is. This is a novel of ultimate destruction and grace. It has in it the whole lived world, also heaven, also hell.
Morvern Callar by Alan Warner
This book is like girlhood to me somehow, even though I was already in my 20s when I first read it. I reread it every few years and it reminds me, every time, of the magical feeling I had when I first encountered the hypnotic and cool voice of its narrator, Scottish raver — and super young widow — and chainsmoker of Silk Cuts: the unforgettable Morvern Callar.
The Unseen by Nanni Balestrini
The only novel really to do anything true with the waves of revolt in Italy in the mid and late 1970s (until I wrote mine, heh). The voice here is transfixing. The end is so incredibly moving. You will need to adapt to Balestrini's style of forgoing punctuation, but once you do, you'll be riding a bike with no hands on the bars and you won't even notice that you, too, are doing something new.
The Skin by Curzio Malaparte
This novel, a linked series of strange and acid and darkly comic vignettes on life in Naples at the end of World War II, gets at the material reality of a liberator (the American military) as occupier and at the contradictory and surreal world of Naples. In sum, no one is innocent, not even Malaparte.
Racecraft: The Soul of Inequality in American Life by Karen E Fields and Barbara J. Fields
Okay, so this book is really so very important. And its arguments ask to be revisited on multiple occasions. You might recall the title if you read Between the World and Me. This book is not personal like Ta-Nehisi Coates's; it is objective and rigorous. Scholars Barbara J. Fields and Karen E. Fields explain what race is, and what it isn't. I feel I waited my whole life to read their primer, in chapter four, on ideology — what it is, and how it works. Now I know.