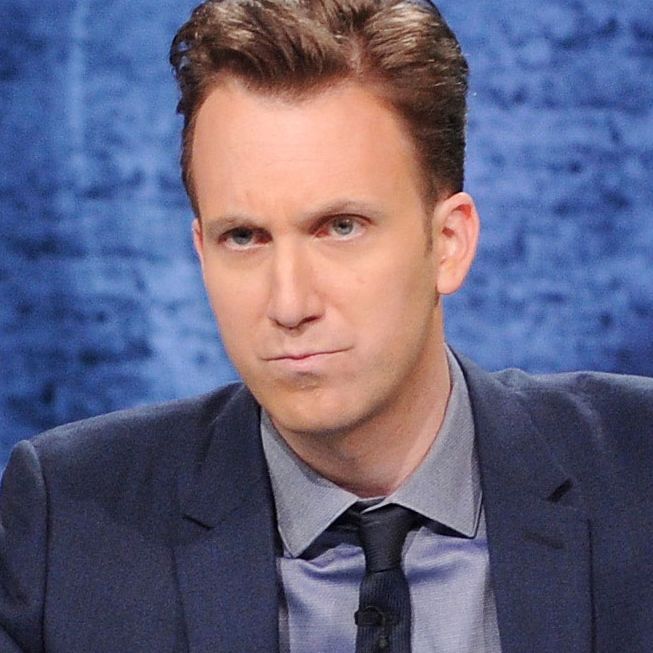 Jordan Klepper on
The Opposition.
Photo: Brad Barket/Getty Images for Comedy Central
After nine months on the air, last week Comedy Central canceled The Opposition, former Daily Show correspondent Jordan Klepper's stand-alone series. The final episode will air June 28, after which development on a new show, tentatively titled Klepper, will begin immediately. Billed as a "weekly half-hour series," it will see Klepper "out in the field, traveling the country and speaking to people."
"The show was anticipating the Steve Bannons and Alex Joneses of the world to be front and center, and the truth is, it's really Trump front and center," Comedy Central president Kent Alterman, reflecting on The Opposition, told Deadline. "We've never wavered on Jordan as talent, we're such big believers in him, and we've been thinking where he is at his strongest. He is so strong in the field, being out in the real world with real people." And to be perfectly honest, this realization by the network is the best news for the gangly Michigan funnyman.
That's not to say Klepper was unfunny behind the desk. Much of his work on Comedy Central, be it on The Opposition or The Daily Show, stands out for good reason. As he himself has admitted, however, his Colbert Report–esque persona's ability to engage directly with themes of conservative extremism is much better suited for the outdoors. "I think I may be blessed or cursed with a somewhat trustworthy face, and I think people are eager to talk," he said in 2016.
Since The Opposition's premiere last September, one thing has become abundantly clear: Klepper belongs in the field. He is a sketch comedian above all else, and he is generally more poignant and biting, not to mention funnier, when he isn't bound by a studio's four walls. Some of the Second City and Upright Citizens Brigade alum's best work includes those moments when he's out and about, talking with Donald Trump rally attendees or attending the NRA's "Comic-Con of death."
A few weeks into The Opposition's debut, Klepper was in fewer segments outside the studio than Comedy Central's promotional material (and Klepper himself) had indicated. "I'm going to be on a desk, or in the field occasionally, and we're going to have other folks from the show go out and do field pieces," he said before the premiere. "It won't just be me in the field, interacting with people. That will be one part of it." To his credit, this last part came true as much of The Opposition's field work was performed by its "Citizen Journalists." But Klepper? Not so much.
The potential reasons for this are as varied as they are unimportant. What does matter is the network's renewed insistence that Klepper will put its titular host on the road again. Interacting with, and riffing off of, nonperformers in the real world is a comedic gift not everyone possesses. Even the most skilled improvisers out there struggle once they leave the safe space the stage affords them. Not so for Jordan Klepper. "I'm figuring out how these field pieces work," he explained soon after Jon Stewart hired him in 2014. "I'm in learning mode." He must have dialed it to 11, because Klepper learned the ropes real fast.
Klepper quickly set himself apart from the rest of the correspondents roster with segments on Trump's candidacy and the voters who supported it. His early on-the-job training aided his success, as did Trevor Noah's insistence on "trying new things and taking risks." Klepper said the new Daily Show host "was very aware of the history of the show but also was eager to find what the new spin and the new take would be." Noah wanted to "[expand] the role of what a correspondent could do … outside of what we had traditionally done in the past."
This paved the way for Klepper's growing field expertise and, by extension, Jordan Klepper Solves Guns, a 2017 special the comedian campaigned for separately from The Opposition. "I'd been talking to Comedy Central about doing a longer special for a little bit," he recalled. "In all my Daily Show pieces about guns, I realized I was having the same conversation, over and over again, with people who were trying to make rational moves forward with gun issues and running into the same wall."
The result? An fantastic hour-long bridge between Klepper's supporting and lead roles that took him all over the country to have serious (and not so serious) conversations with a myriad of perspectives. The comedy soared just as high as the political messages, but once The Opposition's grueling four-episodes-a-week schedule kicked in, this version of Klepper faded from view. But now it appears Comedy Central has caught on: By canceling the series and immediately propping Klepper up for a new field-centric show, they've realized what his fans have known since 2014. What's more, the network is also catching on to a seismic shift in the late-night format.
While the broadcast networks maintain the traditional hour-long format for their talk shows, cable and premium outlets have experimented with numerous alternatives. HBO and TBS have taken the half-hour format perfected by Comedy Central and, with Last Week Tonight With John Oliver and Full Frontal With Samantha Bee, honed these shows' attention on different topics every week — not just the top news stories, but deeper dives into relevant matters writers aren't always able to make a few quick jokes about. This year, HBO also premiered Daily Show alum Wyatt Cenac's Problem Areas, a mostly studio-less affair that abandons the desk entirely for the field. Before that, Totally Biased alum W. Kamau Bell took his talents to CNN for United Shades, a travel-show program that equally channels comedy, politics, and the late Anthony Bourdain — all at the expense of the late-night studio experience.
These shows have had their ups and downs in the fast-paced, social media-driven pop-culture Zeitgeist we currently inhabit, but most of it has been positive — not just politically, as Last Week Tonight's deep dives have proven repeatedly, but with audiences and their evolving tastes, too. Bell and Cenac's programs have been especially effective at advancing the notion of field segments in late-night television. Perhaps Klepper, whose work on The Daily Show and Solves Guns already proved his abilities with the format, can take heed of these lessons in Klepper.