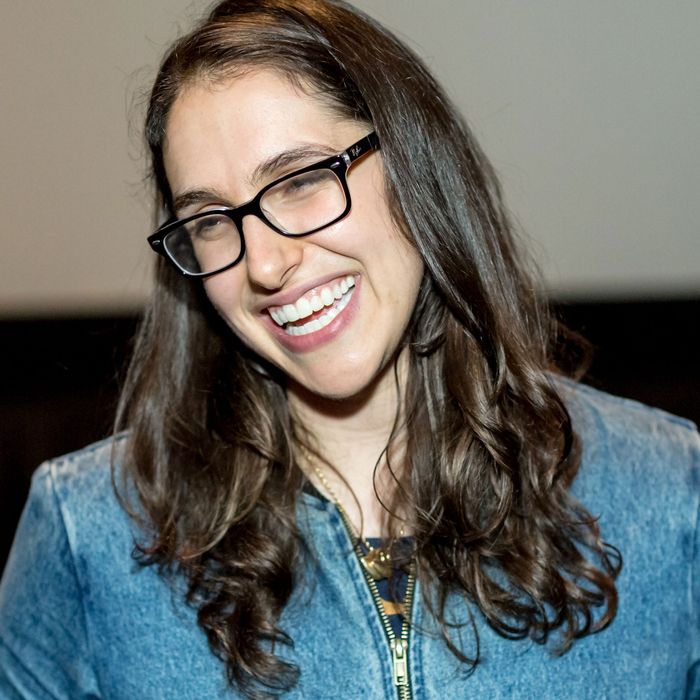 Megan Amram.
Photo: Greg Doherty/Getty Images
The comedy podcast universe is ever expanding, not unlike the universe universe. We're here to make it a bit smaller, a bit more manageable. There are a lot of great shows and each has a lot of great episodes, so we want to highlight the exceptional, the noteworthy. Each week our crack team of podcast enthusiasts and specialists and especially enthusiastic people will pick their favorites. We hope to have your ears permanently plugged with the best in aural comedy.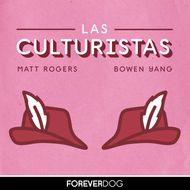 Las Culturistas — For Your Consideration with Megan Amram

Kathryn: Emmy voting is finally underway and Tinseltown is abuzz over the newest Short Form Comedy or Drama Series sensation An Emmy for Megan. Creator, writer, producer, and star Megan Amram (The Good Place) took a break from her whirlwind publicity tour to chat with Matt and Bowen about the making of a potentially (probably) award-winning web-series performance and the two other biggest cultural events of the year: Ocean's 8 and the A Star Is Born trailer that ran before Ocean's 8. (Does Lady Gaga's character have legs attached to her body? Only time will tell.) Amram's star quality oozes from whatever device you use to listen to podcasts — clearly this is an award-winning actor who just hasn't won the award yet. Step aside Jane Lynch as Olivia Vandersteen in Dropping the Soap (the 2017 winner of Outstanding Actress in a Short Form Comedy or Drama Series): 2018 is the year of Emmys for Amram.

Listen: Spotify | Apple | Website
Obscure — To Begin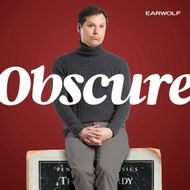 Noah: You'd be hard-pressed to find a podcasting personality as thorough as that of Michael Ian Black, who continues the legacy of his cult-favorite windbag character from Topics in yet another new high-concept, short-run show. Equal parts the Boys and My Dad Wrote a Porno, this time MIB is prepared to read the 1895 Thomas Hardy novel Jude the Obscure in its entirety for the first time while commentating his thoughts as he goes (having been recommended it by his wife, whom he has loved lo these many years). The debut episode features nothing but the short prologue of Jude after Black spends the bulk of the half-hour defending his thesis and setting the audience up for what's to come. It's peculiar, though, that he claims to have never read the novel before. He raves before cracking open the cover that podcasting is a quick and easy buck that is replacing traditional mainstream media at a rapid rate, and the opening soliloquy lines up completely with this train of thought, as Jude comments on the changing technology of turn-of-the-century England. Black undoubtedly has something meaningful up his sleeve in this venture, but we can't get there without beginning.
Listen: Spotify | Apple | Website
Off Book: The Improvised Musical — I Spy My Special Guy Live! from Clusterfest (with Chris Redd)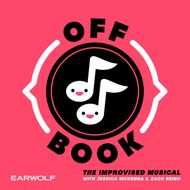 Anna: Hosts Jessica McKenna and Zach Reino impress us once again by creating another new improvised musical with a guest, but in this live episode at Clusterfest, guest Chris Redd (SNL) helps them raise the bar. Redd has a great voice, surprising characters, and undeniably the best Q-Tip (the rapper) impression this podcast has ever seen — not to mention the fact that he's the first guest to say hi to resident pianist Scott Passarella! The three improvisers become two spies, two Q-Tips (both the rapper and 80-year-old British woman), and more to lead us from a Scottish heather to a secret Russian lair on these spies' most meaningful mission yet. Geocaching (a.k.a. "purposeful littering"), a virtuosic pitch for Paddington Bear 3, and some true hits like "Who Is Q-Tip?" and "We Got Some Boyz Rollin' Up" fill this dark and sentimental "debut" of I Spy My Special Guy. Don't miss the postshow talk-back or even the commercials on this one. If you're new to Off Book, this is a super well-rounded, standout episode to get you started.
Listen: Spotify | Apple | Website
Well This Sucks — Doughboys! with Mike Mitchell and Nick Wiger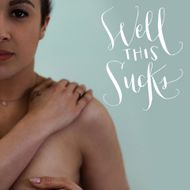 Mark: It takes a lot of courage to go to battle with cancer, and it takes even more to start a podcast about it — let alone a comedy podcast. And yet that's what the Swell Gals — L.A.-based actors, comedians, and nice people Heather Alarcón Higginbotham, Tana Hamilton and Danielle Hernandez — did last year after Danielle was diagnosed with stage 4 breast cancer. The Doughboys and the Swell Gals crossover this week for a truly poignant episode. After Wiger and Mitch admit to the major health downsides of hosting a podcast about fast food, Mitch opens up about the year leading up to his father's death publicly for the first time. Like Quint, Hooper, and Brody comparing scars, Danielle, Mitch, and Heather — who also lost her father — trade war stories. Around Father's Day especially, hearing others share their painful experiences is sustenance for anyone who's gone through a similar loss (this listener included). It's also a must-listen for those who simply know a friend going through a similarly tough time because sometimes just "being there" is not enough, or even too much. The heavy content makes the laughs all the more cathartic when they do arrive. The Swell Gals have created a safe space for earnest yet lighthearted conversations about pain and loss, which is no small feat.
Listen: Spotify | Apple | Website
Getting Curious With Jonathan Van Ness — British English and American English — What's the Diff? with Helen Zaltzman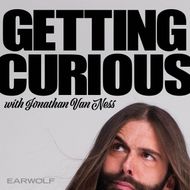 Pablo: Before his breakout turn in the hit Queer Eye reboot, Jonathan Van Ness was best known for simplifying the complex political and familial machinations of Westeros on his web series Gay of Thrones. So it's not much of a stretch to have the hairstylist and comedian join an expert in language, Helen Zaltzman of The Allusionist podcast, to break down the historical reasons why Americans and the English have different versions of the same language. Like most cultural "exchanges" in world history, Zaltzman explains to the always-enthusiastic JVN that war and conquest are the reasons for differences in the English language. In just one of many examples, Americans dropped the U from colour not because we're uncultured, but because we were never conquered by the French and have no historical basis to keep it. I'm sure William the Conqueror would be pleased to know that his world-changing influence has been reduced to being described as "Game of Thrones realness."
Listen: Spotify | Apple | Website
High and Mighty — Arnold with Megan Neuringer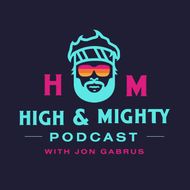 Leigh: It's an Arnold lovefest this week on High and Mighty, Arnold Schwarzenegger that is — as if there's any other Arnold. Megan Neuringer sits down with host Jon Gabrus to break down everything there is to love about America's favorite Celebrity Apprentice host. From his body, his hair, the fact that he never got rid of his accent, to his consistency with movie catchphrases and how he made so much money making Twins, there's plenty of proof out there that Arnold knows what he's doing. And sure, maybe you're not the biggest Arnold fan, which is understandable. It's not that easy to just ignore what they refer to as his "scumbaggery." But, the joy of every episode of High and Mighty always comes from listening to people talking passionately about a topic, no matter how you personally feel about it. So whether you're a fan of Arnold Schwarzenegger or not, it's hard not to get swept up in the excitement of two huge fans who delight in all things Arnold — except The Terminator.
Listen: Spotify | Apple | Website
Mazan Movie Club — Léon: The Professional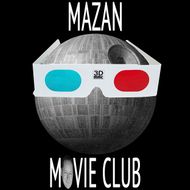 Marc: The backbone for comedian Steve Mazan's Movie Club podcast is that he's counting down the Internet Movie Database's (IMDb) Top 100 films. This week, he's at No. 30, which is Luc Besson's Léon: The Professional (1994). He's invited fellow comic Dustin Wood along to provide commentary because, until he was preparing for this episode, Wood had never seen the movie. (Wood cops to not having seen several popular movies for various reasons, for which he is gently mocked by Mazan — and ruthlessly skewered by the host's wife, Denise.) If you've never seen this quirky cult classic starring Gary Oldman, Jean Reno, and a very young Natalie Portman in her feature-film debut, this episode of MMC is nothing but a giant spoiler alert. Mazan and company leave no stone unturned as they dissect scenes, performances, and even backstage stories from the cast. There are a few fun bits that Mazan does to set this show aside from other review shows, including fielding comments about the movie via social media before the episode rolls, which he shares. He also provides some alternate "porn titles" for the featured films. And then there's a wrap-up capsule review from "The Irish Critic," who is none other than Mazan's mother. Get in on the fun as the countdown continues.
Horny 4 Horror — Talkin' with … Chris Eckert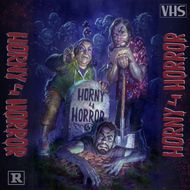 Tom: With Halloween only four-and-a-half months away — I know, so soon — now seems like the perfect time to talk about spooky stuff. If you're like me, someone who identifies as a little scaredy-cat, then Horny 4 Horror is the perfect podcast to help you find the fun in the frightful. As you journey into the audio underworld, let comedians Betsy Sodaro, Adam McCabe, and Mano Agapion safely guide you through the River Styx and past Hell's gondolier: Charon. This week, our horrorheads welcome Groundlings mainstager and former scare-actor Chris Eckert. If you find yourself saying, "This Chris person looks familiar," it's probably because he scared the crap out of you while dressed as Norman Bates at Universal Studios' Hollywood Horror Nights. Chris talks about the joys of being a scare-actor, the adrenaline one gets from freaking people out, and the long list of celebrities he's terrified over the years, including the entirety of the Los Angeles Lakers. To find out what "code brown" in a haunted house means — hint: It involves the patron — check out this week's Horny 4 Horror.   
How to Be Amazing — David Cross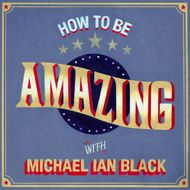 Elizabeth: You may think that the men of Arrested Development might shy away from interviews after the New York Times debacle. But David Cross stepped back into the hot seat the day after the Times article came out to talk with host Michael Ian Black on How to Be Amazing. They start by talking about his early days in stand-up and sketch in Boston and a disastrous SNL audition. Cross talks about transitioning to L.A. to work on The Ben Stiller Show and how he was worried about selling out as an artist — and got over it as soon as he saw his bank account grow. After Cross describes working with Bob Odenkirk, who used to be abrasive, Black segues into a discussion of the #MeToo movement and the situation on Arrested Development. Cross talks about what happened on set and how men have a tendency to compartmentalize issues like this. He does not speak to the Transparent allegations against Jeffrey Tambor, noting that while he knows more about the situation than most, he was not there and doesn't feel it is his place. They also discuss how an unintended side effect of #MeToo is judging people's responses to the behavior of others, and when it's worth it to have a discussion about differences of opinion and when you should just say, "Fuck you forever."
Listen: Spotify | Apple | Website
Other Podcasts We're Listening To:
The Writers Panel With Ben Blacker — American Vandal From ATX 2018
Listen: Spotify | Apple | Website
Bill Simmons Podcast — NBA Draft Buzz, Plus Nick Kroll Finally Comes On
Listen: Spotify | Apple | Website
The Soft Spot — Gabrus … Jon Gabrus
Listen: Spotify | Apple | Website
Chillpak Hollywood Hour — All-Time Top Ten Comedy Films
Listen: Apple | Website
Burn Your Passport — Andy Zaltzman, Claire Hooper, Children
Listen: Apple | Website
Stop Podcasting Yourself — Ron Funches
Listen: Spotify | Apple | Website
R U Talkin' REM Re: Me? — Man on the Moon Soundtrack with Edgar Wright
Listen: Spotify | Apple | Website
Small Doses — Side Effects of Being an Independent Woman
Listen: Spotify | Apple | Website
Yo, Is This Racist? — New Orleans Weddings (with Cameron Esposito, Rhea Butcher)
Listen: Spotify | Apple | Website
Who Charted — Jen Kirkman, Natasha Leggero, Brett Morris, Kevin Bartelt
Listen: Spotify | Apple | Website
Unladylike — How to Have the Talk (with Gaby Dunn)
Listen: Spotify | Apple | Website
Dumb People Town — Jessica St. Clair and Lennon Parham — Cumspringa
Listen: Spotify | Apple | Website
Got a comedy podcast recommendation? Drop us a line at comedypodcasts@vulture.com.
This week's reviewers: Pablo Goldstein, Kathryn Doyle, Marc Hershon, Leigh Cesiro, Elizabeth Stamp, Mark Kramer, Noah Jacobs, Tom Rainey, and Anna Marr.