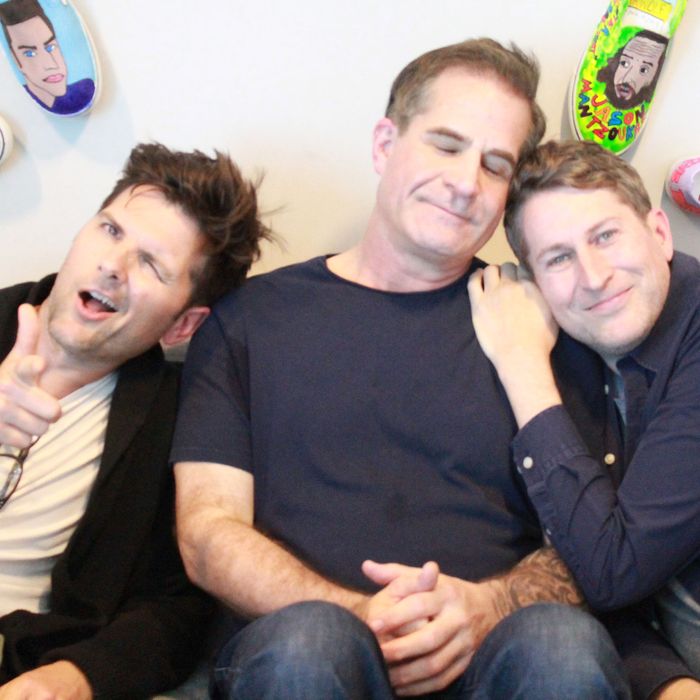 Photo: Courtesy of Earwolf
The comedy podcast universe is ever expanding, not unlike the universe universe. We're here to make it a bit smaller, a bit more manageable. There are a lot of great shows and each has a lot of great episodes, so we want to highlight the exceptional, the noteworthy. Each week our crack team of podcast enthusiasts and specialists and especially enthusiastic people will pick their favorites. We hope to have your ears permanently plugged with the best in aural comedy.
R U Talkin' R.E.M. RE: Me? — Staind Glass 2 with Todd Glass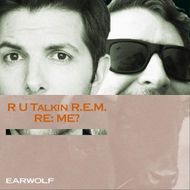 Tom: Throw on your best JNCO Jeans and sound the "It's been awhile!" alarm. R U Talkin' R.E.M. RE: Me? just released the highly anticipated second installment of "Staind Glass." After a brief hiatus — four years and 30 days to be exact — the Scotts are back and ready to discuss the band Staind with everyone's favorite comedian–party planner, Todd Glass. If there's one thing you should know about Todd going in, it's that he doesn't know anything about music. Given that "Staind Glass" is the Russian-doll equivalent to podcasts about music, it's safe to say he's out of his confront zone here. Lucky for us, his lack of musical knowledge is the true essence of what makes this show great. Whether he's trying to figure out David Bowie alter egos — actual guesses include "Ziggy Iggy Pop" and "Squiggy Stardust" — to genuine questions like "Do people respect Jon Bon Jovi?" Glass's charm, and reverb, are turned way up. In re-creating their best segment from 2014, Aukerman plays a wide array of hit songs to Glass, whose sole responsibility is to correctly identify which are from R.E.M. Like a fine wine, this podcast has only improved with age. For an in-depth analysis of "Staind Glass" No. 1, check out Vulture's write-up here.
Listen: Spotify | Apple | Website
Amy Schumer Presents: 3 Girls, 1 Keith — Moms and Stuff (with Rachel Bloom)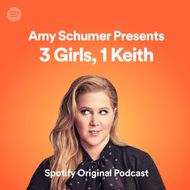 Elizabeth: Amy Schumer's new podcast dropped its second episode this week, and Schumer and her co-hosts Bridget Everett, Rachel Feinstein, and Keith Robinson are getting into the swing of things. (The Spotify podcast is available on other platforms, but listeners can hear an extended version on the streaming service.) The foursome start by talking about their moms' quirks, from Feinstein's mother's obsession with dark news to Schumer's mom's habit of scrapbooking everything about her daughter — even criticism from the internet. After Everett shares her experience with crack (don't try this at home — or at all) and they talk about why Robinson is a bad person, they're joined by Rachel Bloom. Schumer and Bloom reminisce about meeting (and sharing edibles) at their agent's wedding. The conversation turns to Jewish upbringings, inbreeding, and the different types of love. They close things out by talking about what's bugging them, and Bloom and Everett do a quick duet of "Son of a Preacher Man."
Listen:  Spotify | Apple | Website
The Dave Chang Show — Master of None Co-creator Alan Yang on Breaking Out of Harvard and Into Comedy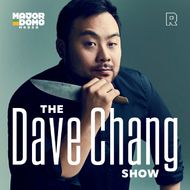 Mark: Alan Yang has quietly established himself as one of the brightest comedy writers in the game today. After learning on this week's episode of The Dave Chang Show that Yang was accepted to Harvard despite skipping his senior year of high school, his meteoric rise should come to no one's surprise. Growing up in a blue-collar town as the son of Taiwanese immigrants with lofty expectations for him to enter medicine, the journey was anything but easy. Like the time he interviewed for The Tonight Show With Jay Leno at age 20 and was swiftly told that Leno wouldn't even consider hiring anyone that young (his youngest writer at the time was a spry 52). Good thing, because in addition to co-creating Master of None, Yang's formidable writing credits include Parks and Recreation, South Park, and perhaps most revelatory, Last Call With Carson Daly, where he worked alongside a murderer's row of current TV creators like Dan Goor (Brooklyn Nine-Nine), Dave King (Parks and Rec), and Steve Hely (Veep). As the son of an Asian immigrant who grew up in a conservative breeding ground myself, it's truly inspiring to hear Yang share his origin story. And don't discount the achievements of the show's titular character, Dave Chang. Between his new entertainment venture Majordomo Media and Netflix's Ugly Delicious, Chang has used his platform as a world-class chef to make incredible strides for Asian-American representation across all kinds of media. Completists, be sure to subscribe for part two of the interview set to drop in two weeks, as well as an upcoming top-secret Chang and Yang podcast project.
Listen: Spotify | Apple | Website
Bitch Sesh — Live at Largo (with Jamie-Lynn Sigler, Jessica Chaffin, Erin Gibson)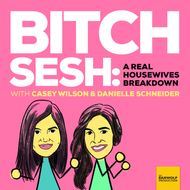 Tolly: Though this episode is missing half of the regular hosting team — the always delightful Danielle Schneider couldn't make it to the live show — co-host Casey Wilson delivers one of the most uproarious episodes in a while with crackerjack guests Jamie-Lynn Sigler and Jessica Chaffin. With so much going on in the The Real Housewives of New York, there is a great deal of Bravo ground to cover, and Chaffin particularly comes in strong with the hot takes. What makes this installment particularly winning, however, is the way the women feed off the audience. Early in the episode, the three revel in dramatically reading a particularly over-the-top RHONY scene, and later Sigler plays a game where she has to guess who said it: a Housewife or a Soprano (this game is surprisingly difficult, even for Meadow Soprano). The height of the episode comes when Throwing Shade co-host Erin Gibson drops by for one of the juiciest boots-on-the-ground reports of all time that involves Countess Luann, Gibson's husband, and butt-touching.
Listen: Spotify | Apple | Website
Judge John Hodgman — The Booth, the Whole Booth, and Nothing But the Booth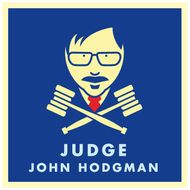 Kathryn: For many people on Earth, it is hard to be alive right now. Big, loud, violent issues battle for our attention, and a fresh contender enters the ring every day. Why bring another dispute into your life? Because in its best weeks, Judge John Hodgman is a salve for psychic bruises. Reasonable people resolve a reasonable dispute and never stop loving each other. This week, 21-year-old Sophie brings the case against her parents, Toby and Thor, whose names are as powerful as their voices are gentle. They like to go to dinner together as a family, and school librarian Toby sometimes asks to change tables due to chilly drafts or loud chewers. Former restaurant server Sophie wishes her mom would not ask to change tables, since it can throw off which servers have access to tips. It's truly easy listening as John and Jesse address the minor etiquette question in the context of larger economic and emotional power imbalances between generations. It's always a good idea to put yourself in someone else's shoes, whether it's your easily embarrassed adult child or the host seating you at a corner four-top at Ruby Tuesday's. Restaurants, like everywhere else, have become political spaces. To exist in them we have to hold onto our minor day-to-day inconveniences — when we give up on our gripes, we give up on life. One more thing: Always tip 20 percent, you monster.
Listen: Spotify | Apple | Website
Illusionoid — The Undersea Pawns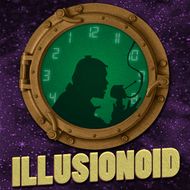 Marc: For a tenth season, urgent messages from the past continue to come from the future in Illusionoid. A trio of Toronto's top-notch improvisors — Paul Bates, Lee Smart, and Nug Nahrgang – have returned with their comedy sci-fi anthology show, which is a collection of (mostly) unrelated half-hour tales loosely held together with the premise that everything is ramping up to mankind's doom unless we take heed and learn from our mistakes. In this new season's second installment, prawn fishermen Sandy and Elroy are pressured into helping their scepter-mad captain retrieve the ultimate symbol of regal power from the depths of the ocean. Not only are the stories and dialogue improvised, but there's the nice addition of improvised sound design as well. Sometimes the sound effects appear in response to the action in the story but, true to improv, sometimes the sounds that appear help to push the story forward as well. If you're a fan of podcasts that feature improvised stories and you haven't caught Illusionoid yet, you owe yourself a listen to one of the firsts of the genre, and one that's still going strong after a decade.
Armchair Expert — Mae Whitman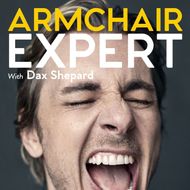 Anna: Armchair Expert welcomes its most highly requested guest: Mae Whitman (Good Girls, Parenthood, Perks of Being a Wallflower), host Dax Shepard's TV niece and real-life possible soul mate. Another member of Parenthood's Braverman clan, she helps Shepard preemptively explain the lovefest that is this episode. You'll learn the genesis of their publicly used nicknames, BeeBee and DeeDee, and hear, for not the first time on the podcast, how Parenthood was the best job its cast will ever have. Ultimately, the best stories are those of Whitman's 28-year career, starting with joining SAG at age 2 for a voice-over job. Beyond being bullied at school, Whitman covers how adults judged her for being young, small, and female, even though she was an experienced professional actor by her early 20s. I'll say it: relatable! These two goofs share their respective sexual awakenings, experiences with nudity on set and onstage, and Whitman's surprisingly genuine love of Taylor Swift. They, along with producer Monica Padman, offer up chill yet profound observations with nothin' but good vibes.
Listen: Spotify | Apple | Website
Other Podcasts We're Listening To:
Las Culturistas — Hogbook (with Maria Bamford)
Listen: Spotify | Apple | Website
Alison Rosen Is Your New Best Friend — Stephanie Allynne Isn't Joining Your Group
Listen: Spotify | Apple | Website
Inside of You — James Gunn
Listen: Spotify | Apple | Website
Dumb People Town — Kyle Dunnigan – You Don't Have to Be Lonely
Listen: Spotify | Apple | Website
Yo, Is This Racist? — Oreo (with Las Culturistas)
Listen: Spotify | Apple | Website
Anna Faris Is Unqualified — Mayim Bialik
Listen: Spotify | Apple | Website
The Need to Fail — Betsy Sodaro
Listen: Apple | Website
This week's reviewers: Kathryn Doyle, Marc Hershon, Elizabeth Stamp, Mark Kramer, Tom Rainey, Anna Marr, and Tolly Wright.