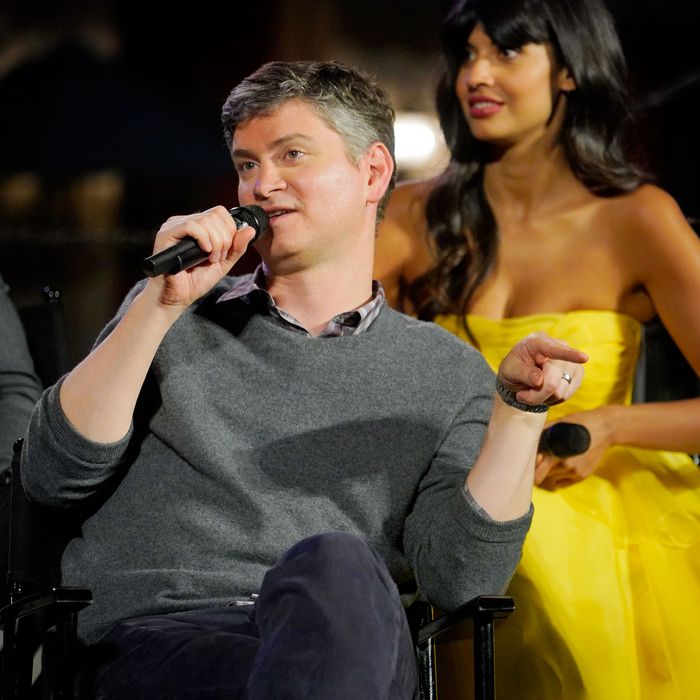 Michael Schur.
Photo: NBC/Paul Drinkwater/NBC
The comedy podcast universe is ever expanding, not unlike the universe universe. We're here to make it a bit smaller, a bit more manageable. There are a lot of great shows and each has a lot of great episodes, so we want to highlight the exceptional, the noteworthy. Each week our crack team of podcast enthusiasts and specialists and especially enthusiastic people will pick their favorites. We hope to have your ears permanently plugged with the best in aural comedy.
The Good Place: The Podcast – Chapter One: Mike Schur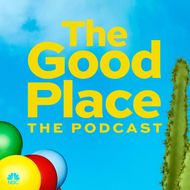 Anna: To echo this podcast's disclaimer: There WILL be SPOILERS from seasons one and two of The Good Place, so if you aren't caught up, don't listen to this podcast, don't read about the show here or elsewhere, and go finish those motherforking episodes! Fans will love this brand-new, NBC-official, behind-the-scenes exploration with writers, cast, casting directors, and more. After a special welcome from Michael (Ted Danson) and Janet (D'Arcy Carden), you'll recognize host Marc Evan Jackson's voice as demon boss Shawn (not in character). Fittingly, his first guest is the show's creator himself, Mike Schur (Parks and Rec and Brooklyn Nine-Nine co-creator). Schur outlines his journey to creating, as Jackson labels, "one of the smartest, dumbest shows on television," including some darker corners of ethics he found while researching. Learn about the evolution of Janet (hint: originally a kiosk), our new favorite profanity, and everything episode 113. How was Schur able to keep audiences from sniffing out such a huge plot twist in the age of social media? Totally on brand, Jackson ends by asking Schur to share something good. Listening to this deep-dive podcast makes waiting for season three feel less like the Medium Place and more like, well … you get it.
Listen: Spotify | Apple | Website
Anna Faris Is Unqualified – Natasha Leggero and Moshe Kasher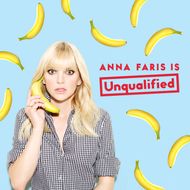 Kathryn: This week on Unqualified Anna Faris talks dating stand-up comedians with married stand-up comedians Natasha Leggero and Moshe Kasher (The Honeymoon Stand Up Special), two self-obsessed people who are also obsessed with each other. They review Tom Leykis's rules of dating and play "deal-breakers," with surprising lenience for men who call their mothers "mommy" and women who pee on cacti. We learn how Natasha almost became a single mom when Moshe tried to put a flag on top of their house, why friendships can come to an end at the Tel Aviv opera, and which movies Moshe brought to Natasha's house when they first started dating (first an Ingmar Bergman, then Rambo: First Blood). Between this episode and last week's guest, Bachelorette Becca Kufrin, Unqualified has been on a roll lately.

Listen: Spotify | Apple | Website
Keep It! – The One With Kathy Griffin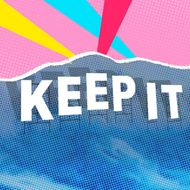 Elizabeth: If anyone knows what Samantha Bee is going through right now, it's Kathy Griffin. The comedian stops by Keep It! this week to save her thoughts on the feckless cuntroversy. But first, hosts Ira Madison III, Kara Brown, and Louis Virtel dive into the week's news from the premiere of Pose, the Drake–Pusha T feud, and Kim Kardashian's visit to the White House to discuss prison reform. Griffin joins the group to weigh in on Samantha Bee and Roseanne, as well as her own controversy (and subsequent investigation). They also chat about being told by CBS at one time that they were not considering females for late-night show hosting positions, her former neighbors Kim and Kanye, and how she's mixing pop culture and politics on her new tour. To wrap things up, the hosts say "keep it" to the fake Serena Williams–Maria Sharapova rivalry, the Willy Wonka reboot, and Donald Trump disinviting the Eagles to the White House. Plus, don't miss one of the best ad reads in podcast history, in which Louis tells a story about how lemon LaCroix reminds him of a lemon cake served at his grandfather's funeral.
Listen:  Spotify | Apple | Website
Chapo Trap House – First Time, Long Time feat. PFT Commentator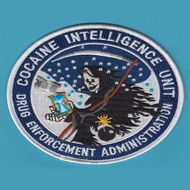 Pablo: With the NFL continuing to shoot itself in the dick months after most Americans forgot what made them so mad – something about a flag? – it's the perfect time for a sports-themed episode of Chapo Trap House. Fresh off being doxxed by Deadspin, PFT Commentator joins the boys to talk anthem protests, Rick Reilly's horny teenage son, and the awful Twitter accounts of Mike Francesa and Bryan Colangelo. The NFL, fresh off kowtowing to Donald Trump's national anthem demands, has just created a policy that pleased neither side. Better yet, the new guidelines are extremely vague, which makes sense since the NFL is an organization built on men catching balls yet the league infamously cannot define what exactly is a catch. They also discuss the sports world's other dumpster fire in Philadelphia, where the 76ers, after a decade of futility, once looked like the No. 1 landing spot for LeBron James this summer. That changed, however, when The Ringer reported that the team's general manager, Bryan Colangelo, created secret Twitter accounts to defend his job performance, trash his rivals, and even leak confidential medical details for his own players! But in the biggest abuse of his power, Colangelo used these accounts to defend his preference of dress shirts with abnormally large collars. In both politics and sports, abuses of these kinds go unchecked without the brave work of our nation's intrepid reporters.
Listen: Spotify | Apple | Website
Punch Up the Jam – It Wasn't Me (with Ify Nwadiwe)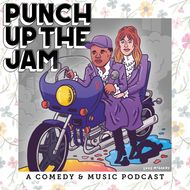 Mark: The expanded podcast universe is brimming with shows that break down books, movies, episodes of TV, entire music albums, playlists, and now, with Punch Up the Jam, one individual song. Some might think an hour-plus-long podcast about a three-and-a-half-minute song may be a stretch, but in just 26 episodes, hosts and Twitter elites Demi Adejuyigbe and Miel Bredouw have somehow made an hour feel not long enough. Shaggy's iconic "It Wasn't Me" is this week's jam and Ify Nwadiwe (@midnight) is this week's lucky guest. As the three dissect each stanza, they slowly unearth Shaggy's gender-swapped Crazy Ex-Girlfriend pilot buried underneath the preschool xylophone. Demi puts it best describing the song as a show-stopping number in a larger Disney musical about gaslighting. Questions are raised that remain unsolved mysteries since the song's release in 2000: Why did they have to do it on the cold, mildewy tile of the bathroom floor? How many sex positions does Rikrok actually know? And why does Shaggy sing like Andre the Giant? Another one of Demi's masterpiece parodies caps off the fun — enjoy his excellent Ready Player One theme if you haven't already. Past episode highlights include Sum 41's "Fat Lip," Barenaked Ladies' "One Week," Third Eye Blind's "Semi-Charmed Life," and other songs that can be found on early Now That's What I Call Music CDs.
Listen: Spotify | Apple | Website
Entry Level With Brooks Wheelan – Paul Scheer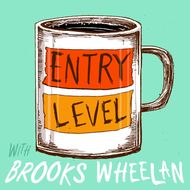 Tom: If you've ever turned on the TV and thought "Enough of this, tell me more about the terrible jobs these celebrities used to have," then you're in luck! Stand-up comedian and former SNL cast member Brooks Wheelan has an entire podcast dedicated to the very topic. This week on Entry Level, Brooks explores the pre-Hollywood résumé of Paul Scheer. From stocking VHS tapes at Blockbuster Video to handing out AOL CDs on rollerblades, Scheer's previous work experience is a greatest-hits compilation of jobs that could have only existed in the 1990s – Now That's What I Call Résumé Building! In slight deviation from podcast format, Wheelan shares a few stories from his comedy career, most notably how he and his skater posse overstayed their welcome at Rob Dyrdek's Fantasy Factory — talk about ridiculousness. Up-and-coming Hollywood hopefuls, be sure to mentally bookmark that time Bart from the mail room stole your lunch out of the fridge. It'll come in handy when you're on Entry Level someday.
Listen: Spotify | Apple | Website
Hampton High – Parker the Jock (with Brady O'Callahan)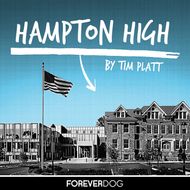 Noah: From the studio that brought you The Podcast for Laundry, Tim Platt plays Hampton McKelvey, an earnest but sometimes brain-dead high-school junior at the fictional Rockville Prep. After his first month hosting a podcast yields some results that make the host uncomfortable and stressed, he welcomes a good friend and fellow athlete, Parker Krill (played by Brady O'Callahan), to the show for what he hopes will be a more conversational affair. Parker quickly makes Hampton more argumentative than he's ever been by revealing himself to be a burgeoning "hipster" who shouts-out a shy freshman graphic designer, publicly endorses Bernie Sanders and dabbles in socialism, has been recommending Coldplay to everyone lately, and has recently decided not to continue his football career into college due to the ongoing revelations in the medical community about CTE. In a crowded landscape of character-based improv podcasts, Hampton High has quickly become a world unto itself; and thanks, again, to the freshman scabs who made lunch in the absence of the striking cafeteria workers today.
Listen: Spotify | Apple | Website
WTF With Marc Maron – David Harbour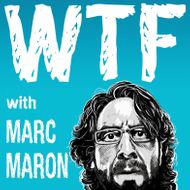 Marc: Marc Maron's guest early in the week, in the Monday drop, is one of those character actors who got the occasional film or TV job and spent most of his time doing plays in New York. And then Stranger Things happened. "We really had no idea what was going to happen when the show was about to come out," David Harbour tells Maron. Harbour plays Jim Hopper, the take-it-in-stride sheriff when things go crazy in Netflix's hit retro-pop-culture, coming-of-age, sci-fi wackadoodle series. "Netflix did no advertising, really, right up until the show debuted. Then, it was like it got into the Zeitgeist." Even though the show is now into its third season of production, he doesn't quite sound like he believes its, or his, success. It's a deep, funny, and insightful interview — you can feel a kindred spirit vibe coming off of this one — as Maron probes into his guest's years of sobriety (including "going out" abruptly when he was 13 years in the program). The two guys definitely entertain each other with their anecdotes, and the feeling is contagious to the listener. For ST fans there's some nice backstage stuff, and Harbour is also clearly excited to chat about his upcoming lead role in the new Hellboy movie.
Listen: Spotify | Apple | Website
Raised By TV – Oprah (with Kate Spencer and Elizabeth Laime)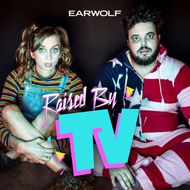 Leigh: A couple episodes back on Raised by TV, Jon Gabrus taught Lauren Lapkus about the essentials of '90s wrestling. And now, the tables have turned as Lapkus teaches Gabrus about Oprah. But as a living, breathing human, it's impossible to not know anything about Oprah, even if you didn't grow up watching her show — or more likely, grow up with a mom who had a tiny television in the kitchen watching the show. Joined by two very qualified guests, Kate Spencer, who actually worked for Oprah, and Elizabeth Laime, who was a background actor in that Oprah SNL sketch (yes, that one), they set out to guide Gabrus through the world of '90s/early-2000s Oprah moments. Hitting all the classics, it's hard not to feel a range of emotions when they cover Tom Cruise jumping on the couch, Oprah's Favorite Things, Oprah's Book Club, the James Frey takedown (which you may remember as the time Oprah confronted the author and "ripped him a million tiny assholes"), and of course the "you get a car, you get a car, you get a car" moment. There's even a moment when, while listening to a clip of a woman talk about buying a pair of Oprah's shoes at an auction, Lapkus, Gabrus, Spencer, and Laime are all either fighting the urge to cry, or just full-on crying. And what's a great comedy podcast without a little bit of crying?
Listen: Spotify | Apple | Website
Other Podcasts We're Listening To:
Beautiful/Anonymous – The Chillionaire
Listen: Spotify | Apple | Website
This Sounds Serious – The Weatherman Strangler
Listen: Spotify | Apple | Website
Dumb People Town – Tig Notaro – A Clive and Kickin'
Listen: Spotify | Apple | Website
Fitzdog Radio – Natasha Leggero and Moshe Kasher
Listen: Apple | Website
Classroom Crush – Cute and Funny (with Chef Kevin Bartelt)
Listen: Apple | Website
The Business – Dan Goor on Brooklyn Nine-Nine's Dramatic Reversal of Fortune
Listen: Spotify | Apple | Website
Mary Houlihan's Li'l Podcast – We Have Had Sex a Little Too Many Times and We're Not Ashamed of It! (with Sam Taggart)
Listen: Spotify | Apple | Website
The Best Show – Philly Boy Roy! The Do-Over! Aldi Talk! Ah, Shut Up! Sound Collage! More!
Listen: Spotify | Apple | Website
Fitzdog Radio – David Cross
Listen: Apple | Website
Who Charted – Brent Weinbach, Natasha Leggero, Brett Morris
Listen: Spotify | Apple | Website
Comedy Bang Bang — Prom Womptacular with Jessica St. Clair, Lennon Parham, Brian Huskey, Paul Scheer
Listen: Spotify | Apple | Website
Dead Pilots Society – Adulting Written by Abby Kohn and Marc Silverstein
Listen: Apple | Website
Larry Wilmore: Black on the Air – Nell Scovell on breaking into the Hollywood boys' club
Listen: Spotify | Apple | Website
Got a comedy podcast recommendation? Drop us a line at comedypodcasts@vulture.com.
This week's reviewers: Pablo Goldstein, Kathryn Doyle, Marc Hershon, Leigh Cesiro, Elizabeth Stamp, Mark Kramer, Noah Jacobs, Tom Rainey, and Anna Marr.