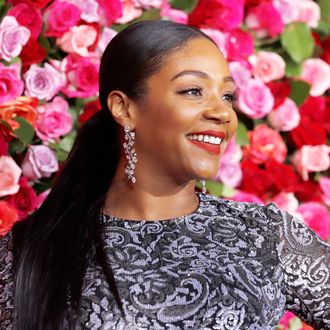 We don't deserve her.
Photo: Jemal Countess/Getty Images for Tony Awards Productions
Tiffany Haddish, the greatest storyteller of our time, is the subject of a new Hollywood Reporter profile, except also she's not. You could argue that the true subject matter is the countless anecdotes she has about every A-lister she's ever encountered. Like a young Quincy Jones in training, Haddish has a story about Leonardo DiCaprio, Sanaa Lathan (yes, another one), Taylor Swift, Drake, Tracy Morgan, as well as damning evidence of Roseanne Barr's racism for anyone still convinced Ambien was to blame for the tweet that got her show canceled. Below, six of Haddish's celebrity tales that left us wanting much, much more.
Roseanne Barr
Last month, ABC canceled the Roseanne revival after its star Roseanne Barr sent a racist tweet comparing former Barack Obama aide Valerie Jarrett to an ape. According to Haddish, Roseanne has a long history of racism and she's been on the receiving end of it.
"I don't know if you know El Segundo [a coastal California town near LAX], but if you're black and you're driving through El Segundo, you're going to get pulled over. I used to visit my friend Anna there, and it got to a point where I was calling the police officers by name. One day, we were walking around the neighborhood, and Anna says, 'Oh, Roseanne lives there.' Now, I loved Roseanne, and the next day we walked by, and she was in her yard. I say, 'Hiiii, Roseanne.' She looks at me (makes a disgusted face), and ran in the house. I thought, 'Maybe she don't want to be bothered today.' A week later, we walk by again, and I told Anna — she's Hispanic, but she looks white — she should say hi this time. So she says, 'Hi, Roseanne,' and Roseanne goes, 'Hey!' I thought, 'Maybe she got to know us.' Then I go back, like, a week later, I wave again and say, 'Hi, Roseanne! I love your comedy,' and she (makes the same disgusted face) and turns her head. I think, 'Fuck that bitch.' That was 2000, maybe 2001, so it's not new. She been racist, why'd you all give her a TV show?"
Sanaa Lathan
Earlier this year, Haddish famously stopped the presses with the news that some unnamed actress ready to end her career tried to bite Beyoncé in! the! face! at a party. Haddish never revealed who would commit such an atrocity, but the internet quickly figured out it was Sanaa Lathan. Haddish still isn't naming names, but she does say that the assumption it was Lathan (which Lathan has denied) caused tension between Haddish and Lathan's family.
"Haddish asks whether I know who did it, and I whisper the name that's been rumored: Sanaa Lathan. She smiles. "I'm super good friends with her stepmom and her dad [Stan, a producer-director], and they were mad at me. They were like, 'Why would you do this to the family? You know, black actresses, you guys have to stick together, it's so hard for you guys to get work as it is, why would you try to ruin her career?' But I didn't try to ruin her career. I never said her name! I was just trying to say how Beyoncé kept me from goin' to jail that night. I coulda just shut my whole career down."
Leonardo DiCaprio
It's not just Brad Pitt that Haddish wants — Leo can get some lovin', too. Haddish says she also tried to get in Leo's pants, figuring since he was in the "coochie squad," he must be game. To sweeten the deal, she asked him to role play in bed as a certain character from one of his earliest films — and it's not even Jack or Romeo.
"Yeah, I met him at a party two, three months ago, and I asked him if he'd let me hit that," she begins. "He's like, 'Tiffany, you're so funny.' I'm like, 'I'm serious.' And then he goes, 'I mean, I'd do it, but …' I was like, 'Come on, wasn't you in a squad? The coochie squad or something?' [Editor's note: DiCaprio was famously a member of the "pussy posse" with pals Tobey Maguire and Kevin Connolly.] I told him, 'My only stipulation: I wanna do it with you as your character in What's Eating Gilbert Grape.' He starts bustin' up laughin'. 'Why?' he asks, and I say, 'Cause I feel like that performance deserves a real reward and that reward is this (gestures at her own body).' He starts goin' into how he got into the role, how he worked with these kids and all this stuff, and I'm just listenin' and listenin', like, 'Mmm-hmm, mmm-hmm.' I finally go, 'All that's good, I just need to know, When's this gonna happen?'"
Drake
Haddish cameos in Drake's "Nice for What" video and, apparently, there was almost an offscreen romance! THR reports that the two nearly went on a date, but "turns out Joel Edgerton is more her type." Okay, but would it have been to the Cheesecake Factory or … ?
Taylor Swift
Tiff and Taylor go way back, like to when the two shared the SNL stage last fall. Since then, Haddish has talked about how Taylor cooked her some "bomb" cornbread after the show and the two have remained friendly. Haddish now says she even tried to invite Taylor as a guest to her high-school reunion. Apparently, Taylor was all in, but her security guards weren't having it. Boo!
Tracy Morgan
Haddish and Morgan star together on his TBS show The Last O.G., but if you ask Morgan about it — which Vulture did — he doesn't wish to hype up Haddish's career any further. Instead, he told Vulture that he'd rather give publicity to craft services. Their other co-star Lil Rel Howery caught wind of our interview and tweeted it with a warning to Morgan: "That show would be nothing if @TiffanyHaddish wasn't on it… Don't bite the hand that keeps you relevant!!!" Haddish now implies that she's increasingly had a strained relationship with Morgan since her celebrity has grown, but she understands his frustration.
She suggests her relationship with Morgan changed, too: "When the Jimmy Kimmel thing came out, he's like (in Morgan's voice), 'I saw you on Jimmy Kimmel, you was nervous as fuck, huh?' I'm like, 'No …' 'Haddish, come on, I could see it in your eyes, you were scared.' … But you don't argue with Tracy, you just say, 'OK, yeah, you're right.'"




Haddish says she tried to get her friend [Lil Rel] to take down the post, but he flat-out refused. "That motherfucker's a hater," Rel told her. Other comics reached out, too, and she says she told them all the same thing: "You guys, chill. He's probably just tired of hearing my name. It's exhausting. I'm tired of hearing my name. I could see how that could be irritating, like, 'Hello, I died, people. I'm back from the dead. Tiffany's cool, but it's me sitting here now.' So, I get it, I'm not mad about it, I love me some Tracy."