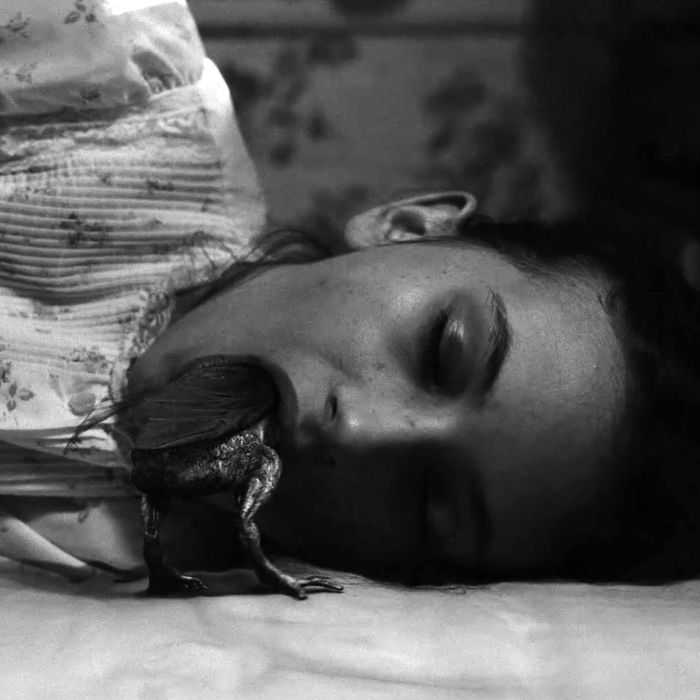 The eighth episode of Twin Peaks: The Return was so daring, so horrifyingly beautiful, that we're still not totally sure how David Lynch and Mark Frost convinced Showtime to air it. (To be a fly in the room during that executive table read, truly.) Shot in black-and-white, the episode depicts the birth of the show's antagonist, BOB, culminating with a frog-like creature slithering into the mouth of a young girl in New Mexico — a girl who is later revealed as none other than Sarah Palmer. To say this creature is terrifyingly grotesque would be the understatement of the century. It has wings. It jiggles. It flies. It's … gross. It crawls into Sarah Palmer's mouth!
And like many other creations in the Lynchian universe, it's tailor-made with a very poignant backstory.
As Lynch recounts in his new memoir, Room to Dream, he was inspired to create the "frog-moth" creature as a tribute to the late Jack Nance — who portrayed Pete Martell in Twin Peaks' original run and appears in archival footage during The Return — after an experience the duo had in Yugoslavia. "Because of where I grew up and what my father did, nature was a big part of Twin Peaks and the woods are really important," Lynch wrote. "That's a huge part of the thing."
The journey he and Nance had together, which Lynch writes about with concision, sounds hauntingly beautiful:
When Jack and I were in Europe, we caught the Orient Express in Athens to take us back to Paris, so we're going through Yugoslavia and it's really, really dark. At a certain point the train came to a stop and there was no station but we could see people getting off the train. They were going over to these canvas stalls with dim little lights, where they had these colored drinks — purple, green, yellow, blue, red — but it was just sugar water. When I got off the train I stepped into this soft dust that was like eight inches deep and it was blowing, and out of the earth these huge moths, like frogs, were leaping up, and they'd fly and flip and go back down again. So that was the frog-moths — things just sort of show up in the world of Twin Peaks.
Knowing what we know now, perhaps we can finally look at the frog-moth and not be entirely totally creeped out.