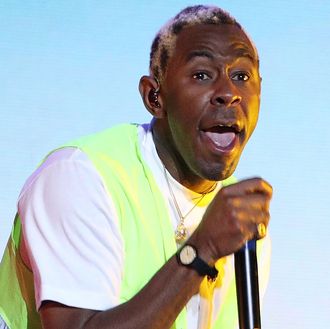 He's a fan just like you.
Photo: Taylor Hill/Getty Images for Boston Calling
Tyler the Creator is both a colleague and fan of Kanye West's, so since he seemingly didn't trek to Wyoming for the Ye sessions, he's been devouring the new music at home like the rest of us. (But probably not putting up with these glitchy weekly livestreams, we hope.) Tyler has revealed that he was so inspired by Kanye and Kid Cudi's collaborative album Kids See Ghosts that his immediate reaction was to make the title track his own. Within an hour of hearing it, he says, he wrote new verses to the song then recorded his version all in one night. It's called "CRUST IN THEIR EYES" ("Niggas swear they woke but got crust in their eyes," he raps), and just a week later, it's available for the masses, "'cause why not let it exist." Also because everything to do with Kanye these days moves at a rapid-fire pace. Don't forget, Tyler previously remixed one of Kanye's songs from The Life of Pablo with A$AP Rocky. Keep 'em coming!