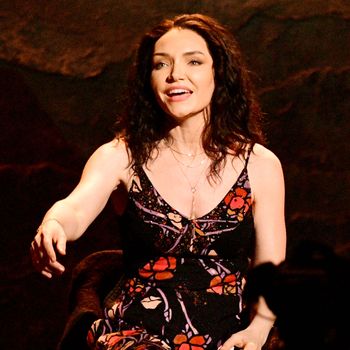 At the Tony Awards, actors most non-theatergoers know from Law & Order reveal the insane depths of their talents on TV. In addition to handing out a lot of awards to Harry Potter and the Cursed Child and Angels in America, the Tonys give Broadway actors a chance to deliver some killer performances (and we're not just talking about Christine Baranski's pronunciation of the word "musical revival"). This year's show went with everything from melancholy ballads, big production numbers, belt-a-thons, and even a tap-dancing squid. Kill a lazy weekday morning by watching them all below.
"Omar Sharif," The Band's Visit
The Band's Visit, which swept the Tonys with ten awards, wisely chose to showcase its big song, and its big star, Katrina Lenk. Tony Shalhoub watches silently in awe, because honestly what else is there to do? We assume Lenk's arm movements alone probably sold at least 1,000 tickets.
"We Dance"/"Mama Will Provide," Once on This Island
Here, Alex Newell, somehow not nominated for playing Asaka on Once on This Island, launches an intense campaign to make Tony voters regret their oversight. The show, a surprise winner of Best Musical Revival over the stately rivals My Fair Lady and Carousel, also showed off its famous goats in the number. Nathan Lane was not amused.
"Last Dance," Summer: The Donna Summer Musical
The only new musical not nominated for Best Musical to get a spot at the Tonys, Summer was mostly there to remind everyone that, yes, Donna Summer has a lot of bangers. The three summers are LaChanze, Ariana DeBose, and Storm Lever, each portraying the disco queen at a different period of her life. It's like Three Tall Women, with more spangles.
"For the First Time in Forever"/"Let It Go," Frozen
Foregoing any of the new songs written for Broadway (give our regards to "Monster," a stealth jam), Frozen went into the Tonys with the two biggest songs from the movie. Enjoy Patti Murin's ridiculously high energy Anna, and Caissie Levy's ability to casually open up so much she reaches the ionosphere on "Let It Go."
"I'm Not a Loser," SpongeBob SquarePants
Squidward Tentacles, tap star. That's really all there is to say.
"Where Do You Belong?"/"Meet the Plastics," Mean Girls
Mean Girls gives its triple air-quoted introduction to high school by way of a big dance with cafeteria trays, and also showcases the three Plastics. Kate Rockwell didn't get a Tony nomination for playing the brainless Karen, but at least she gets her brilliantly empty moment here.
"The Rain in Spain"/"I Could Have Danced All Night"/"Get Me to the Church on Time," My Fair Lady
After driving off in that car at the end of Six Feet Under, Claire Fisher moved to London, adopted a Cockney accent, then learned a proper British one, and started to sing.
"Blow High, Blow Low," Rodgers and Hammerstein's Carousel
Justin Peck's Tony-winning choreography is great and all, but it's really upstaged by the sheer plenitude of knit sweaters on display.
"Seasons of Love," Marjory Stoneman Douglas High School students
A moving tribute from the school's students to their teacher, Melody Herzfeld, who was given the 2018 Excellence in Theatre Education Award.
"My Hometown," Springsteen on Broadway
Bruce Springsteen read roughly two-thirds of his memoir out loud with some light vamping and we all loved it.