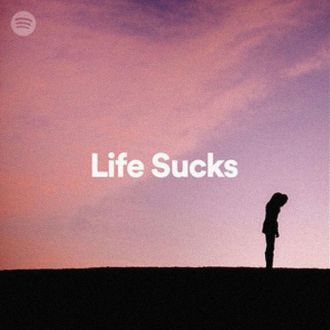 The rapper Cyhi the Prynce once said on Kanye West's "So Appalled," "If God had an iPod, I'd be on his playlist." The method of music storage might be outdated now, but playlists loom larger than ever in the streaming era of music-listener culture, with subscription services like Apple Music and Spotify acting as the presumptive deities. For the latter service, there seems to be playlists for pretty much any mood and situation.
Which brings us to the "Life Sucks" playlist. "Feeling like everything just plain sucks? We've all been there," says the intro to the whopping 56-song collection, which was created in April of this year and currently counts over 1.2 million followers. "These songs will probably only make you feel worse, but at least they'll let you know you're not alone." Will they actually, though?
What follows is an extensive ranking of every song featured in the 3-hour-40-minute playlist — but this is no ordinary "Worst to Best" ranking. Let's break down the criteria here: These 56 songs have been arranged from least to most effective, according to the playlist's stated (and, despite its assumed glibness, slightly aggressive) mission statement of intensifying the morose mood listeners may be in when seeking it out.
A note before we begin: this ranking is not intended to make light of depressive feelings or mental-health issues — similar to how, one would hope, Spotify wasn't intending to make light of mental-health issues when putting this together. Feeling sad is a universal emotion, and it's easy to find a corporation's attempt to quantify that emotion for promotional gain equally humorous and off-putting, and that about sums up our approach here. Who knows? Maybe reading this will brighten your day, too.
56. James Arthur, "Suicide":
What is this, an episode of 13 Reasons Why? Listen, let's put aside the fact that this British singer-songwriter utilizing suicide-as-metaphor is, on its face, disgusting — even on an emotionally exploitative playlist like this, does including a song explicitly called "Suicide" not ring as grossly irresponsible and triggering?
55. Rihanna, "Rehab":
I'm of the opinion that Rihanna's 2012 single "Stay" is one of the worst pop songs of the last ten years — but it aches with despair and sadness, certainly more so than this Good Girl Gone Bad cut. (Not that this even needs to be said, but it's not even the saddest song called "Rehab.")
54. Twenty One Pilots, "Stressed Out":
Does anyone actually feel like life sucks when they hear Twenty One Pilots? Vaguely annoyed, maybe. If caught in the right mood, maybe kind of pleased — I once heard "Ride" at a Mets game and I was feeling it for sure. Maybe you'd feel like your life sucked while listening to "Stressed Out" if you were Skee-Lo, whose only big hit "I Wish" is pretty much ripped off thematically here. Justice for Skee-Lo!
53. Train, "Drops of Jupiter":
Let's get one thing out of the way: I like this song. Okay, now that you've stopped throwing fruit at me — there's a section of this song in which Train frontman Patrick Monahan just lists a bunch of good shit. Nothing sad about that, unless you really hate soy lattes.
52. Natasha Bedingfield, "Unwritten":
Including this song on a playlist designed to "probably only make you feel worse" is practically a crime — for the love of LC, I've told many a friend feeling down to "Be like Bedingfield and feel the rain on your skin" (ask around, it's true). On the other hand, "The rest is still unwritten" is an ominous statement to hear when you're working on a ranking of 56 songs in a Spotify playlist called "Life Sucks," but that's not exactly a universal feeling.
51. Miley Cyrus, "The Climb":
Remember this one? Seriously, do you? We've been through so many eras of Miley that "The Climb" feels like it came out during the Vietnam War. "The Climb," of course, is not as tragic and filled with anguish as the Vietnam War — it's actually pretty triumphant, and if this was a ranking that angled on how inspirational these songs are, it'd chart much higher. (To wit: she performed it at the March for Our Lives rally in D.C. earlier this year.)
50. Ruth B., "Lost Boy":
"I am a lost boy from Neverland/Usually hanging out with Peter Pan." I don't know, man — sounds kind of tight.
49. Gavin James, "Bitter Pill":
This mid-tempo ballad from Irish singer-songwriter Gavin James is less sorrowful and more just kind of scary: "I ripped these walls apart / And I went and shot an arrow right through your heart." Calm down, man!
48. Lana Del Rey, "Blue Jeans":
One of two Lana songs on here, which makes one ask how and why she hasn't named one of her songs "Life Sucks" yet. Bizarre to choose this single and not its much more tragic-sounding A-side "Video Games," which is reminiscent of Peggy Lee's "Is That All There Is?" and easily the most devastating Born to Die–era song not titled "Summertime Sadness" (which, inexplicably, is also not on here).
47. Sia, "Elastic Heart":
Straight up, this single from The Hunger Games soundtrack slaps, which makes it a bit too much of a turn-up anthem for this playlist. (The accompanying video is tragic for entirely different reasons.)
46. Billy Joel, "Vienna":
Not so much a "Life sucks" song as it is, "Life is what you make of it, so be patient, young chap." Mostly, it's funny to imagine a Spotify employee typing in the words "Billy Joel" into a search bar while making a playlist called "Life Sucks."
45. MS MR, "This Isn't Control":
NYC synth-pop duo MS MR make music that's practically designed for feeding into the algorithmic machine of streaming, so their inclusion here makes a lot of sense — but setting aside the uninspiring melody, the lyrical sentiment here (basically the song's title, repeated far too many times) is too vague to connect with. Miserable in the wrong way.
44. The Neighbourhood, "Wires":
I have to assume this plodding single from California genre-blending band the Neighbourhood was chosen for its chorus, which features the phrase "Straight to hell" repeated ad nauseam. Take a closer listen to the other lyrics, though ("If he said help me kill the president / I'd say he needs medicine") and you might find that the tears will start rolling due to pure laughter.
43. Travis Atreo, "Should Have Been Us":
It is literally impossible to listen to this YouTuber-turned-professionalish-musician's cover of Tori Kelly's original and not get Rae Sremmurd's "This Could Be Us" in your head instead. (Also, one of two instances on this playlist in which a cover version is inexplicably featured instead of the original song. )
42. Biffy Clyro, "Many of Horror":
Scottish rock band Biffy Clyro are pretty huge in the U.K. and pretty not-so-much in the U.S., which leads me to the conclusion that a British person made this playlist. (British person: reveal yourself!) This song from the band's 2009 album Only Revolutions is ultimately far too anthemic to hang with this crowd.
41. Avril Lavigne, "Keep Holding On":
There's a (figuratively) better and sadder Lavigne song that appears farther down the list; the explicitly inspirational "Keep Holding On," however, is simply far too hopeful for the sorry lot of Spotify subscribers smashing the "Follow" button on this playlist. "Keep Holding On" is notable for being featured on the soundtrack to the failed 2006 dragon drama Eragon, which was reportedly the last film to be released on VHS in the United States. Keep holding on, VHS — just stay strong, 'cause you know I'm here for you.
40. Gnash f. Olivia O'Brien, "i hate u, i love u":
He sounds like a fake Drake, she sounds ripped from a Chainsmokers chorus — that's pretty depressing on its face. "Wedding bells were just alarms / Caution tape around my heart," the sorta-rapper, sorta-singer moans at the song's midsection. Poor you.
39. Jason Mraz, "I Won't Give Up":
His 2012 single is laced with more hope than despair, making for a curious fit on this playlist. The album it's taken from is called Love Is a Four-Letter Word, and I can think of one or two more to describe this song with, too.
38. Green Day, "Boulevard of Broken Dreams":
What, was "Wake Me Up When September Ends" too on-the-nose?
37. Gabrielle Aplin, "Please Don't Say You Love Me":
I get it, but way too plucky and positive-sounding to cut to one's despondent core. This British singer-songwriter's 2013 single was written in the key of C major, which Bob Dylan once claimed to be "the key of strength, but also the key of regret" — then again, Joseph Haydn labeled his symphonies written in C major as "festive," so eat it, Bob.
36. Justin Bieber, "Purpose":
LOL. No.
35. Nathan Sykes f. Ariana Grande, "Over and Over Again":
The most tragic part of this 2015 single from the British piano man is that it shamelessly rips off Coldplay's "Clocks," and needed a whopping four songwriting credits to do so. The version of this song included on the playlist is the remix featuring Ariana Grande, which is a massive curation miscalculation: who can possibly continue to feel bad after hearing her voice?
34. Olivia O'Brien, "Complicated":
O'Brien of "i hate u, i love u" returns, this time with a competent cover of Avril Lavigne's "Complicated." There are already two Lavigne songs on this playlist — why use this bland cover instead of throwing on a third? Instant disqualification.
33. Paloma Faith, "Only Love Can Hurt Like This":
This Diane Warren-penned 2014 single from I-Can't-Believe-It's-Not-Florence-Welsh singer Paloma Faith aims for the bassy power of Amy Winehouse's "Tears Dry on Their Own" and lands somewhere around Duffy's "Warwick Avenue" instead. At the least, it would make for decent Grey's Anatomy soundtrack fodder, which can also be said about 95 percent of the songs on this playlist.
32. Bastille, "Oblivion":
First off: the video for this song features Game of Thrones' Sophie Turner lip-synching at a demolition derby. That is pretty badass, and decidedly not sad. Secondly, get a load of this chorus: "When / Oh oh oh / And oblivion." … Indeed?
31. James Bay, "Let It Go":
I'll admit that I've heard (and, at moments of extreme weakness, kind of enjoyed) this 2015 single from the U.K. singer-songwriter and man of many hats without knowing who was singing it, which is an admission that could possibly apply to a good number of songs on this list. With a chorus that provides the bare minimum of uplift, "Let It Go" (which, fun fact, was co-written by the guy who also had a hand in Cher's "Believe") sounds less like music for wallowing and more like decent supermarket-soundtrack fare — not very effective, unless you're feeling down about a clean-up on aisle five.
30. Tom Odell, "Heal":
Lotta mediocre, Who-y British singer-songwriters on this list. What miserable factory are all these guys coming from? This bonus cut from Odell's 2013 debut Long Way Down leans a little too hard on the vocal melisma to be even remotely relatable — a reflecting pool of a sad song that makes a little sense in existence alone, as long as you don't pay too much attention to it.
29. James Morrison f. Nelly Furtado, "Broken Strings":
Boring as hell, but this shattered-relationship duet is designed to get someone in their feels. Perhaps the greatest tragedy here is having to hear Furtado in a setting where she can't be herself. Hope she got paid well for this.
28. Mayday Parade, "Miserable at Best":
Kind of surprising that this is the only 2000s-Warped-Tour-emo song featured on here, right? Wither My Chemical Romance? Ignore the atrocious singing and remember that this stuff is practically catnip for a playlist like this. Consider the target audience — if you're not into it, at least you can sleep soundly knowing it wasn't really made for you to be into.
27. Yiruma, "River Flows in You":
A pretty little song from this Japanese pianist, "River Flows in You" sounds perfectly suitable for soundtracking a trailer for a YA weepie-of-the-week, or even a faith-based drama about a man whose belief is tested after his wife leaves him. Fittingly, Yiruma is a devout Christian, and he has done soundtrack work — including contributions to a 2003 stop-motion film called Doggy Poo, which is about exactly what it sounds like.
26. Alessia Cara, "River of Tears":
One of a few songs on this playlist (see also: "River Flows in You") where you have to assume the curator saw the title, heard about five or ten seconds of its mournful piano, and said, "That's the one." Technically, a sadder Alessia Cara song is "Here," a Buzzfeed quiz of a single about someone who's terrible at parties — but there's sufficient sonic catharsis here, genuine or not, to justify its inclusion.
25. Jacquie, "Broken Ones":
This song from The Voice runner-up Jacquie Lee sounds huge, but its sentiment is dead-on for the "Life Sucks" crowd: "Just remember that we've all been broken once / So let's love the broken ones." I see what you did there, Jacquie! Nice.
24. Jake Bugg, "Broken":
Chad Smith of the Red Hot Chili Peppers played drums on this cut from Bugg's 2012 self-titled debut, but don't expect to get addicted to the shindig with this song. Sometimes feeling bad just means making noise with your mouth, and Bugg's wordless exclamation during the chorus of "Broken" gets the point across better than most of the actual lyrics.
23. Moby, "Why Does My Heart Feel So Bad?":
Sure, fine, whatever Moby.
22. Sam Smith, "Make It to Me":
"Life Sucks" songs are pretty much all Sam Smith does. You could close your eyes and throw a dart at a list of his entire catalog and hit something that would make sense here, which perhaps explains why this was chosen rather than the arguably more anguished "I Know I'm Not the Only One."
21. Conrad Sewell, "Start Again":
Speaking of Sam Smith: it's hard not to hear this song — which the Australian singer-songwriter originally wrote for Kylie Minogue — and think of Smith's legendary cry-fest "Stay With Me." "Start Again" achieves a similar level of emotional mountain-scaling, thanks to some effective background choir gestures. Can't go wrong with a background choir.
20. Aurora, "Murder Song (5, 4, 3, 2, 1)" (Acoustic):
Are you not going to include a song called "Murder Song" on a playlist about feeling like shit?
19. Citizen Cope, "Sideways":
A perfectly competent unrequited-love tune from this Memphis strummer, and one that has been used to emotional effect in tear-triggering pop-cultural artifacts ranging from One Tree Hill to Darren Aronofsky's eternal-life-as-love epic The Fountain. It was also apparently featured during a season of So You Think You Can Dance?, but no video evidence of this exists online. Man, life sucks sometimes.
18. The Lumineers, "Slow It Down":
Ho! Hey! Now that I've got that out of my system: It's no "Skinny Love" (trust me, we'll get there), but it's hard not to hear this sparse centerpiece from the Lumineers' 2012 self-titled debut and at least halfway empathize with the empty-bed sentiment expressed here.
17. Miranda Lambert, "Use My Heart":
Co-written by fellow Pistol Annies member Ashley Monroe, this closing cut from 2016's The Weight of These Wings — the most recent album from country music's "Life Sucks" queen — is lyrically spot-on to the point that it doesn't need to express any deep musical anguish to get its point across. When she sang, "I don't give two shits no more, or so I say"? I felt that.
16. Lana Del Rey, "Dark Paradise":
"I wish I was dead." Yeah, okay, I think I get why this Born to Die cut was included on the playlist. Lana has much stronger feeling-bad-never-felt-so-good songs than this one — perhaps so many that any choice here would fall under scrutiny. It needs to be said, though: "Sad Girl" would've killed here.
15. Sia, "Breathe Me":
It's all in the metadata with this one: Even though "Breathe Me" is taken way before Sia's can't-see-ya and possibly-eating-all-the-markers eras (specifically, 2004's Colour the Small One), the mobile metadata on the playlist reveals that whoever made this playlist added the song from the soundtrack to Six Feet Under. All things considered, a pretty over-the-plate choice — but unlike "Electric Heart," its inclusion clicks from the moment you hear her sing, "Hurt myself again today / And the worst part is there's no one else to blame."
14. Halsey, "Gasoline":
You know what? When it comes to ragging on this stuff, I'm not going to even come close to touching this one, for obvious reasons. You do you, Halsey.
13. Alice Boman, "Waiting":
Sincerity alert: Swedish singer-songwriter Alice Boman has been something of a well-kept secret for a minute now, and this cut from her 2013 EP Skisser is indicative of her quiet power. It feels short, and sounds so small that you can practically feel yourself in the room as she sings above the tape hiss, but the impact is there, even without her yearning lyrics.
12. Shawn Mendes, "A Little Too Much":
I dare you not to listen to this song and at least get caught in a feeling or two. "Sometimes, it all gets a little too much," he sings over a chorus arrangement of acoustic guitar and piano, his serviceable vocals the shining star here. "But you gotta realize that soon the fog will clear up." I mean, word.
11. Ed Sheeran, "Small Bump":
A Trojan horse of a "Life Sucks" song if there ever was one, this pleasant-sounding cut from Sheeran's 2011 debut, +, deals with the very heavy topic of a stillborn baby. Despite being from the tip of this decade, it's still maintained an unfortunate relevance: earlier this year, an anti-abortion campaign involved with the Irish abortion referendum used "Small Bump" in their messaging, prompting Sheeran to disavow the group's use of the song.
10. Demi Lovato, "Skyscraper":
A classic misery-business cut from Our Patron Saint of Life Sucks. She's made of glass, she's made of paper, she's catching teardrops in her hands. Who can relate?
9. Red Hot Chili Peppers, "Under the Bridge":
I waffled a lot about where to place this song. How could such a huge-sounding and obvious karaoke classic make sense amidst a spread of mid-tempo tunes like those collected here? But, this song is pretty damn despairing, when you think about it. Imagine if the city of Los Angeles was your only friend, for starters!
8. Seafret, "Oceans":
Shout-out to this British soft-rock-ish duo: "Oceans" is a pretty sad song. "You know I'd rather drown / Than go on without you / But you're pulling me down," singer Jack Sedman sighs. The song's taken from Seafret's 2016 album Tell Me It's Real, which I can only assume takes its name from the K-Ci and JoJo classic of the same name. Good song.
7. Avril Lavigne, "When You're Gone":
Quality aside, very few MOR pop-radio staples from Lavigne's heyday did sing-crying-during-a-traffic-jam singles quite like her. Even if it didn't possess the pure catharsis or ubiquity of "I'm With You," "When You're Gone" is proof enough that, if you're a certain kind of listener, she has the range when it comes to this stuff.
6. Coldplay, "Trouble":
The best single from the best album from the best British band in the last 20 years to take Radiohead's angsty template and vacuum-seal the political unrest out of the whole deal, until there's nothing left but feelings and the embarrassment that comes with them. "I never meant to cause you trouble / No, I never meant to do you harm." Rick Sanchez would surely relate.
5. The Verve, "The Drugs Don't Work":
My sentiments regarding the inclusion of this mirror those regarding James Arthur's "Suicide" — that it's a baffling and dangerous message for a playlist like this, especially when taken at face value — but it's a beautiful song, and you'd feel alone while hearing this one even if it were played in the middle of the Super Bowl. Fuck me up, Richard Ashcroft.
4. Marina and the Diamonds, "Savages":
At first blush, this doesn't seem like a very sad song — it's bouncy, kind of catchy, and buzzing with the type of colorful, retro '80s touches that Marina Diamandis has made a modestly successful career on. Those lyrics, though: "Another day, another tale of rape / Another ticking bomb to bury deep and detonate." Good lord, did Michael Haneke write these?
3. Bon Iver, "Skinny Love":
True story: I have a "Life Sucks" playlist of my own on Spotify, and it's just Bon Iver's For Emma, Forever Ago. The man did this whole album holed up in a cabin in the woods while suffering from a breakup. Iconic!
2. The Perishers, "Pills":
"One may think we're all right / But we need pills to sleep at night." This song from the Swedish indie rock band's 2003 album Let There Be Morning completes the "Suicide"/ "The Drugs Don't Work" triptych of capital-P problematic inclusions on this playlist — but it aches, and very capably so. Sarah McLachlan sang backup vocals on this, and anyone who's seen her narrating a animal cruelty commercial on late-night cable knows far too well the meaning of the phrase, "Life sucks."
1. Rachel Platten, "Fight Song":
A little behind-the-scenes look at this list here: I was fully prepared to rank this notorious inspo-pop anthem at the bottom of the list due to its insufferable exuberance — then, I remembered this. Pretty sad, yeah. Doesn't get more despairing than that.