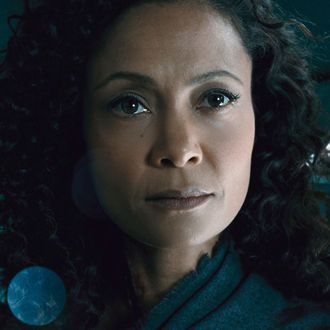 HBO's Westworld ended its second season Sunday with plenty of unsolved plot mysteries, lots of social-media debate over its creative choices … and an unmistakably smaller audience than it had in season one. As measured by Nielsen, Westworld's linear audience (including those who watched via DVR within three days of the Sunday premieres) averaged around 2.4 million viewers this spring, down 16 percent from a similar measurement period in fall 2016. Even when streaming and video-on-demand audiences are tallied, the series appears on track to experience a similar decline: HBO estimates the cumulative audience for this season is right around 10 million viewers, down from 12 million in 2016. Given the difficult environment facing all traditional TV networks right now, that sort of sophomore slump is relatively mild. But while there's no reason for HBO execs to panic over these numbers, season two of Westworld has not been an unqualified triumph, either.
The biggest problem for HBO is that, from the start, Westworld has been haunted by the ghost of expectations. That's partially because of its big price tag (a reported $100 million for season one) and auspices (Star Wars overlord J.J. Abrams is an executive producer), but also because the show had a somewhat rocky three-year path from script to screen. HBO had to shut down production of season one for two months to give producers more time to figure the show out, and a planned 2015 start date had to be pushed back a year. In 2016, all of that ended up not mattering much, and maybe even played to the show's advantage: Compared to the crisis narrative that had built up around Westworld before it premiered, season one was very much an unqualified success. Ratings were strong and grew week-to-week; critics were mostly positive; online chatter was intense and enthusiastic. "The nice thing about Westworld is, it's a broad-based hit," HBO Entertainment president Casey Bloys told Vulture not long after season one ended.
There's nothing in the numbers to suggest Westworld still isn't a big hit. Ten million cumulative viewers is a very good — even great — number for a premium cable network such as HBO, which has already ordered a third season, and the show's linear numbers have consistently put it among the top-three scripted shows on all of cable most weeks of its spring run. Same-day ratings have also been fairly consistent, averaging over 1.5 million viewers most Sundays, including 1.6 million for this week's finale. But once again, Westworld has a bit of an expectations problem. That production budget, while not outrageous in the era of Netflix and Amazon sinking hundreds of millions into shows, sets a higher bar for ratings success, both internally and externally. It's also one of the reasons why — fairly or not — entertainment journalists have been mentioning Game of Thrones and Westworld in the same breath almost from the moment HBO began developing the latter series. The fact that Westworld grew its audience a bit over the course of season one led to more linkage, with some speculating it would follow in the footsteps of GOT (or Breaking Bad or This Is Us) and add viewers in season two as well. Warner Bros. CEO Kevin Tsujihara didn't do anything to lower expectations when he compared the two shows back in 2016. "If you look at the viewer data on Westworld, its first-year viewing on all platforms is greater than Game of Thrones," Tsujihara told a media conference at the time.
While Tsujihara was quick to caution he was "not saying it's going to be Game of Thrones," his comments raised the stakes for Westworld, suggesting HBO's parent company harbored some secret hope the series would add audience between seasons the way GOT did. Now that Westworld will end up with lower ratings than its first season, it's hard to see that happening. Also not helpful to the cause of recruiting new audiences: Some critics and fans have become more vocal in expressing their frustration over the show's super-complicated storytelling experience. With GOT and Breaking Bad, the pop-culture narrative in early seasons almost universally sent the signal to holdouts that these were can't-miss shows. With Westworld, it's hard to miss the critical and social chatter among some skeptics wondering if the story line will ever become less confusing.
Still, it's probably a good thing if folks stop thinking of Westworld as some sort of post-GOT messiah for HBO and simply accept it as another strong — if very expensive — cog in the network's production machine. As Abrams cautioned just before the show premiered, "Game of Thrones is a phenomenon that can't be matched, so I think we need to stop comparing it and just say that it's another series on an extraordinary network." This is not to say Westworld is guaranteed to run another five seasons and end up in the pantheon of Great HBO Dramas. But for now, things look fine for Westworld. The show fills a very important niche for HBO, helping it attract and retain younger audiences interested in supernatural worlds (see also: the upcoming Damon Lindelof–crafted adaptation of Watchmen). People talk about the series with a level of intensity not matched by shows such as Silicon Valley or the just-launched Succession. Plus, with multiple Game of Thrones spinoffs in development, it seems clear that HBO is already doing all it can to prepare for Nielsen winter. It doesn't need any fancy robots to save the day.