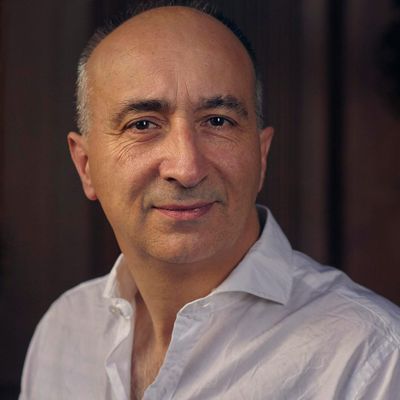 Photo: Tim Knox/eyevine/Redux/Tim Knox / eyevine
It's a deserved if perhaps loathsome burden for James Wood the novelist to be judged in the light of James Wood the critic. Wood's new novel Upstate, his second, arrives 15 years after his first, The Book Against God, a debut that enjoyed extra scrutiny because of its author's status as the wunderkind literary critic of the Anglosphere —and was smothered under the weight of his reputation.
Wood was 37 when The Book was published, in 2003, and had been chief literary critic of the Guardian from 1992 to 1995, when he left for America and the back pages of The New Republic. There, he led a phalanx of avenging critics (the others were Dale Peck, Lee Siegel, Ruth Franklin, and Adam Kirsch) n+1 called, in 2004, Leon Wieseltier's "Designated Haters." Wieseltier had been a student of Lionel Trilling and, along with Bob Silvers and Barbara Epstein at The New York Review, could lay claim to the inheritance of the vanishing New York Intellectuals; his pages made a point of keeping alive their tradition of polemic. Meanwhile, a rival literary culture had sprung up, most visibly in the form of The Believer, that deemed the dissents of Wood, Peck, and the rest a species of "snark" and poisonous to what one of that magazine's founders called the "fragile literary ecosystem." Today both the Believer and TNR are under new management, the pendular debates of just a decade and a half ago seem quaint, and social media can give the impression that literary criticism now veers toward the art of publicity and away from the practice of scrutiny. I doubt that this view is true; I'd be inclined to wager that any sweeping survey of negative and positive valences in book reviewing would reveal a balance of love and hate, and that it's ever been thus.
As Mary McCarthy and Elizabeth Hardwick showed, the time is always ripe to say that criticism has in general gone soft. When Wood was ascending, it was briefly the other way around.
But hatred was never a fair term for Wood's criticism in the way it was for Peck, who did genuinely seem to despise any pale imitation of modernism wherever he sniffed it out. When Wood went negative, he tended to do so in a mode of rigorous disappointment. A strong example of this style is his 1997 review of Don DeLillo's Underworld; he wrote that the book was "so large, so serious, so ambitious, so often well written, so punctually intelligent, that it produces its own antibodies and makes criticism a small germ," and then went on to indict the novel's organizing principle of political paranoia as fundamentally anti-novelistic. "Paranoia approaches knowledge from behind," Wood wrote, "so that anything can be connected with anything … Yet fiction's task is to show where connections seem to end, the better for their vivid spread. Henry James saw this in his preface to Roderick Hudson. 'Really, universally, human relations stop nowhere, and the exquisite problem of the artist is eternally but to draw, by a geometry of his own, the circle within which they may happily appear to do so.'" It was this sort of elegant shaping Wood was hunting for in American fiction, and it was not often that he found it.
That he wrote on 19th-century and modernist masters as much as he wrote on the living could lead you to believe he was born at the wrong time or that we were living in a fallen age.
Wood migrated to the more polite pages of The New Yorker in 2007. On the one hand, it was a move most journalists would make: more prestige, a bigger audience, and, no doubt, a raise. On the other, the magazine published fiction by many writers Wood would had savaged or deflated, and what did it need with his scalpel when it had been doing fine with the genial balms of John Updike (who didn't succumb to cancer until 17 months after Wood was hired)? "James Wood: 'I Won't Go Soft at the New Yorker,'" read the headline in the New York Observer. But Wood did adjust to his new brief, which he described to the Observer as "the elucidation of texts and the correction of taste," quoting T. S. Eliot. His corrections over the past decade and change have still been razor sharp, as in his dismantling of Paul Auster, but he has more often been a discoverer, even a popularizer, and can largely be credited with bringing Elena Ferrante, Karl Ove Knausgaard, and Ben Lerner — and, with them, the essayistic hybrid style now often called "autofiction" — to wide public attention with his generous elucidations.
Wood's 2008 treatise How Fiction Works — which drew largely on the formalism of Viktor Shklovsky and Roland Barthes — raised the question among its reviewers of what critics are good for. Are they merely arbiters of aesthetic achievement or moral, social, and political interpreters of the stories told in the books they write about? In the Nation, William Deresiewicz judged Wood lacking in the "passionate involvement with what lies beyond the literary and creates its context" — i.e., "the world" — that was the mark of Edmund Wilson, Alfred Kazin, Elizabeth Hardwick, and the rest. "Wood can tell us about Flaubert's narrator or Bellow's style," Deresiewicz wrote, "but he's not very curious about what those writers have to say about the world: about boredom, or grief, or death, or anything else in the wide, starred universe of human experience."
This criticism always struck me as unfair, in part because I suspected it was a matter of projection — Deresiewicz had recently published an essay about his troubles communicating with his Boston plumber, which he attributed to his entrenchment in elite universities — but mostly because the central plank of Wood's criticism was a reckoning with the way "the world" enters a novel in a post-religious age. In his manifesto-like essay on "Hysterical Realism" — pegged to a review of Zadie Smith's 2000 novel White Teeth — Wood wrote: "The big contemporary novel is a perpetual-motion machine that appears to have been embarrassed into velocity. It seems to want to abolish stillness, as if ashamed of silence. Stories and substories sprout on every page, and these novels continually flourish their glamorous congestion. Inseparable from this culture of permanent storytelling is the pursuit of vitality at all costs." What was doing this embarrassing? What were the novel's competitors in "the pursuit of vitality"? The usual suspects, of course — film, television, and the culture of the image in general. But also a relatively new rival: "There is an obsession in these novels with connecting characters with each other, as information is connected in the World Wide Web." In novels where "Information has become the new character" — the perp list included Smith, DeLillo, Pynchon, Rushdie, and Tom Wolfe — the writing "seems evasive of reality while borrowing from realism itself." In other words, writers had substituted cheap vitality of image and information instead of delivering the real world. It's no coincidence that such a substitution wouldn't have been possible in the 19th century. In charting this contest against a classical standard Wood was telling us one version of a crucial story about our times.
The novel that epitomized the struggle Wood was charting was Jonathan Franzen's The Corrections, which "unwittingly enacts a fine argument against the viability of a certain kind of social novel" but also succeeded as a "novel of character" when the Lambert family's "souls are gratuitous and busy, clogged with aspiration and desire. This is the dark theme of Franzen's novel; this is its truest touch. All the rest is 'social news,' and may be turned off, as it deserves." A novelist who, in Wood's reckoning, stood outside this contest with the culture of image, information, and "social news" was Norman Rush. Wood wrote of his Mortals: "For once, knowledge in an American novel has not come free and flameless from Google, but has come out of a writer's own burning; for once, knowledge is not simply exotic and informational, but something amassed as life is amassed, as a pile of experiences rather than a wad of facts."
Another hero of Wood's early criticism was Saul Bellow, and Thomas Bunting, the not altogether reliable narrator of The Book Against God, resembles a Bellow character in that he was an intellectual and a good noticer. But he's a failed intellectual and a noticer who sometimes seems to quiver before the world. The comparison does the novel no favors, but it was inevitable. Less remarked upon at the time, but perhaps more damning, was the contrast between Thomas Bunting, the alter ego as feckless intellectual, and his author, the magisterial critic. It was as if Wood had turned to fiction only to give us a lesser version of himself. The book, more charming than most first novels, was underrated. Even Wood later referred to it, perhaps ironically, as a "so-so novel."
Upstate is resolutely a novel of character, and the intelligence that animates it is recognizably Wood's, though it little resembles The Book Against God. Instead, it has a lot in common, and even shares lines, with Wood's fine 2015 collection of memoir-essays The Nearest Thing to Life. As in that book, a prominent theme is the English experience of America. The differences are physical (new sensations of trains and their klaxons), political (why are rural streets lined with so many fluttering Stars and Stripes?), and to do with manners (do Americans really want to know the answer to "How are you?" whenever they ask?). Within this tissue of mild estrangement, a family convenes because one of its members may be in crisis. Vanessa Querry is a 40-year-old professor of philosophy at Skidmore; she's recently taken a spill and broken her arm. She's also been depressed, and her boyfriend Josh has summoned her sister Helen and father Alan from England to look in on her over a wintry weekend in Saratoga Springs. Such is the novel's plot, and its dramatic moments are dealt in little nudges, never jolts. The novel can seem quiet and a game of low stakes in part because, in their evasive English way, the characters aren't quite facing the fact that one of them may be on the verge of collapse and that for each of them things could soon fall apart.
Upstate's setting in time is crucial to understanding what's in store for its characters. It's February 2007, Senator Barack Obama has just announced his candidacy for president, and the mortgage crisis, the subsequent financial crash, and the advent of the iPhone are still months away. These historical loomings are relevant because Alan's business is construction and real estate, Helen is an executive at Sony, Josh is a tech journalist (and, pointedly, a failed novelist), and all of their industries are about to undergo upheavals that could make or ruin them. The novel is pregnant with these possibilities, which are never stated. This is a way for Wood to hold "social news" at bay without denying its reality. It's an ingenious strategy and lends phantom force to a novel that resolutely insists on stillness instead of noise.
Family reconfiguration is Upstate's overt theme, and that is treated with great subtlety and comic grace. I wondered at first why the novel opened with Alan visiting his mother in a home for the aged, but by the end it's clear that he's saying good-bye, even if not for the last time, and that the rest of his life — he's 68 and his mother is near if not past 90 — will be devoted to his daughters. He thinks about what he's spent his life building and whether he'll be able to pass anything on to them. He may go into business with Helen (she's thinking of starting a venture that sounds like a small-scale Spotify) and lend his caring presence to Vanessa. He also, in a couple of funny moments, considers them sexually: at a Manhattan hotel with Helen he "didn't so much mind being mistaken for her seedy older husband or boyfriend"; spending time with Helen and Josh, he notices a triangular sexual tension and feels a twinge of jealousy. Wood's free indirect narration moves with agility among Alan, Helen, and Vanessa, who often are simply thinking about each other but at other times times think like essayists (in a manner we've become accustomed to lately from Wood's cherished W.G. Sebald, Knausgaard, and Lerner) and look at the world through the lens of their professions. This yields, unsurprisingly, some of Wood's best writing (especially the way he captures Vanessa's depression in her recollection of Thomas Nagel's philosophy of meaning) and even a few subdued jokes: Helen seems to have made much in her career by handling the Dave Matthews band and may have once had an affair with a member of the Crash Test Dummies. These lame references to the 1990s are Wood's way of letting pop-cultural information into his novel while deflating it at the same time. He exults in letting Helen think about the Who and the Clash and rock music as "the sleep of reason" and note her father's resemblance to Charlie Watts. (This is a sly personal watermark, as Wood is a drummer himself.)
Classifying and rating is an easy game for critics, and perhaps the least of our duties. It's tempting to rate Wood's fiction alongside his criticism and find it wanting or to consider it alongside the fiction of Wilson, Trilling, and Susan Sontag, and conclude that writing fiction tends to be a mug's game for great critics. Those writers were operating at a time when modern notions of professionalization were sorting writers into categories that hadn't had much meaning before, when every writer tended to try everything and history was left to do the classifying.
Better company for Wood are the British novelists of his own generation, the cohort that came between the brash maximalists Martin Amis, Salman Rushdie, Hilary Mantel, and Ian McEwan, and their similarly big-swinging inheritors Zadie Smith, Adam Thirlwell, and Hari Kunzru. Wood's cohort includes a set of novelists now in their 50s, many of them also distinguished literary journalists: Rachel Cusk, Geoff Dyer, John Lanchester, James Meek, Andrew O'Hagan, David Peace, Ali Smith, Edward St. Aubyn. These writers have performed quietly radical revisions on the tradition of the English novel, and their achievements are just coming into view. If James Wood the novelist will ever outstrip Wood the critic, Upstate is a promising new start, but just a start.