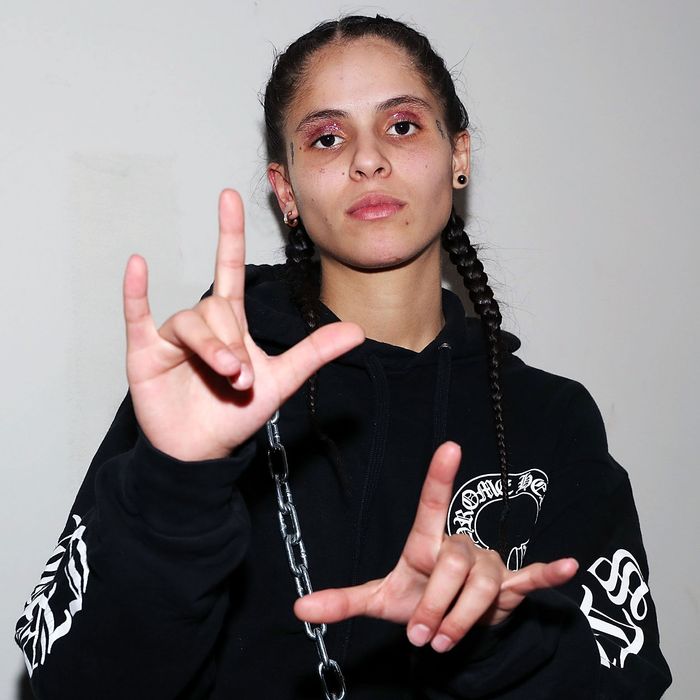 Photo: Shareif Ziyadat/Getty Images
One of many surprises on Kanye West's new album, YE, was the appearance of a little-known rapper and singer from New Jersey with a deep, raspy voice, named 070 Shake, on the track "Ghost Town." Twenty-year-old Shake, who signed to G.O.O.D. music in mid-2016, only released her first solo EP in March of this year, so you'd be forgiven for not being familiar with her catalogue just yet. But to get you started, we've compiled a brief guide to who she is, where she comes from, and how she got here.
Who is she?
070 Shake is a 20-year old rapper and singer from North Bergen, New Jersey. She and her 070 crew (named after the New Jersey zip code), began releasing tracks on SoundCloud in early 2016, and soon after caught the attention of YesJulz, the Miami-based promoter, social-media star, and "director of vibes" (her words). After hearing the song "Proud," Julz reached out to Shake on Twitter — "she slid into the DMs," Shake said in an interview with RapRadar — and quickly signed on to be her manager. Since then, Shake has released a series of singles on her own, a mixtape with her crew called the 070 project: Chapter 1, featured on a track with Lil Yachty, and recently put out her first solo EP called Glitter, via G.O.O.D. Music and Def Jam.
How did she connect with G.O.O.D. music?
Shake's music found its way into the G.O.O.D. music camp through YesJulz, who is a close friend of Travis Scott and is connected with Kanye's crew. According to Julz, she played some of 070 Shake's music during a Yeezy fitting, and sparked Pusha-T's interest. In mid-2016, G.O.O.D. Music began following 070 Shake on Twitter, sparking rumors that she had been signed, and in June, Pusha-T, Desiigner, and other G.O.O.D. music members showed up to a YesJulz hosted party at SOBs to perform. She released her first official single on the label, "Trust Nobody," in September of 2016.
What music has she put out?
Since 2016, Shake has released around 20 loose tracks on Soundcloud, both on her own and with other members of the 070 crew. Last year, the crew released the 070 project mixtape through 1AM Entertainment, and in March of this year, she released her EP, Glitter. Key tracks include "Proud," "Trust Nobody," "Honey," and "Sunday Night." Her debut album, Yellow Girl, is due out next year. In January of this year, she told Billboard that she "was kind of in a funk when I was writing Yellow Girl. I worked on Yellow Girl when I was in that phase where I was doing all the stuff that I talked about in Glitter that I wanted to break free form. It's kind of backwards on how my life was really going."
Where can I hear it?
Several of her singles, along with her EP, are available on streaming services including Spotify and Apple Music. Additional songs are posted to her SoundCloud page.