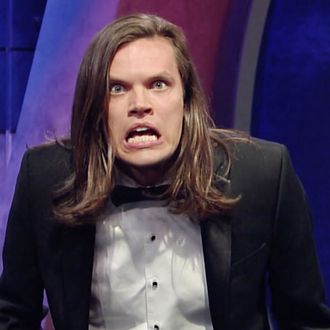 Josh Sharp and Aaron Jackson on
The Opposition.
Photo: Comedy Central
Now that Comedy Central has decided not to renew The Opposition in favor of developing a new show with Jordan Klepper, one question is what opportunities will come next for the show's team of so-called "Citizen Journalists": Laura Grey, Niccole Thurman, Kobi Libii, Aaron Jackson, Josh Sharp, and Tim Baltz. Libii hit his stride on the show with his uncomfortably confrontational, old-school Daily Show–style field pieces featuring right-wing figures like Alex Jones and former Breitbart writer Lee Stranahan, while Tim Baltz embodied the MAGA male with his segments on why supporting Trump is a religion and the time he risked his life by eating Trump's 2,400-calorie McDonald's order.
My personal favorite Citizen Journalists, however, have been Aaron Jackson and Josh Sharp, a comedy duo who play alt-right provocateurs à la Milo Yiannopoulos (The Opposition's website defines them both as "a patriot, a proud defender of free speech and a gay conservative. Deal with it!!!"). During their time on the show, the two managed to find the perfect balance between parodying the ugliness of the far-right and being very, very funny. Take the below field piece, for example, in which they went undercover as Arizona State University students to learn more about Turning Point USA and chat with its founder Charlie Kirk, who likes to protest things like "safe spaces" and affirmative action by putting on stunts like an "affirmative action bake sale." "We need someone to take action in an affirmative way to get more conservatives onto campus!" Jackson says. "Correct," Kirk responds, "and that's what Turning Point USA is doing."
Then there's this segment, where Jackson and Sharp agree with Alex Jones's claim that the LGBTQ suicide rate is so high because gay people are mean. "Alex Jones has his finger firmly on the throbbing pulse of gay America!" Sharp says. After a round of throwing insults at each other, they stop themselves: "Oh my God, we were being mean, weren't we? Don't worry Jordan, we're just gay," Jackson explains. "Yeah, we would never be mean to you — you're so sweet and straight, and to be clear, in no way complicit in creating a culture that adds to the stress of being gay in America!" Sharp adds. Bonus points for Sharp using "soaking wet iPhone in a bowl of rice" as an insult.
Other notable segments include the one in which they reviewed Hollywood's latest "globalist liberal propaganda trash" ("Hey liberals! You wanna save Puerto Rico? Stop making Thors!") and the time they broke down the rules of conservative comedy. "Our motto is 'If we're laughing, then it must be a joke!'" Sharp says. "And if there's one thing we know, it's jokes," Jackson adds, "Knock knock!" "Who's there?" "An ICE agent here to break up your family, you smelly freeloading illegal!" "Haha! The joke is that the person's life is ruined!"
The Opposition ends its run next Thursday, June 28, so during last night's show, Klepper welcomed back Sharp and Jackson for their final segment together. Instead of their usual "Going at the Movies" bit, they decided to turn it into "Going at the Everything," offering up their takes on everything from Beyoncé and Jay-Z's new album to corporate brands profiting off of Pride Month: "Enjoy your celebration of love and self-acceptance and harmony! I'm talking to you, corporations! … As if Colgate gives a shit about you. No, they want your cash, you childless queens!" Then they dove into a lightning round of hot takes: "Antarctica, stop melting, you stupid bitch!" "Horses, you're not cars and you never will be. Stay still and look pretty!" "Gender reveal parties — ugh! I don't want to bite into a cupcake to find out if your baby has a dick. Straight people are perverts!"
Near the end of the segment, the two go at each other, and get meta on their decision to play alt-right figures on TV:
You're an attention-seeking media whore. You don't believe anything you say. You only say it so that people will listen to you, thus feeding into the modern-media culture that assigns no value to anything thoughtful or substantive or truthful and instead rewards ignorant blowhards for their shock value, because entertainment is all that matters anymore. You're a piggy! A greedy selfish fucking pig who will fatten yourself on the death of discourse until you explode. A steaming pile of putrid hateful slime!
After The Opposition airs its final episode, it's unclear what will come next for the Citizen Journalists. Comedy Central president Kent Alterman noted that Klepper's next show will likely feature a "couple other contributors onscreen," but he didn't say if that means any of the current cast members will join him. Whatever form Klepper's next show takes on, it will be interesting to see what's next for Jackson and Sharp after nine months spent proving themselves as capable, funny, subversive, and refreshing late-night voices. Hopefully, at the very least, they're one of the "other possibilities" the network is considering for its soon-to-be-vacant 11:30 p.m. time slot.