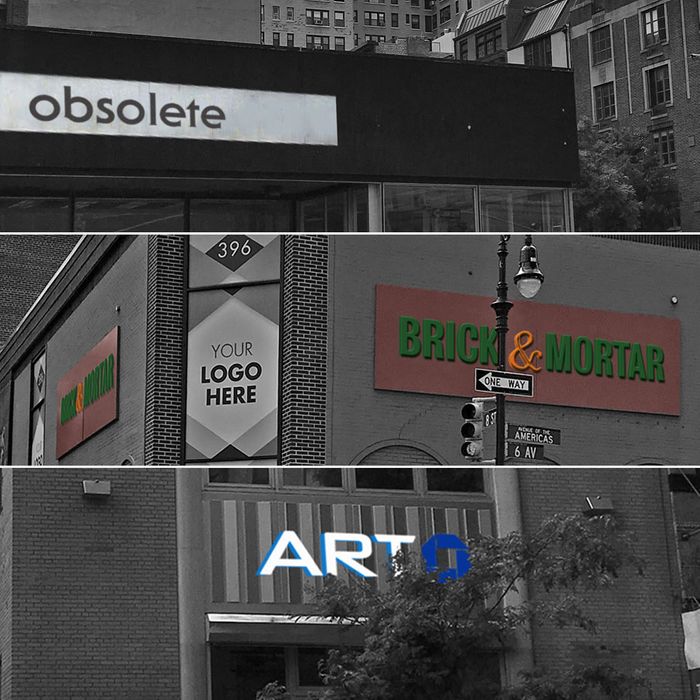 Photo-Illustration: Carl Swanson
New York City's brick-and-mortar shops are adapting to the age of Amazon by experimenting with turning stores into Instagram sets, community centers, hi-tech playgrounds and supercharged concierges. But what about more radical uses for the hundreds of city storefronts that now sit empty, sometimes for years? Eva Franch i Gilabert, who until recently ran the Storefront for Art and Architecture on Kenmare Street in Soho (and who is now leading the Architectural Association in London) suggests thinking about life after retail: she's a visionary by temperament, and the loss of the traditional realm of the high street doesn't give her much pause. "I am really glad that retail is moving to an app," she says, given how the "city had been kidnapped" by chain stores and corporate brands. Something like this has happened before, of course: the obsolete industrial infrastructure of Soho was colonized by artists, and Storefront's storefront was, before they arrived thirty years ago, a tire-repair shop. Can something like that happen again, reusing the city's retail infrastructure?
New York's store implosion is a peculiar kind of bust, where a big developer will complain that "retail is fucked, plain and simple," while the city as a whole remains almost oppressively prosperous, booming, cluttered with construction cranes and awash in the cash of a globalized ruling class. Nationwide, a record 6,985 stores shut down last year, with 10,000 expected to close in 2018. A Macy's is now a homeless shelter, and at least one Walmart is an infamous immigrant child detention center.
The question is how this city will adapt. A few months back, the architect David Rockwell told me that he thought storefronts — "the heart of the life of the street" — should be treated more like we do public space, like parks, squares, and sidewalks. "Walking around Soho, I'm struck by the number of beautiful but empty storefronts that are covered with brown paper and 'for lease' signage," he says. "It's a heavily trafficked area, and that's a lot of public-facing space that isn't serving anyone."
Partly the market is taking care of it. After years of landlords raising rents and holding out for corporate-owned shopping — the CVS's, the Chase Banks — rents are starting to go down, which allows for new uses. The Swiss Institute, a contemporary art nonprofit, opens its new home in a former Chase Bank on St. Marks Place and Second Avenue this weekend. That's right, replacing a Chase: the bank that ate New York.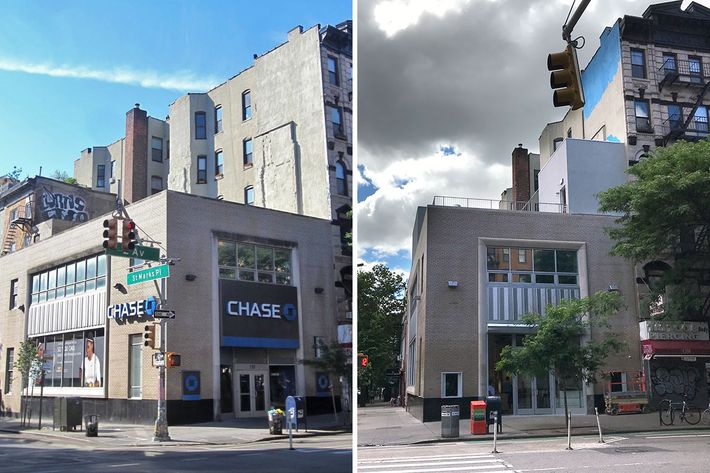 A few years back, SI, which was founded in 1986 in Soho and had attracted a discerning and cute audience for its whimsically intellectual programming, had been scrambling to find it a new home after losing its lease on a former garage building on Wooster Street. Then the Chase became available after the bank finally realized that it had two branches within two blocks of each other on Second. It turns out Chase, like the drug stores and other chains in the city, overexpanded— even Starbucks is retrenching a bit these days — and is here and there in retreat.
Which is good because it's not like anybody thinks we need more banks. SI reskinned the former ATM lobby in disco-ball mirror tiles (actually an artwork by John Armleder) and hoisted a heart-shaped dance floor up on its roof (an installation by Valentin Carron). Simon Castets, SI's executive director, used to compare desperate notes on finding new spaces with the leaders of two other downtown arts nonprofits, Artists Space and White Columns. "A lot of our conversations revolved around the lack of affordable real estate," remembers Castets. (Matthew Higgs, who runs White Columns, called it "super stressful and depressing.") "And there was a great amount of concern that we might never be able to relocate in neighborhoods that would still have significant foot traffic after decades of life downtown."
And now they've all found new downtown homes, which Castets considers a "miracle." But "it's not necessarily out of the goodness of the property owner's hearts," he notes. "They can take what they can get, and maybe a nonprofit is better than, like, a gym. It's stable; it's like low-income housing." (Which is a funny comparison, given that the posh architect Annabelle Selldorf did their renovation, but SI is a very Swiss avant-garde institution.)
But it's still part of a bigger shift: Veteran Douglas Elliman commercial broker Faith Hope Consolo says, "Whereas landlords used to wait for a luxury tenant, the landlords have embraced nonprofits."
"It's completely changed," says art gallerist Johannes Vogt, who remembers being shown "horrible teeny-tiny ground-floor spaces, which were totally not right," two years ago — and ended up renting room in a building on the second floor in Chinatown. But when he checked again this year, the tone was more welcoming. "People keep saying it's a renter's market at the moment, a lot of retail going out of business. There's definitely deals to be had: I was offered 50 percent off for the first year for a ground-floor space in Tribeca that used to be retail."
Those kind of deals meant that Mast Books, an art book shop on Avenue A, could move to a bigger corner space that the landlord had kept empty for years, dreaming high-rent chain-store dreams that never came to pass. Shortly before it reopened, with a book signing with Michael Stipe, I ran into a successful artist friend in the Tompkins Square dog run who was excited about how he and some of his friends might rent another empty storefront nearby to host art shows, or perhaps sell furniture. You know, whatever they and their friends want to do, since the rent was, at least for them, affordable. "You wouldn't believe the number of $2,000-a-month storefronts that are around here sitting empty," he said, before making me promise not to mention which space they were after, since the deal hasn't happened yet.
Eric Ho, founder of Miles, which stands for Made in the Lower East Side, would know. His group matches empty storefronts with pop-up ideas, often enough including exhibitions.
A few years back, Ho counted over 200 empty storefronts in the neighborhood and had the idea to set up a sort of matchmaking database between landlords and people who want to set up shop temporarily. Among the projects: a Teen art salon, something called the Museum of Beautiful People, to the Polpo Gelato Shop. Miles has since spread to other cities, competing with a London-based company called Appear Here, which also acts as a kind of Airbnb for pop-ups.
In his conversation with me, Rockwell proposed a similar approach, but one more focused on culture. Inspired by his work creating theater sets, Rockwell realized that "it's possible to create impact and memory without massive infrastructure. The solution doesn't need to be monolithic, and it doesn't need to last forever." His idea? "There should be a database of available storefronts that creatives can book on demand for public performances, rehearsal spaces, and events: a cultural Airbnb, with rentals at reduced to no cost. An app could advertise location-based spaces for artists, as well as what's going on that night for audiences. It'd be real spaces in real time. The city could offer incentives to landlords to make these storefronts available on a temporary basis. On Thursday, a shuttered shop could morph into a writer's workshop or a dance studio; on Saturday, it could host a one-man show. If we can get a meal or hotel room or car on demand, why not public space? Why not theater and art? And why not all of them, all at the same time?"
Low-cost space for the arts can be good business by being good PR. The Walentas family's Two Trees development company has long had a policy of subsidizing space for the arts in their buildings. Dumbo, where the family has major holdings, is so expensive today in no small part because of its reputation as an arts district.
In 1995, Anita Durst was part of a theater group that needed space, and since her family is big in real estate, she asked them for some. And while the theater didn't last, she founded an organization called Chashama that has, she told me, "transformed 50 locations over the past 20 years," from 42nd Street to Long Island City to an old beer factory in Harlem, working with different developers (often, like hers, family-owned). And today they are out looking for more, including a new focus on retail spaces. "We've supported the arts for a very long time, but I feel there's a great opportunity for New York to help small businesses with all the empty retail," she says. "I have a lot of small businesses approach me and I am very interested in giving them the space to start their businesses."
But relying on the good will of developers has its perils, too. Or at least its time limits. Sugar Hill Capital Partners got great press for inviting Janine Foeller and Micky Schubert, who had each shuttered their art galleries, to curate exhibitions in a space they owned on Flatbush Avenue. But what they called the Grand Army Collective didn't last long: When a bank wanted to rent the space, the Collective was out.
Which is why, if you can afford it, it's still better to get a lease. And that might finally be possible again. As happy as he is with their recycled Chase, SI's Castets says they could've gotten an even better deal now. "Immediately after we found the space, Duane Reade was acquired by Walgreens and they closed all these locations," he recalls, wistfully. "There's one on Canal and Broadway" with a 30-year sublease he thought they could've done. And another on Waverly and Sixth Avenue. "I could give you a whole list of buildings I have been dying to use for the Swiss Institute." But, unlike a drug store, they only need one of them. "A lot of these empty storefronts in high-traffic neighborhoods end up being used for pop-ups," he says. "Or they'll end up being used for an Amazon fulfillment center."