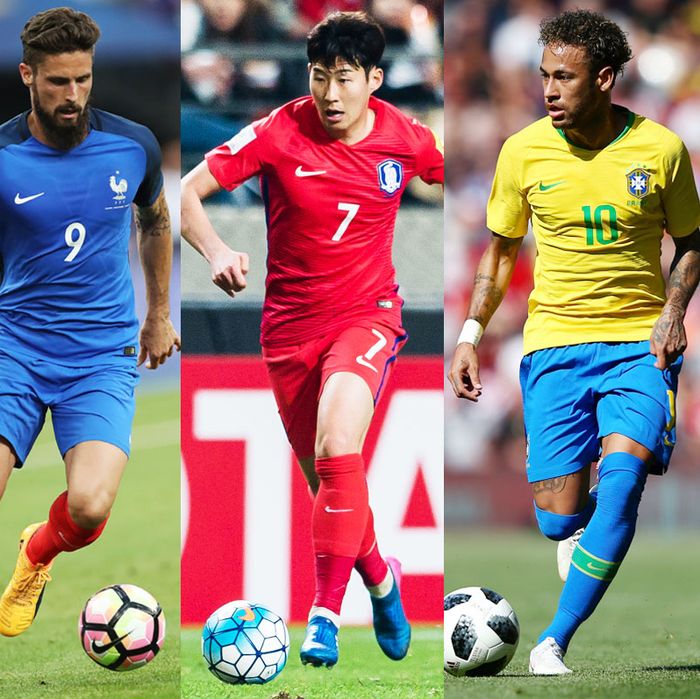 From left: Egypt's Mohamed Saleh, France's Olivier Giroud, South Korea's Son Heung-min, and Brazil's Neymar.
Photo: Getty Images
Thanks to a combination of mismanagement, organizational malaise, and bad chemistry, the U.S. men's national team will miss the World Cup for the first time since 1986. But there's at least one silver lining: Freed of all patriotic obligations, American fans are able to go into this summer's tournament rooting for whichever team they choose.
"Growing up in England, the best World Cups were the ones where England never qualified," says Roger Bennett, co-host of the soccer podcast Men in Blazers, and co-author of the new Encyclopedia Blazertannica. "I just got to enjoy the the World Cup: the heroes, the villains, the neck tattoos, the terrible haircuts."
Bennett loves soccer so much that he enthusiastically told me I was posing "all the great questions" when I asked him things like, "Uhhh, what about France?" He was just one of the many soccer fans, former players, and international diplomats to assist me in my greatest journalistic quest: finding a reason to root for each of the 32 teams in the 2018 World Cup. Below, you'll find those reasons, along with each team's chances of winning it all (determined by the most recent betting odds). Will you go for the established powerhouse, the quirky fun guys, or just the team with the best uniforms? This summer, it's up to you.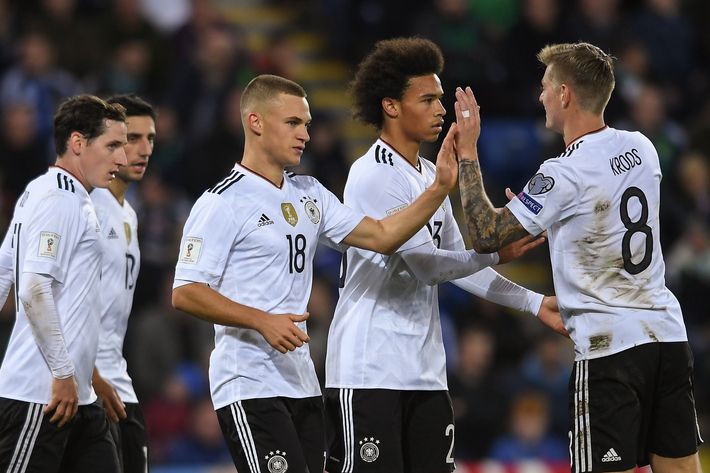 Germany – The Defending Champs
Group F
Chance of winning: 17.4 percent
Why you should root for them: Blitzkrieg! Achtung! Das Boot! Thanks to the legacy of British tabloids, it's hard to talk about the German national team without resorting to martial clichés. To get a more balanced take, I spoke to my friend Andy, a high-school German teacher. So, besides the fact that they're really good and are probably going to win, why should you root for Germany? To Andy, it all comes down to training and focus. "You can expect a lot from a country that forces its soldiers to properly recycle in Afghanistan — even though it all gets thrown away anyway — just so they stay in the right mind-set," he says. Hmm, sounds a lot like, They're very good and are probably going to win. But Andy has other reasons: More people in the U.S. claim German heritage than anything else, they have the nicest home uniforms in the tournament, and they should win as good karma for the refugee situation. Ultimately, says Andy, you should root for Germany because "they're a team. It's not just a Messi or a Ronaldo [doing everything]. And well, they dive, but everyone does. But the team thing is real." Oh, and one last thing: "They're in a relatively easy group." In conclusion, root for Germany because they are very good, and are probably going to win.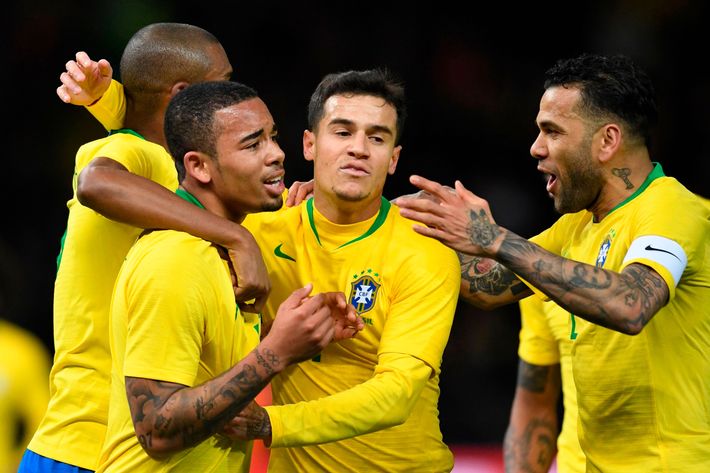 Brazil – The Other Front-runners
Group E
Chance of Winning: 20 percent
Why you should root for them: Brazil got walloped 7-1 by Germany in the 2014 semifinals, but they're still the favorites to win it all this time. And they might play the most exciting brand of soccer in the tournament. "It's like samba football," says Tarek Pertew, co-founder of the adult soccer league NYC Footy. "Dance is in the blood of Brazil, right? Every single Brazilian knows how to dance samba. It's in their genes." (His wife is Brazilian, so he's allowed to say stuff like this.) Brazil tried to move away from this style for a few World Cups — the boring ones, Pertew says — but now "it's coming back a little bit." Besides Neymar, the $500 million forward who may be the best-dressed athlete on earth, they've also got the "Little Magician" Philippe Coutinho and youngster Gabriel Jesus. All are under 27. "Germany is a well-oiled, disciplined machine," says Pertew, "but there's a lot of youthful energy on this Brazil team."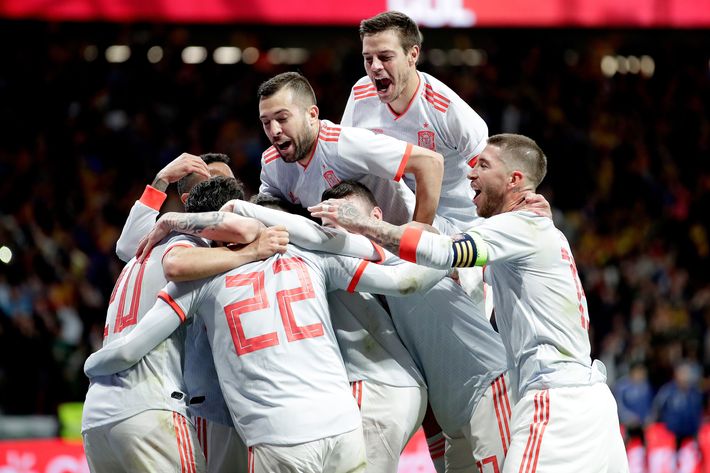 Spain – The 'Tiny Little Ninjas'
Group B
Chance of winning: 13.3 percent
Why you should root for them: For decades, Bennett says, Spain had a reputation as the footballing version of the swordsman from Raiders of the Lost Ark — an "incredibly exotic but fragile team that always was a great underachiever." But in David Silva, Andrés Iniesta, and Xavi, they've currently got a Cup-winning Golden Generation at the tail end of their prime. If you like ball movement, well baby, nobody passes more than Spain. "They're like tiny little ninjas," Bennett says. "They never let their opponents touch the ball. They paper-cut everyone to death." They didn't make it out of the group in 2014, but they've since made some hard cuts, and after storming through the qualifiers they're behind only Germany and Brazil in the odds to win it all.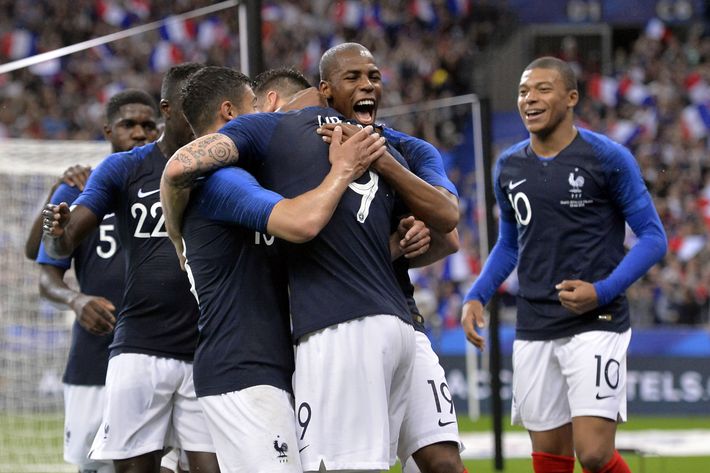 France – The Instagram Hunks
Group C
Chance of winning: 12.5 percent
Why you should root for them: Speaking of Golden Generations, France's national team is currently jam-packed with A-list talent— Man U's Paul Pogba, Chelsea's Olivier Giroud, Atlético Madrid's Antoine Griezmann, plus youngster Kylian Mbappé. "It really is like an all-star team, when you look at the roster," says Bennett. "What they don't have is an idea of how to utilize all of that in the collective. " As I'm slowly learning, no soccer discussion is complete without a mention of a 200-year-old war, and so Bennett also gives me a historical analogy: "You think of the great Napoleonic battle traditions of always trying to go on the offensive — this is a team that could obliterate all their opponents. " But if you choose to root for Les Bleus, il faut se méfier. "We always laugh about France and say they're doing it for the 'gram," he says. "They have more talent than anybody else in the World Cup, but they seem to be obsessed with retweets, followers, and likes rather than the basic tackles and goals."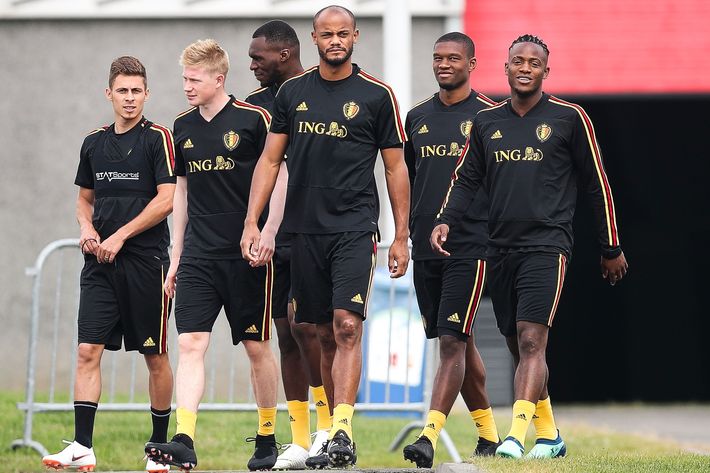 Belgium – The Dream Team?
Group G
Chance of winning: 8.3 percent
Why you should root for them: "Growing up I used to think about Belgium as just the place where the saxophone was invented," says Bennett. "From a footballing perspective, they were just muddling middle landers with incredible mustaches. They probably had more mustaches per player than any other football team, and that was their greatest asset." But now this tiny country's 20-year-old plan to become a soccer powerhouse has paid off, producing a generation's worth of premium talent. The good news: They'll probably score a lot of goals. The bad news: Like France, they haven't really played together before. "[Coach Roberto Martínez] is still trying to work out with this overabundance of talent what formation, what tactics, what identity this team should play with," says Bennett. "If he gets it right, they should be going to the promised land that they've all dreamt of. And if he doesn't, they'll do what they did the last World Cup, which is underperform and disappoint both Flemish and Walloon."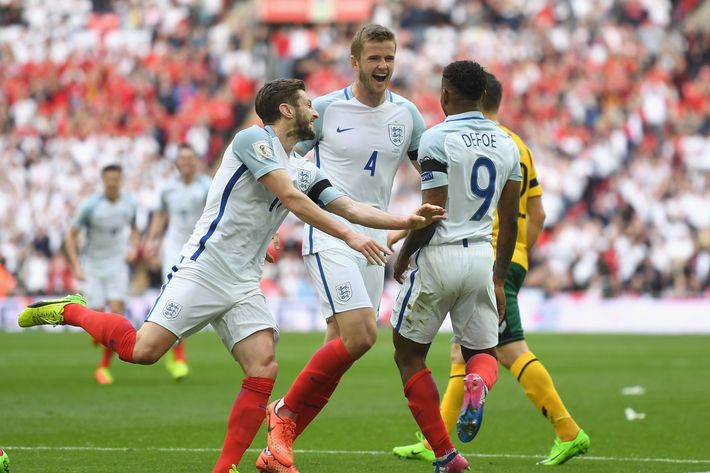 England – Early Brexit, or Surprise Brampions?
Group G
Chance of winning: 5.9 percent
Why you should root for them: I grew up outside Philadelphia, which meant that if I wanted to have anything to talk about in school on Mondays, I had to become an Eagles fan. For much of my life, this was a dispiriting experience: The fan base was super-invested, but at its best the squad always seemed to top out as a second-tier contender. This disparity between fan commitment and team achievement created a terrible weekly psychodrama: After every loss, we kept wringing our hands and asking what sort of moral failure could have possibly created such a tragedy, when the answer was just that we didn't have as much talent as the very best teams.
As far as I can tell, this is what it's like rooting for England in the World Cup.
However, there's one good omen: This year, the Eagles defied the odds and won the Super Bowl. (You may have heard about it.) Is this a sign that England, too, could throw off the weight of history and make it past the quarterfinals for the first time since 1990? Probably not, but we're living in a world where the grandson of the reigning monarch married a woman from the USA drama Suits, so anything is possible!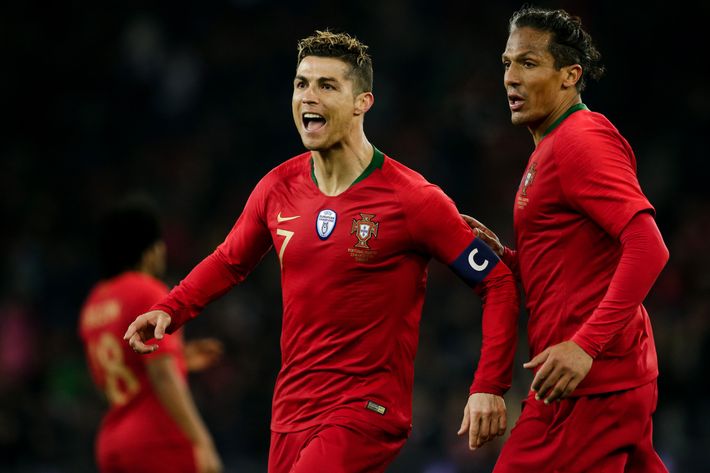 Portugal – Or, Let's Take a Moment to Talk About Cristiano Ronaldo
Group B
Chance of winning: 4.3 percent
Why you should root for them? If you are even tangentially aware that there is a sport called soccer, you have probably already formed an opinion on Cristiano Ronaldo. When I mention his name to Bennett, he falls into what can only be called a romantic reverie: "He is probably the most potent player in footballing history. He's like a bottle of Drakkar Noir come to life. He seems to only want to score goals as a means to an end, and that end is to whip his own shirt off, free the Portuguese nipple, and reveal his incredible eight-pack. I admire that greatly. Everyone has that argument between their ego and their id, and this is a world-elite athlete that has his own ego, his own individualism. What a preening show pony that gentleman is, but he backs it up with superlative play."
If you also feel this way about Cristiano Ronaldo, go ahead and root for Portugal.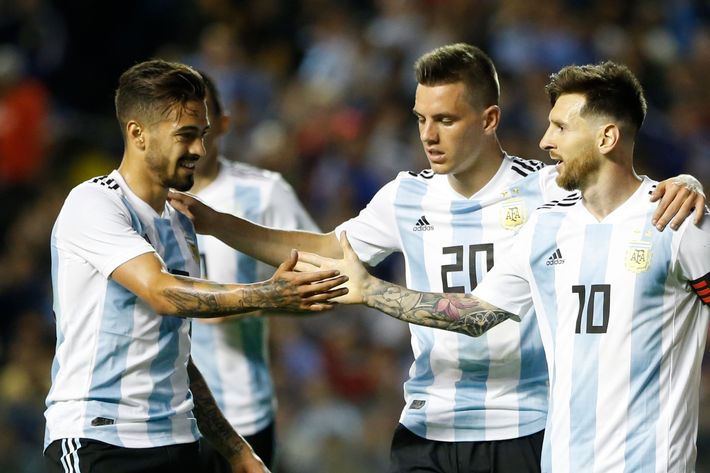 Argentina – One Last Job
Group D
Chance of winning: 10 percent
Why you should root for them: Lionel Messi is either the best or the second-best soccer player in the world, depending how you feel about bronzed Portuguese men. Messi is everything Ronaldo is not: single-minded, focused, and wholly unglamorous. (As Bennett puts it, "He looks like he works at Blockbuster Video.") While Messi's won plenty of hardware in professional play, championships at the international level have so far proven more elusive. At 31, this may be his last World Cup, so you may be tempted to root for him and Argentina to make one last run at glory. However, my friend Allie, a Mexico fan, disagrees: "It's too fun to watch them epically explode late in the tournament."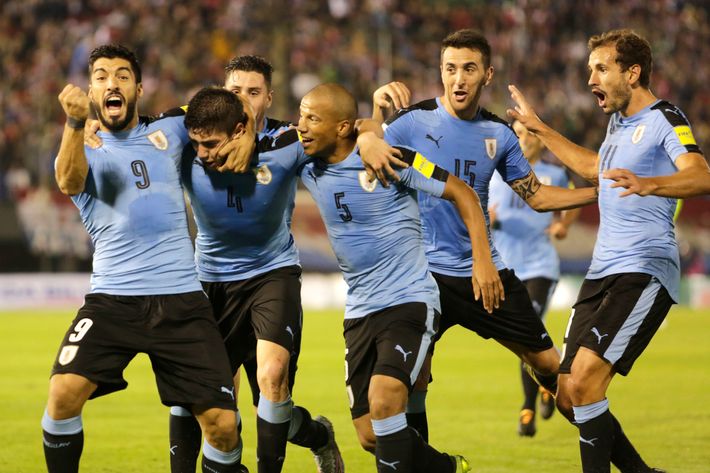 Uruguay – The Plucky Underdogs (South American Division)
Group A
Chance of winning: 3.4 percent
Why you should root for them: If you're a casual fan like me, you probably remember only one thing about the Uruguayan national team: Luis Suárez sinking his teeth into the opposing defense. But luckily, Baruch College grad student Fede Zanatta was able to get on the phone and tell me more about La Celeste. (Zanatta also has a job in the Uruguayan consulate, which is how I met him, but he emphasized that he was not speaking on behalf of the government of Uruguay.) The most important thing to know about Uruguay, he said, was "garra charrúa, which basically means grit, the mind-set of whatever it takes." It's why Suárez handed the ball to beat Ghana in 2010, and it's how Uruguay was able to win two World Cups despite having fewer people than Los Angeles. It's also why the team has traditionally built its reputation on stout defense. "South American qualifiers are so competitive and very tight, so there's usually very few goals scored," Zanatta says. "When you play national teams that are very powerful, it's difficult. Our country's small and we usually don't have many high-quality subs, so Uruguay has to play more defensively than a Barcelona team."
But back to the biting. Zanatta can't explain it, either. "My own personal take is that he might have some unattended mental issues, but there's really not a known trigger," he says. "To me, it's not a play that is dirty. If you really want to hurt somebody, you elbow them in the face. It's more like a desperate call for attention that I don't quite understand."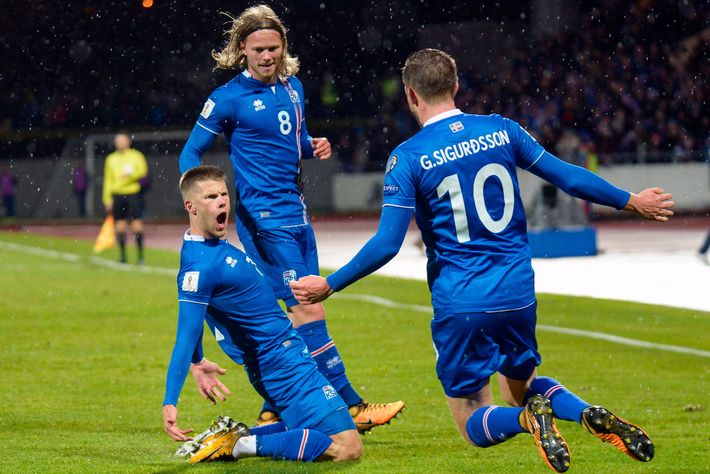 Iceland – The Plucky Underdogs (North Atlantic Division)
Group D
Chance of winning: 0.3 percent
Why you should root for them: There may be more Americans rooting for Iceland in the World Cup this year than there are people in Iceland, thanks to the tiny country's surprising performance in the 2016 Euro Cup. A full 10 percent of Iceland's population made the trek to France to support their team, and they were rewarded with a surprising run to the quarterfinals that made Strákarnir okkar the darlings of international soccer. It's easy to see the appeal: As my good friend W.M. Akers, creator of the baseball simulator Deadball, put it, "Everybody in Iceland probably knows somebody who knows somebody on the national team. It's like a small town cheering on their high-school football team — except they're playing in the World Cup." But the way they play may also strike the hearts of neutral fans. "They have a very optimistic style. They go forward and they attack," says Akers. "That's really all you want in an international team."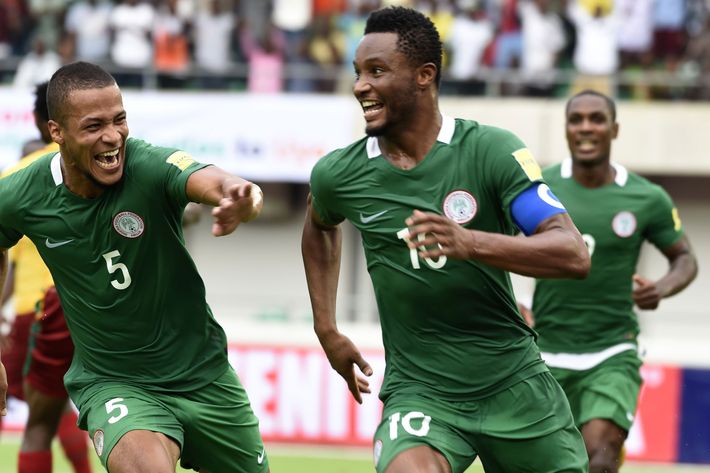 Nigeria – The Best-Dressed Team in the Cup
Group D
Chance of winning: 0.4 percent
Why you should root for them: Nigeria has talented attackers, a good midfield and — oh my God, look at those jerseys! If you're here for the fashion, the Super Eagles have the best uniforms in the tournament. If you're here to root for a team that could go far, well, the Super Eagles have the best jerseys in the tournament.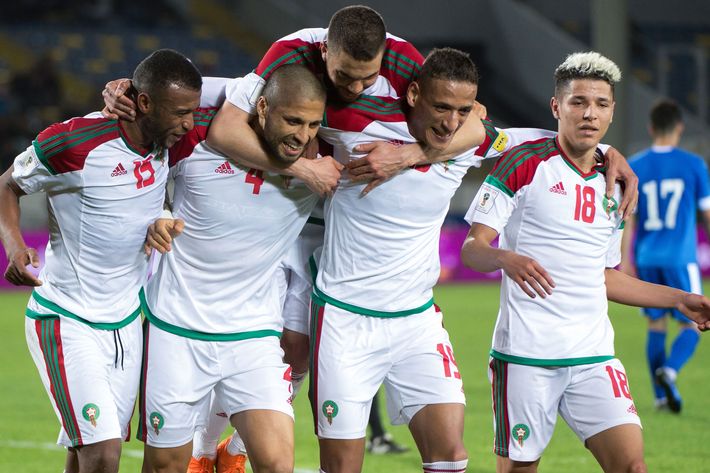 Morocco – Fighting to Get Out of the Group of Death
Group B
Chance of winning: 0.2 percent
Why you should root for them: Morocco has its best squad in decades — but it likely won't matter, since the Atlas Lions are in the same group as Spain and Portugal. "They're like second cousins at a bar mitzvah," says Bennett. "They're just happy to have been invited."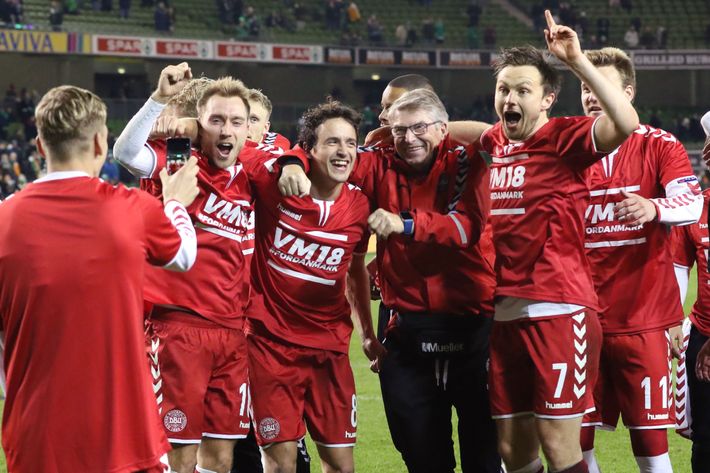 Denmark – The Quirky Nice Ones
Group C
Chance of winning: 1 percent
Why you should root for them: In the course of reporting this story, I reached out to 17 different consulates and embassies for comment. The first to get back to me was Danish consul general Anne Dorte Riggelsen, who cheerfully admitted that she knew "so little about soccer, but everything about Denmark." She promptly gave me three very good reasons to support the Danes.
No. 1: Midfielder Christian Eriksen, who is "so incredibly good and so elegant, and good-looking on top of it."
No. 2: They are exciting. "We are absolutely fantastic at coming from far behind and being the underdogs until the very end," says Riggelsen. "You just love us because you think we are going to lose so you also feel sorry for us, and then we win!"
And No. 3: "Great values." Besides leading the fight against homophobia in soccer, Riggelsen says that Danish football is full of all the warmth and good cheer the country is known for. "We have the quirkiest fans in the world," she says. "They dress up like really bad-looking Vikings, but they are not hooligans. They've even come up with a name, which is 'roligans.' It's a play on the word 'rolig,' which in Danish means calm." So support the Danes, or don't — either way, you won't have to worry about getting beaten up.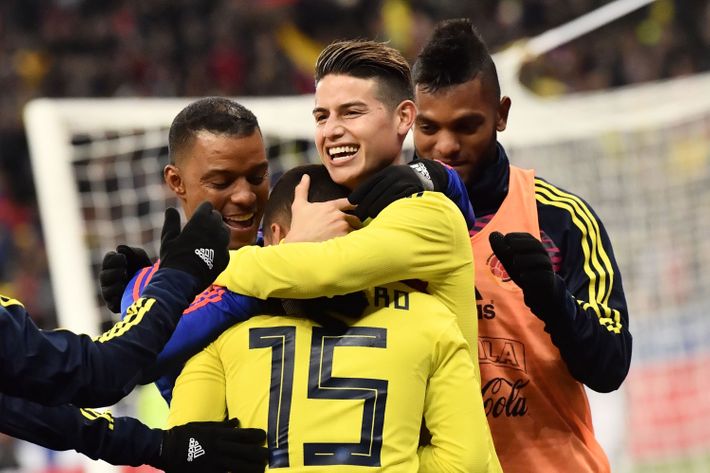 Colombia – Having a Great Time, All the Time
Group H
Chance of winning: 2.2 percent
Why you should root for them: D.C. United striker Juan Agudelo grew up in New Jersey and plays for the U.S. national team, but he was born in Colombia; he was nice enough to talk to me about Los Cafeteros. "They're an easy team to get emotionally attached to because of how they celebrate their goals," he says. "They're very intense defensively, but once they're on offense they're very relaxed. They have a bit of swagger about their style. You can see how happy they are on and off the field. They're always dancing in the locker room and dancing when they score." If they overachieve and make it past the quarterfinals, they'll have a chance to go up against archrivals Argentina. How would they counteract Messi? Says Agudelo: "Kick the crap out of him and hope you don't get a red card."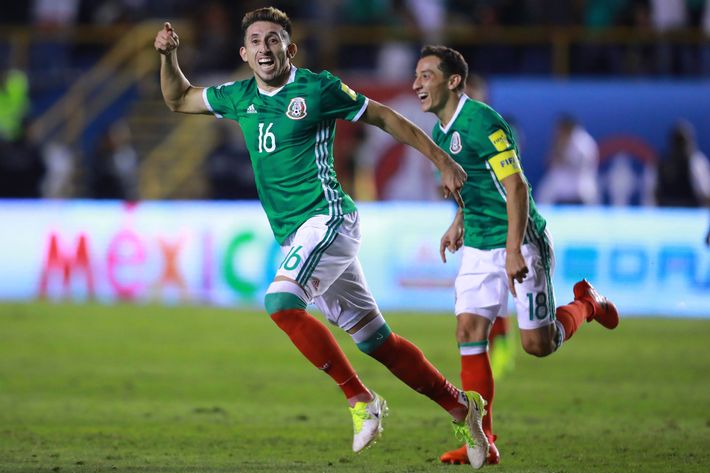 Mexico – Our Neighbors to the South
Group F
Chance of winning: 1 percent
Why you should root for them: My friend Allie has lived in Texas for the past two years, and she says the "huge Mexican influence" there has turned her into a Mexico fangirl. She stans for Mexico so hard that she even has a pin on her sweater supporting El Tri. "They play a very similar style of soccer to the U.S. team," she says. "It's a different style from how the Europeans or South Americans play: very aggressive, powered by quick turnovers and breaks, plus crosses from wide areas into the box to score." (Though she admits in Mexico, that comparison would be "considered offensive.") And their results are similar, too: Just like the U.S., the Mexican team tends to make it out of the group, then immediately crash in the next game. As Allie puts it, "If you're looking for a hardscrabble team with confidence who will succeed past the group stage magically and then most definitely lose in the round of 16 or quarterfinals, then Mexico is your team!"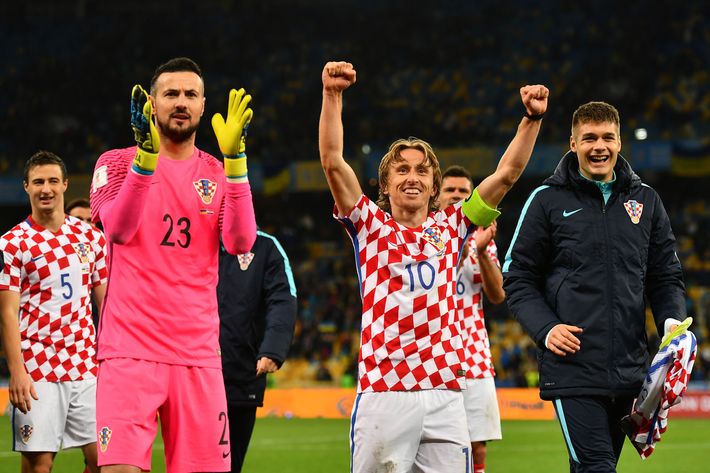 Croatia – Scenes From an Italian Restaurant
Group D
Chance of winning: 2.8 percent
Why you should root for them: Personally, I'm supporting Croatia to stand in solidarity with my favorite basketball player, eternally befuddled Sixers forward Dario Šarić. But there are plenty of other reasons to support this Adriatic nation. Take the uniforms, which look like the tables at your hometown pizza place but are actually a nod to medieval heraldry. And then there's the squad, which Bennett says has "some of the most intelligent midfielders" in the world, including their best player, Real Madrid's Luka Modrić: "He looks like a cow herd, but when you put a football at that man's feet he transforms into a visionary poet." Legions of Croatian fans are expected to make the short hop to Russia to support Valtreni, but Bennett cautions any bandwagon jumpers not to expect too much. "They're almost too cool to care," he says. "They have unbelievable potential, but there's something about the Croatian team, it's like they prefer to have a cigarette, have a couple of drinks, and enjoy the World Cup experience more."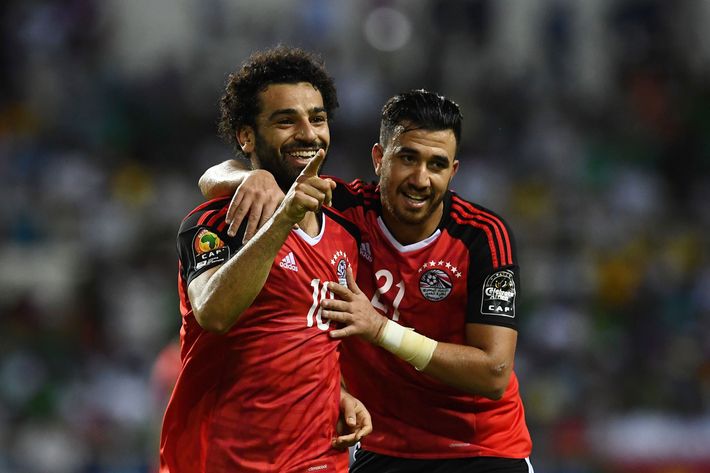 Egypt – The One-Man Attack
Group A
Chance of winning: 0.5 percent
Why you should root for them: First, the good news. The Pharaohs have one of the best players in the world in Mohamed Salah, a striker who can act as a one-man instant offense. "It's tough to stop him when he's dribbling at full speed," says Pertew. "If Egypt can be structurally sound defensively and then play him long balls on a counter, they can win a number of 1-0, 2-0 games." The "unusually humble" Salah's charitable works have made him a unifying figure for his country during the past few difficult years, and he's been offered a plot of land near Mecca thanks to his contributions both to football and his faith. (Fans of Liverpool, his pro team, have a song about converting to Islam in his honor.) Now onto the bad news: Salah got hurt in last month's Champions League final, and it remains to be seen how healthy he'll be in the tournament.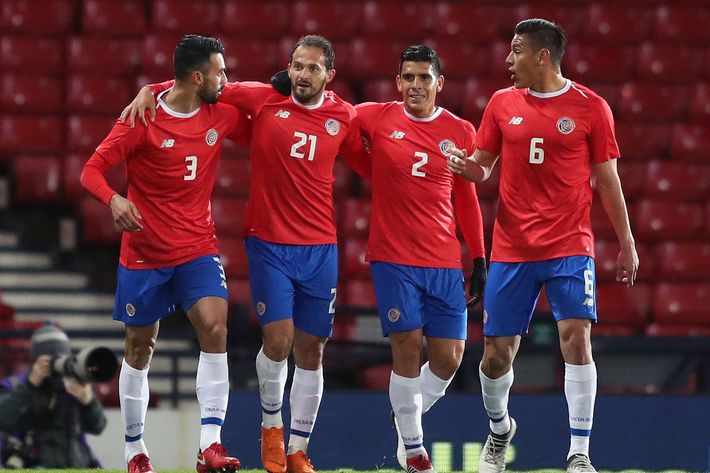 Costa Rica – Our Best Friends in the Whole Wide World
Group E
Chance of winning: 0.2 percent
Why you should root for them: The second consulate to get back to me was Costa Rica, whose consul general Rolando Madrigal promptly began buttering me up. "In Costa Rica, we love gringos," he said. "We have very positive attitudes towards Americans, especially compared with other countries in Latin America." He pointed to our nations' common values of democracy, environmentalism, and human rights, as well as our shared bond through immigration. (Did you know that just as many Americans live in Costa Rica as Costa Ricans live in America? I didn't.) Madrigal was also keen to assure me that American soccer had a bright future on the international stage. "We were very disappointed when United States didn't qualify. We were expecting them to qualify instead of Panama," he said. "Mexico is the giant in CONCACAF, but in less than 20 years, I will say the United States is going to become the number-one power in the area." Costa Rica — a very supportive friend!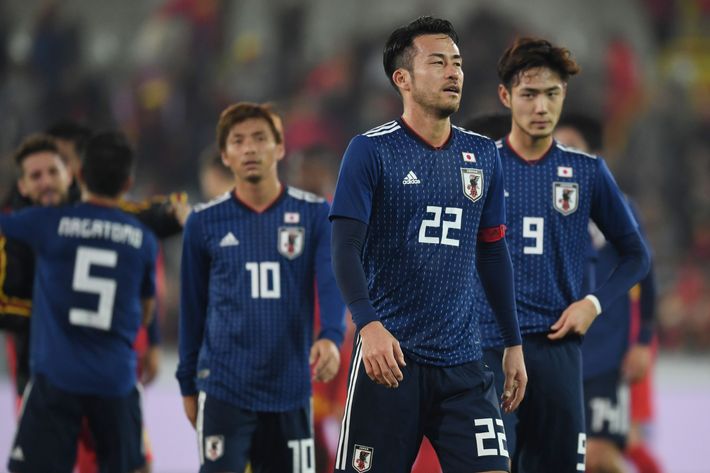 Japan – Under New Management
Group H
Chance of winning: 0.3 percent
Why you should root for them: Japan unexpectedly fired coach Vahid Halilhodžić a few months before the Cup, and he says he still doesn't know why. (The rumor is that he didn't play the team's star players enough.) Regardless, it's now up to new manager Akira Nishino, the team's former technical director, to reestablish Japan's characteristic passing style. Anyone who's ever been handed a gigantic work project with zero time to prepare can surely empathize.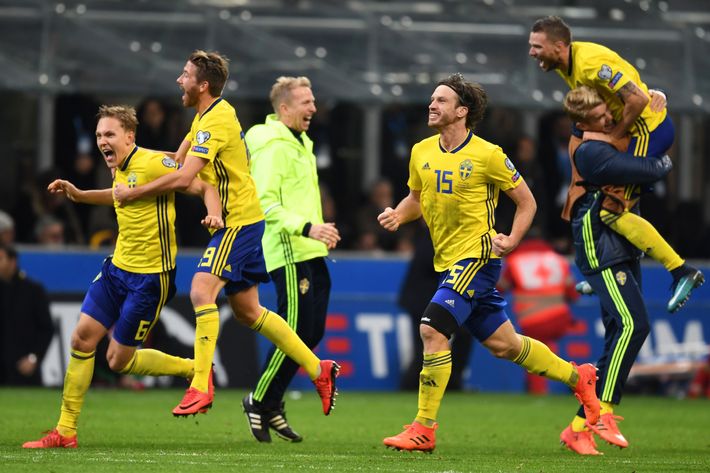 Sweden – 'Unknown, Average Players'
Group F
Chance of winning: 0.5 percent
Why you should root for them: The third consulate to answer my emails was Sweden. Just like Denmark's Riggelsen, Sweden's Leif Pagrotsky presented me with a numbered list of reasons to support his country, though whether this is a trait of Scandinavians or just consuls general, I cannot say.
No. 1: "This is a group of unknown, average players we are sending to Russia, and who's not fond of unknowns? It may sound tough from me, as a representative for my country, to say that, but if you look at it player-for-player, nobody's well-established on a well-known club."
But don't worry, because here's No. 2: "The coach is a genius. He's basing it all on common sense. He hasn't created new tactics. He's playing the best football possible with the resources he has at hand." He notes that this team of "disciplined, committed underdogs" beat France in the qualifiers last summer, and knocked Italy out in the playoff after beating them in Italy.
For his final reason, Pagrotsky strikes a philosophical note. "Everything in football should not be about money and stars. As some wiseguys used to say, the ball is round, you don't know what direction it's going to move. It's the unpredictability that makes this sport fascinating. If it weren't, then who would watch?"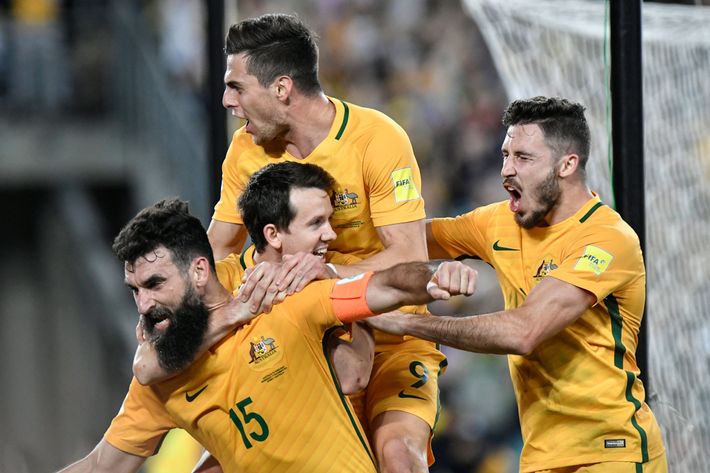 Australia – I Just Can't Get You Out of My Head
Group C
Chance of winning: 0.2 percent
Why you should root for them: Bennett on Australian soccer: "It's like Kylie Minogue. Twelve years ago, she was gonna be a global superstar, and now it's just … Kylie Minogue."
(Let the record show that this is purely Roger Bennett's opinion of Kylie Minogue and should not be taken as the official New York Magazine position on Ms. Minogue, who, contrary to her reputation, maintained a thriving career on the U.S. Dance charts well into the 2010s. Anyway, if you need a reason to root for Australia, they flop a lot less than other teams.)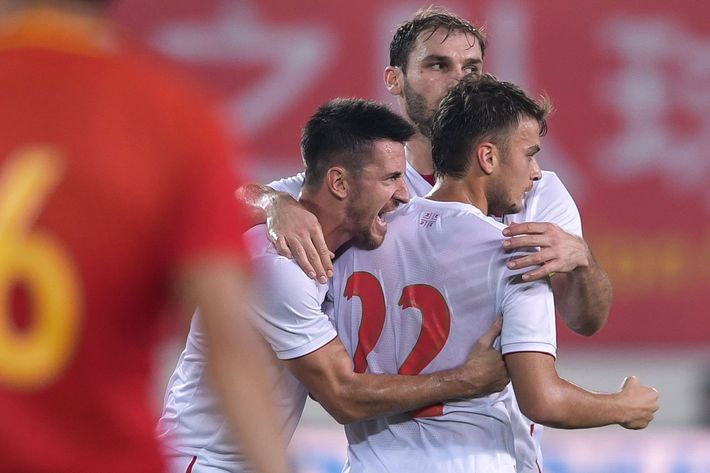 Serbia – A Legacy of Sporting Success
Group E
Chance of winning: 0.7 percent
Why you should root for them: "A lot of Americans know Serbians through sports," says Dragan Kovačević, Serbian vice consul, former professional athlete, and the fourth diplomat to get back to me. "There's a conscious or subconscious connection." And indeed, if you have already gotten used to cheering on former NBA All-Star Vlade Divac, or tennis champs like Novak Djokovic and Jelena Janković, or perhaps the Serbian water polo team (the best in the world), why not spend this summer rooting for their countrymen? The Orlovi have a history of playing great teams incredibly tough, but also sinking down to the level of competition. (In the 2010 World Cup, they beat Germany but lost to Ghana and Australia.) "Maybe it's our mentality," says Zarko Kozlina, a former pro soccer player in Serbia who now works in real estate in New York City. "We have a very competitive approach to anything we do — 'Why is he better than me?'" This year, that may prove a blessing. "Every time we have high expectations, we don't play good," says Kozlina. "We're excited to be in Russia, but we don't expect much. So maybe …"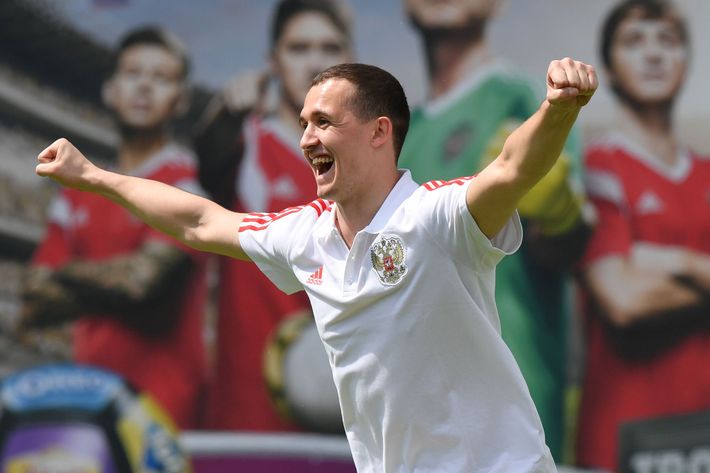 Russia – The Hosts
Group A
Chance of winning: 1.6 percent
Why you should root for them: Do you enjoy trolling your friends and loved ones? Short of any ancestral connections to the Motherland, that's pretty much the only reason to root for the home team this year. The process that led to Russia hosting the 2018 World Cup was murky and corrupt even for FIFA, and that was before the Putin government conspired to undermine various Western elections. Furthermore, LGBT fans attending the tournament have been cautioned not to "publicly display" their sexuality. Oh, and the team itself is nothing special. I assure you, triggering the libs is not worth it here.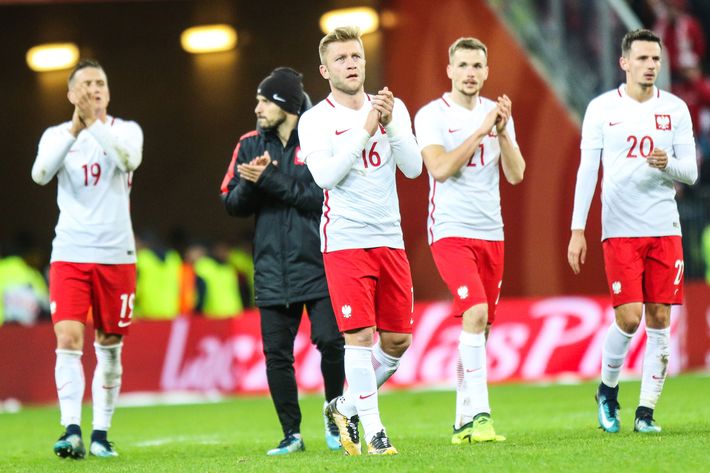 Poland –  There is no example, no inspiration. It is night. A night of indifference, apathy, chaos.
Group H
Chance of winning: 1.2 percent
Why you should root for them: Many fan bases find meaning in rooting for teams that will inevitably let them down in heartbreaking fashion. Supporters of Poland have turned such suffering to an art form. "They seem to be even more aware of their own ultimate demise than even English fans," Bennett says. "The joke in Poland is that Poland always has three World Cup games, because they certainly never get out of the group. They have a defined rhythm to those group stage games; in the Polish media, they've given them these ritualistic names. The first game is always called the opening game in which everything is possible. And then the second game is the must-win game in which the entire nation's survival is on the line because they lost the first one. And then the third game is always the dead-rubber game of honor, which is irrelevant because the team is already eliminated." This year's squad is stuck in a fittingly ironic conundrum: You need multiple players who can score goals, but they only have one (Robert Lewandowski); you only need one goalie, but they have two (Wojciech Szczęsny and Łukasz Fabiański).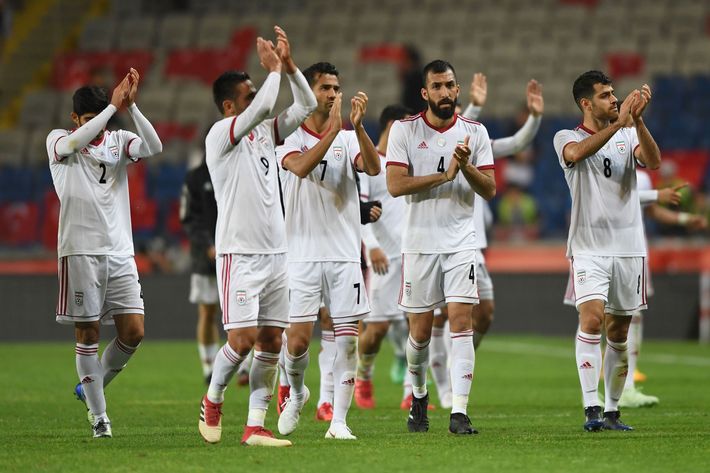 Iran - The Ceaseless Counterattackers
Group B
Chance of winning: 0.2 percent
Why you should root for them: What is best in soccer — to pass the ball back and forth forever, hoping to find some tiny crack in the opponent's defenses … or to absorb your enemy's attack, then charge bravely forward, damn the consequences? If you prefer the latter, might I suggest rooting for the Iranian national team? According to FiveThirtyEight, Team Melli ranked dead last in its share of attacks that were preceded by 10-plus passes, which is to say, they had zero of them.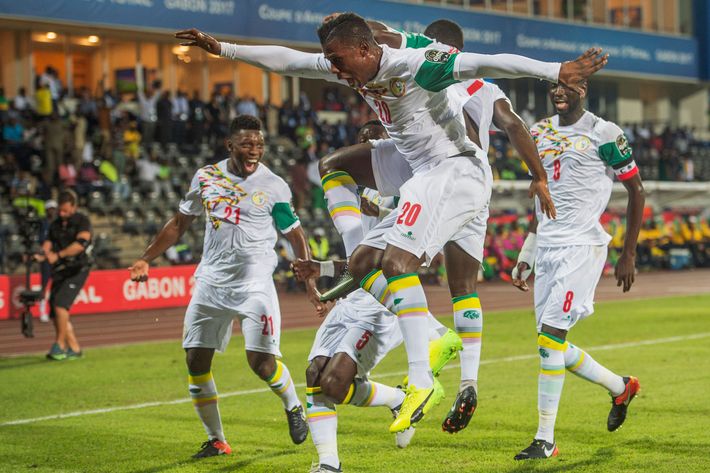 Senegal – FIFA Gives …
Group H
Chance of winning: 0.7 percent
Why you should root for them: Back in November 2016, Senegal played a World Cup qualifying match against South Africa, which they lost 2-1 after the referee called a penalty for a handball that didn't happen. That would have been that, except that Senegal protested the foul, an investigation found the ref guilty of match-fixing, and FIFA ordered the match be replayed. The Lions of Teranga wound up winning the rematch 2-0, which sent them on to Russia. Cheer for them if you too could use a do-over.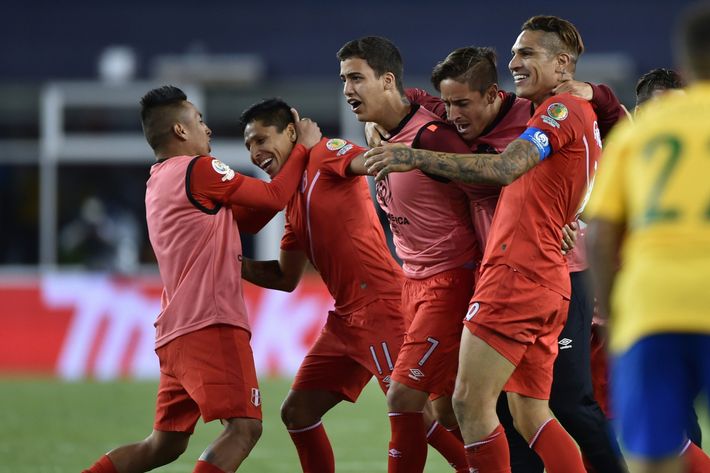 Peru – … And FIFA Takes Away
Group C
Chance of winning: 0.7 percent
Why you should root for them: Peru's World Cup qualification was a Cinderella story: Matched up against New Zealand in a two-game playoff, they played the Kiwis to a 0-0 draw in the first game in Wellington, then beat their antipodean rivals 2-0 in Lima four days later, becoming the final team to qualify for the 2018 World Cup. (It was their first time making the tournament since 1982; the government of Peru declared a public holiday to celebrate the victory.) Unfortunately, team captain Paolo Guerrero got suspended afterward for failing a drug test; he says he drank coca tea, a popular Peruvian drink. It's been a roller-coaster ride ever since. First, Guerrero appealed and got his suspension reduced, then it was extended to 2019, but finally a Swiss supreme court judge pushed back the ban until after the Cup. Support them if you too have been trapped in a bureaucratic spiderweb.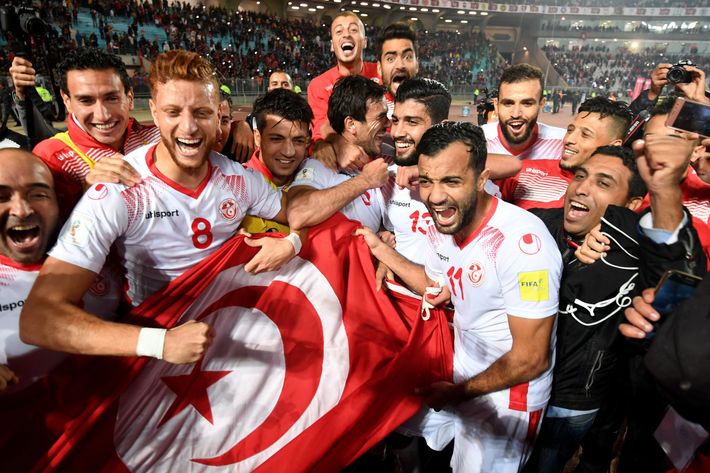 Tunisia – The Tricky Ones
Group G
Chance of winning: 0.2 percent
Why you should root for them: The Tunisian embassy in Washington, D.C., was the final government office to respond to my inquiries. Everyone there was too busy with high-stakes international diplomacy to talk to me on the phone, but they were kind enough to send along a handy one-page summary of the Tunisian national team, which you can find here. Here is a selection of the most interesting information I have since learned about "the Carthage Eagles" (also known as "the Eagles of Carthage"):
• "Football is the most popular sport in Tunisia."
• "Tunisia made history at the 1978 World Cup held in Argentina by becoming the first African side to win a World Cup match, beating Mexico 3–1."
• "Tunisia ranked the best team in Africa by FIFA."
But the best reason to root for Tunisia wasn't on the sheet. Since it's Ramadan, the team has been playing its pre-Cup friendlies while fasting. They've come up with an ingenious solution: Once the sun goes down, the goalie fakes an injury so the rest of the team can grab a snack on the sidelines. And that's basically all you need to know!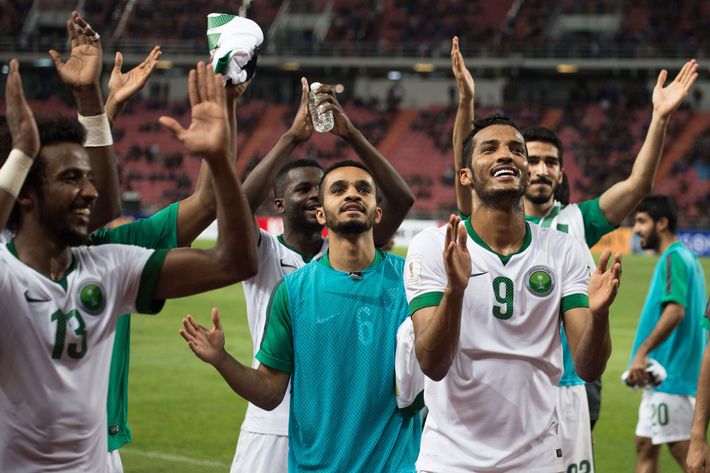 Saudi Arabia – The Networking Opportunity
Group A
Chance of winning: 0.1 percent
Why you should root for them: Are you a D.C.-based lobbyist looking to make more strategic connections in the international sphere? If so, going hard for Saudi Arabia may be just the boost your career needs!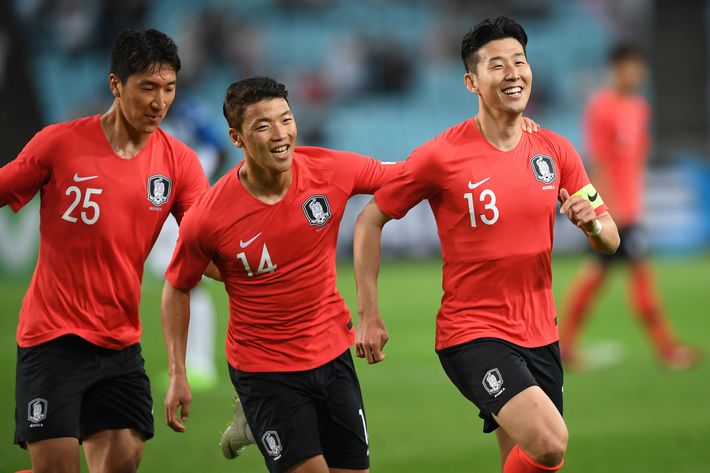 South Korea – Is There More to Life Than Being Really, Really Good-Looking?
Group F
Chance of winning: 0.2 percent
Why you should root for them: Things are not looking good for South Korea this year: They're in a tough group, coach Shin Tae-yong is reportedly still working out which formation to use, and injuries mean they'll be even more reliant on their best player, Tottenham's Son Heung-min. But in another sense, things are looking real good, as the Taegeuk Warriors have some of the handsomest players in the Cup. Besides Son, they've also got Lee Seung-woo, Jung Seung-hyun, and Kim Shin-wook — hotties all around. That's as good a reason to cheer for them as any.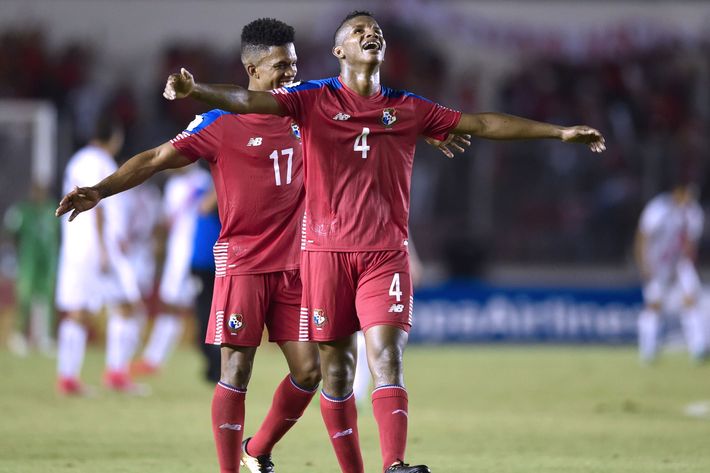 Panama – The First-Time Old-Timers
Group G
Chance of winning: 0.1 percent
Why you should root for them: Panama took the World Cup spot that the U.S. was gunning for, but don't hold that against them. This is Los Canaleros' first World Cup appearance ever, and they did it with one of the oldest teams in the tournament. Expect Tim Allen, John Travolta, Martin Lawrence, and William H. Macy to play them in the movie.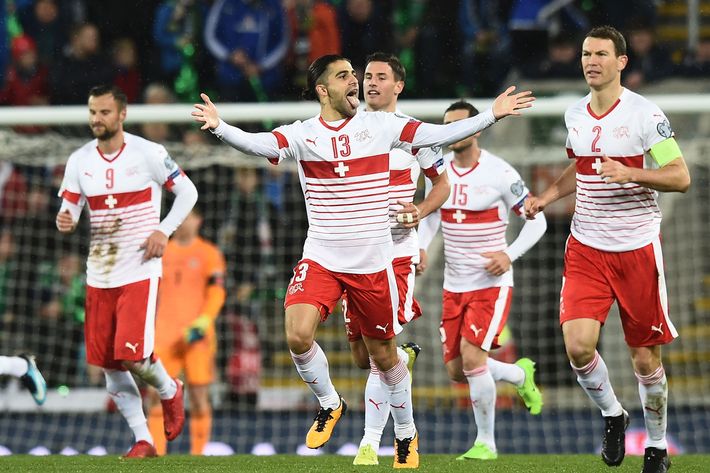 Switzerland – Mmm, Medium
Group E
Chance of winning: 1 percent
Why you should root for them: If you're a truly neutral fan, what could be more fitting than rooting for Switzerland?