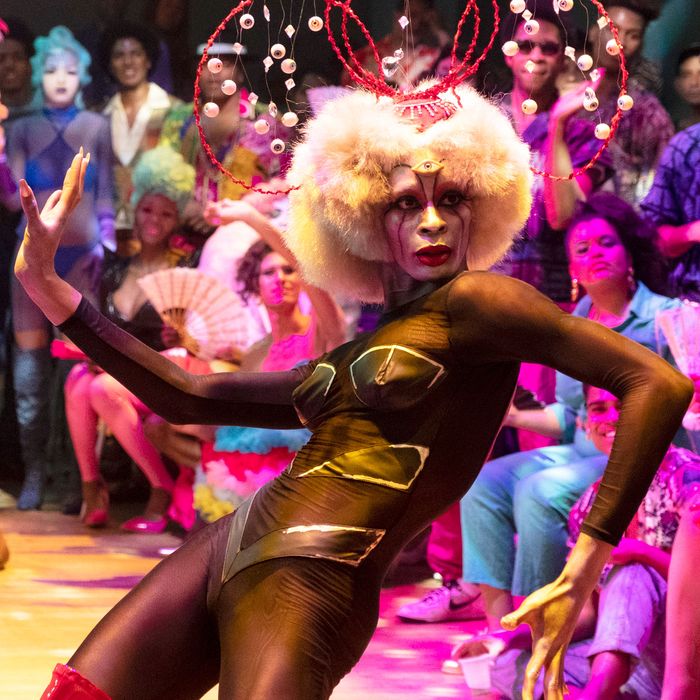 Photo: JoJo Whilden/FX/Copyright 2018, FX Networks. All Rights Reserved.
Ballroom culture is in vogue once again, this time sashaying straight into America's living rooms thanks to the smash success of FX's Pose — Ryan Murphy's dance-musical series set in New York City's 1980s vogue scene. Started in the late-1970s by black and latino drag queens in Harlem, ballroom is a quintessentially queer, New York–bred underground subculture that has always been rooted in the city's late-night streets and clubs.
The music played at balls, which often take place in community centers and banquet halls, is primarily functional. The action centers around voguers competing in various categories to win cash prizes and glory for their respective crews or "Houses." DJs are usually stationed off to the side, and must know how to play the right tracks for each category at lightning speed while working with the night's MC.
Vogue battles also go down on nightclub dance floors, and during its early days, ballroom was soundtracked by popular house and disco tracks played in clubs like Paradise Garage and The Sound Factory, where Madonna is said to have seen vogue dancing for the first time. Certain tracks became so synonymous with voguing that they acted like bat signals calling dancers to the floor.
As the music got faster and harder over the decades, the dancing also shifted into more dramatic and athletic styles, with voguers gravitating toward songs with cymbal crashes, sharp synth stabs, and other dramatic accents that punctuated their poses, splits, and dips. Today, a new generation of producers are bringing ballroom into the present by recontextualizing the past — sampling classic vogue tracks from earlier decades, alongside clips from pop songs and internet memes.
The anthems that define ballroom culture are more than just old club hits. They also glorify the spirit of queerness and femininity, flipping words like "cunt" and "pussy" from put-downs into the highest praise. "It's more than music — it's an attitude," says Niall Connolly, a U.K. ballroom DJ who goes by CVNT TRAXXX. "Society says you're worthless, but the music says no — that's a great thing, and you're not alone."
Here's a rundown of 20 tracks that defined the sound of ballroom, from early inception to current day.
MFSB, "Love Is the Message" (1974)
First played by David Mancuso at the Loft and Nicky Siano at the Gallery, this soulful classic — one of the greatest dance songs ever made — was both a staple in the '70s downtown party scene, and the defining anthem of classic, "Old Way" vogue. The proto-disco song's swelling orchestral strings and jazzy breaks perfectly suited the graceful movements of early voguers, accentuating their movements' elongated lines as they swanned around the dance floors and runways. Its signature horn stabs also worked perfectly as cues for the dancers' freeze-frame poses, which were inspired by the models in Vogue magazine, as well as ancient Egyptian and African art.
Cheryl Lynn, "Got to Be Real" (1978)
At a formal ball where dancers are watched by a panel of judges and awarded cash prizes, the competition is divided into categories like Runway and Face, with accompanying tracks for each segment. Cheryl Lynn's "Got to Be Real" found its place in the vogue cannon by becoming the de facto soundtrack of a category called "Realness," where performers compete to meet the standards of a particular look, such as Executive Realness or Butch Queen Realness, dressing and posing according to the role.
George Kranz, "Din Daa Daa" (1984)
Berlin singer and drummer George Kranz's unconventional '80s hit, originally called "Trommeltanz," was a huge success both in the clubs and on the radio charts. With Kranz growling and singing onomatopoetic gibberish over skittering drum snares and claps, the song's busy structure made it a tricky one for most dancers to vogue to. But it became a perennial favorite for a ballroom category called "Hands," where dancers sit on a chair and let their fast-flying hands and elbows do the talking.
Ellis D Presents Boom Boom, "Work This Pussy (Hurt Me Mix)" (1989)
Recorded under Junior Vasquez's Ellis D alias, "Work This Pussy" entered the ballroom pantheon through wild nights at Sound Factory — the Chelsea club where Vasquez was a resident DJ and Madonna is said to have first witnessed vogue dancing.
According to ballroom pioneer Vjuan Allure, Vasquez would often hop on the mic during his DJ sets to invite young voguers to battle. But he would only play "Work This Pussy" if and when the party reached a fever peak. "The club would really have to be on fire for Junior to play this," says Allure. "Some nights, we would be there until 11 a.m., and he would not play it. But on the real hot nights, the feeling would be there, and that's when he would drop it. Everyone would scream and get into a frenzy."
David Ian Xtravaganza and Johnny Dynell, "Elements of Vogue (David DePino Mix)" (1989)
"Elements of Vogue" is more than an anthem. It's an introduction to voguing, complete with step-by-step runway instructions. Ballroom MC David Ian Xtravaganza and co-producers Johnny Dynell and David DePino were all members of the House of Xtravaganza, and DePino also ran a pioneering Tuesday night party for voguers at a Chelsea club called Tracks. "Vogue in beat is a dance obsession / a form of total self-expression," purrs MC David Ian Xtravaganza against spacey disco synths and the familiar horn stabs of "Love Is the Message." A breathy female choir then chimes in for the chorus: "Give them face, give them body, walk in beat, strike a pose."
Malcolm McLaren, "Deep in Vogue" (1989)
Like "Elements of Vogue," "Deep in Vogue" explains the culture of voguing with a nod toward its rich club history. Written by Sex Pistols and New York Dolls manager Malcolm McLaren, the song topped the Billboard dance chart when it was released in July 1989. It features vocals by House of Ninja founder Willi Ninja, who also stars as one of the all-black-clad voguers in its black-and-white music video (incidentally directed by Jennie Livingston, who made Paris Is Burning in 1990). Against a groovy bass line and sensuous sax solo, McLaren conjures scenes from vogue's past with a sort of spoken-word poem: "Sometimes, on a legendary night like the closing of the Garage, when the crowd is calling down the spirit, listen and you will hear the footsteps of all the houses that have walked there before."
Fast Eddie, "Let's Go" (1989)
The unparalleled fanfare of "Let's Go" by early Chicago house producer Fast Eddie has kept it firmly in ballroom crates for decades, with DJs continuing to use it as an opening track at vogue balls. Its dramatic synth stabs set the tone for the showmanship to follow, while its rolling 4x4 rhythms also meant it was versatile enough to be kept in rotation for many different categories, from Runway to Old Way to New Way.
Masters at Work, "The Ha Dance (Pumpin' Dubb)" (1991)
If "Love Is the Message" summed up the spirit of old-school vogue, then "The Ha Dance" is part of modern ballroom's DNA. The song has been chopped up, sampled, and remixed so many times that it's impossible to imagine the genre without it. Produced by Masters at Work duo "Little" Louie Vega and Kenny "Dope" Gonzalez, the song started out as a staple at clubs like The Sound Factory, and lifts its iconic "ha" sample from a scene of Eddie Murphy and Dan Aykroyd jabbering nonsense in the film Trading Places.
The 1991 release of "The Ha Dance" coincided with the dawn of vogue femme in the '90s — vogue femme incorporated high-energy tricks and gracefully feline silhouettes, with an emphasis on drama and flamboyance — and became its defining anthem. Its distinctive, razor-edged metallic crash, which lands on the fourth beat, punctuated the new style's dramatic moves, and became synonymous with the dancers' spine-snapping floor dips.
Junior Vasquez, "X" (1994)
Junior Vasquez's tribal house track "X" opens with a sparse drum pattern of muffled kicks and taut snares, building up slowly to its smoldering climax: a drag queen intoning "extravagaaanza," sampled from the documentary Paris Is Burning. A tribute to Vasquez's vogue tribe, the House of Xtravaganza, "X" was a declaration of pride. "'X' wasn't meant only as a song of identity," Vasquez told DJ Mag in 2012, "but a track for all the young kids of all the houses." It also represented the harder, heavily drum-focused sounds taking over New York clubs in the mid-'90s, when DJs like Vasquez and Steve Lawler were experimenting with blending four-on-the-floor house music with the polyrhythms of indigenous tribal drums. "X" was quickly adopted as a perennial favorite for voguers.
Tronco Traxx, "Walk for Me" (1995)
Tronco Traxx, producer Robbie Tronco and MC Thomas Biscardi, were behind several iconic ballroom-inspired tracks, like "CUNT (She's a Cunt, She's a Pussy)," and "Runway (As a House)." But "Walk for Me's" minimal 909 beats and commanding presence — Biscardi chants "walk for me" with so much attitude it sounds like a taunt — made it a no-brainer for runway walk-offs, with Biscardi referencing ballroom lingo with lines like "Butch queen up in pumps!"
Tronco also played at clubs like Shampoo in Philly and Tracks in D.C., and the song became so popular in the gay nightlife scene that DJs would often isolate the vocal and drop it over other tracks in their sets. "Walk for Me" remains a classic, sampled by everyone from footwork pioneer DJ Rashad to U.K. DJs like Joy Orbison and Boddika.
Kevin Aviance, "Cunty (The Feeling)" (1995)
Built with familiar vogue femme samples from "Love Is the Message" and "The Ha Dance," Kevin Aviance's debut single, "Cunty (The Feeling)," perfectly expressed the fierce, overtly feminine sensibility of vogue femme, where a term like "cunty" is the ultimate form of praise. Who better to evoke the emotion at the heart of ballroom than Aviance, a drag extraordinaire who remains one of the brightest sparks on New York dance floors. If, as the popular saying goes, house music is a feeling, then ballroom music is about feeling cunty.
Armand Van Helden, "The Witch Doktor" (1996)
"The Witch Doktor" became an anthem for "New Way" voguing, which peaked in the '90s as hip-hop-inspired producers like Armand Van Helden moved toward tougher, more aggressive sounds. A favorite at NYC club-kid haunts like Limelight, "The Witch Doktor's" wailing siren effects and bugle calls matched the aggressive mood on the dance floor, while pushing vogue dancers to new levels of athleticism as they added popping joints, drops, and splits into their repertoire.
Basement Jaxx, "Fly Life" (1997)
British duo Felix Buxton and Simon Ratcliffe bonded over their mutual love for Masters at Work, and their music as Basement Jaxx wove classic New York house intro a myriad of sounds from U.K. garage, disco, noise, and funk. "Fly Life" reworks Corrina Joseph's "Live Your Life With Me," adding rave-y synth stabs passed through sweeping filter effects. The funky, up-tempo track has all kinds of strange sounds and detailed nuances that voguers can catch on to, and has found its way into the ballroom pantheon as a classic runway track.
Vjuan Allure, "The Ha Allure" (1999)
"'The Ha Allure' was made out of anger," says ballroom originator Vjuan Allure, whose spin on the "Ha" laid the foundation for the genre's modern sound. The New York–based DJ was spinning at The CW Post, a legendary Detroit club, in 1999 and had lugged in several bags worth of vinyl. But to his frustration, no matter what he played, the younger crowd was mostly comatose — none of the ballroom kids would dance, until he finally dropped Masters at Work's classic. "I brought all this music and you're sitting? And when I play this one song, you jump up?" Allure recalls thinking to himself. So he went home and made his own sped-up, battle-ready version, complete with his own intro: "I'll give you the ha, but not like you remember it." When he went back to Detroit and played the song in the middle of his set, the place went ballistic.
Allure's remix spawned a new era where "The Ha Dance" was excavated and rebuilt into hundreds of spinoffs. But you won't find "The Ha Allure" posted on YouTube or anywhere else online. Allure learned to hold on to songs from watching Junior Vasquez at Sound Factory. "Everyone wants everything now, but if you give it to them, it's nothing special," Allure says. So if you want to hear Allure's take on the "Ha," you've got to go to a ball.
JR Neutron, "Godzilla Ha" (2011)
Baltimore producer JR Neutron pushes the "Ha" into new territory by sampling both the Godzilla soundtrack and 1999 hip-hop classic "Simon Says" by Pharoahe Monch. Its stripped-down beats and ominous horns exemplify the raw intensity of ballroom in the 2000s.
MikeQ feat. Gregg Evisu, Kevin JZ Prodigy, "Vogue Train" (2012)
MikeQ has emerged as one of ballroom's biggest breakout stars, with tracks that merge the feel of classic ballroom with nods to other genres like UK Funky, Jersey Club, and grime. "Vogue Train" was recorded with popular MCs Gregg Evisu and Kevin JZ Prodigy in MikeQ's bedroom. Mike created the simple beat for Evisu's distinctively aggressive chanting on the spot, and they recorded the whole thing in one take.
SugurShane, "Buddah Vs Sugur" (2014)
Air horns shriek like war cries in this sharp-fanged battle anthem by Philly ballroom fixture SugurShane and commentator Buddah Ebony. "Buddah Vs. Sugur" was originally released on Sugur's mixtape My Night with Peter & Junior, a hat tip to the DJs Peter Rauhofer and Junior Vasquez. But the fight song clawed into its place in history when it soundtracked the vogue performance in Hood by Air's unforgettable fall-winter 2014 runway show. As the song's liner note says, "If you don't recognize the realness, shade on you."
Divoli S'vere feat. DuhGreatOne, "Svere Pussy Pop Ha" (2015)
Thanks to the rise of platforms like YouTube, producers like Divoli S'vere flip cheeky ballroom tracks out of whatever the hell they find on the internet. In this instance, Divoli flipped a viral Vine video from 2014 by @DuhGreatOne into a devastating, battle-ready bitch track that also exemplifies the sped-up, stripped-down, and intensified ballroom sound of the 2000s.
Byrell the Great, "Legendary Children" (2016)
Part of the new wave of ballroom DJs, Byrell the Great recalls classic ballroom with an opening clip from Paris Is Burning, along with samples from "Walk for Me" and "Work This Pussy," on a track that is often featured in Runway and Vogue categories.
Kiddy Smile, "Let a B!tch Know" (2016)
French ballroom culture has been flourishing since the early 2010s after several New York houses set up their Paris chapters. Kiddy Smile, born Pierre Hache, started out as a dancer for George Michael, Yelle, and LCD Soundsystem before he was entered the ballroom scene as a DJ and member of House of Mizrahi. The video for "Let a B!tch Know" was filmed in the Paris suburb of Grossay, a black and Arabic neighborhood where Hache grew up, and features voguers from several Paris houses.