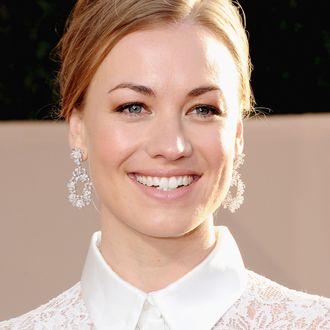 Photo: Jon Kopaloff/Getty Images
The Handmaid's Tale actress Yvonne Strahovski landed her first Emmy nomination on Thursday and will compete in the dramatic supporting actress category against two of her colleagues, Alexis Bledel and Ann Dowd, who won last year. (In total, eight Handmaid's Tale actors were nominated this year.)
Strahovski, who plays ice queen Serena Joy with such subtle aplomb that viewers can't help but empathize with her at times, told Vulture in a phone interview, "I can't stop smiling, my face hurts … I'm so happy to have been part of this, and so grateful that the ride has really allowed me the opportunity to dive deep into Serena's psyche this season, and really get down and dirty with her and her vulnerability."
The second season of the Emmy-winning Hulu drama proved that life in Gilead isn't just harrowing for the Handmaids. Viewers saw the Commander (Emmy nominee Joseph Fiennes) beat his wife in one early episode, and later order the severing of one of her fingers — punishment for reading a Bible verse in public, as Serena Joy pleaded with Gilead's leaders to allow women to study the Bible.
By the end of the season, with the reality of the dark and evil society she helped build dawning on her, Serena Joy makes the sacrifice of allowing Offred (Emmy nominee Elisabeth Moss, who won last year) to escape Gilead with baby Nicole. Strahovski spoke to Vulture about how she straddles the demands of the role, why she feels for Serena Joy despite her actions, and what she thought of her character's defiant decisions in the second-season finale.
How do you walk the fine line to make viewers feel compassion for a woman who does so many horrible things?
So much is in the writing, which really forces me to walk that fine line between doing despicable things and doing redeemable things. But what I've held onto during my performance as Serena is that she, at the end of the day, is human. The very first thing that stood out to me, way back when I read the pilot script, was how miserable she must feel and how affected she must feel by her own circumstances. I thought, Here is a woman who has nobody, and who has nothing, in a world where it seems like she has something. She doesn't trust her husband. She doesn't trust her household. She has another woman living in her household being intimate with her husband. These are all things that, at a base level, would just hit a raw nerve and create so much sadness and misery within you. I felt sorry for her in reading the first bit of material about her.
It was a brutal season to watch, and Serena's journey was brutal in many ways, too. Her husband beats her, her finger is severed, and she willingly gives up her baby. What was the hardest scene for you this season?
I think that there's a couple things. I found the Canada episode challenging, just in terms of making the decision to go back to Gilead. Things had gotten really bad for Serena in the buildup to the Canada episode. It was post-beating, and that was so devastating to be beaten your husband. So it was challenging to find that fine line of experiencing Canada, how confronting that would have been for Serena, and then making the decision to go back.
I remember the scene where Offred and I are in the kitchen sitting on the little bench, and she is trying to convince me to have Janine be allowed to come to the hospital to see baby Angela, who was dying. It wasn't an easy decision because, obviously, you would think Serena would automatically just say, "No, that's out of the question. End of story." But that's not how it was written. And so it was challenging to finesse on camera, in terms of finding the way into softening in that moment, to allow for that to happen, and then see the results of it, how beautiful that moment was for me and for that episode. Those kinds of scenes really are trickier to navigate.
What did you think of Serena's decision to let Offred leave with her baby?
Oh, I thought it was harrowing. It was so harrowing to read. It was immediately emotional for me. Here's a woman who we've seen continuously invest in the idea of having a baby, and wanting a baby, and do despicable things in order to get this baby in her arms. To finally realize that the best thing that I can do as a mother, and the best thing I can do for the baby, is actually let it go, is just harrowing for a woman like Serena. It was just so emotional. It was a cold night in Canada when we shot it. It was really late, like, three in the morning or something. I've just always been very moved by that scene.
In the finale, Serena faces the leadership and dares to read aloud from the Bible. Everyone starts freaking out. Did that surprise you?
It's such a great scene. It's a powerful moment. We've seen, so many times, the flock of red cloaks gathered together in some kind of unison. We've never seen a flock of blue gather in that way. It's a beautiful moment, a redeeming moment for Serena, but I also see it a little bit pathetic because it's too late. I don't know that she thinks she's going to move the needle at all. I mean, there's obviously hope that somebody will hear her plea on that male council, but more so than anything, it's a personal moment of standing up and doing something that's technically wrong and illegal. She's really invested in the greater cause and the greater good, but this is one of the first times we see her investing in the right way. And she knows it.
It's a little beautiful moment for herself, to know that she did that. That's something that you can live with, even though you paid an ultimate price and lost a finger for it.
What did you make of June's decision to give the baby to Emily and return to Gilead?
It's a powerful move. It's sure to cause some conflict, I think, when her and Serena have that moment of, What did you do? And the Canadian side, if the baby does actually make it out, and if it makes its way back to Luke — you know, gosh. That's harrowing for him, that it's the baby sans the mom. What an incredible, powerful choice. She's obviously got some stuff up her sleeve that she wants to do before she leaves Gilead.
How do you decompress from playing Serena? There's so much bottled up in her.
I spend a lot of time out in nature. When we're in Toronto shooting, I try and get outside as much as I can — despite the cold — and walk around the lake, and go bike-riding before the ice and snow hits the roads. I was lucky enough this season to have my husband and my doggies with me the whole time. So they keep me sane.
This post has been corrected to show that The Handmaid's Tale actors received eight Emmy nominations this year.