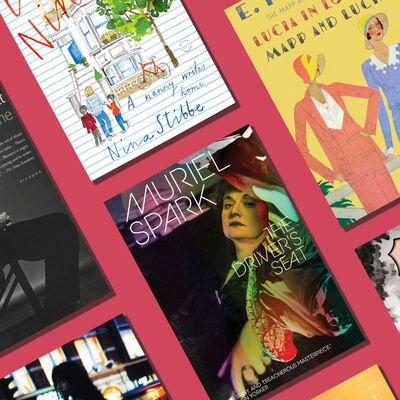 Bookseller One Grand Books has asked celebrities to name the ten titles they'd take to a desert island, and they've shared the results with Vulture. Below is Puzzle actress Kelly Macdonald's list.
After You'd Gone, by Maggie O'Farrell
I love this woman's writing. I've read everything, but this was the first. I finished it in the bath and cried my eyes out. It's about grief, love, loss … all the big stuff. I went to a book reading of hers with the sole purpose of befriending her. It worked. We text!
Dirt Music, by Tim Winton
I just finished this one. Having never been to Australia, Winton transports you there within a few pages. Western Australia feels like a present day Wild West here — the scorched landscape and its watchful inhabitants. It arouses all your senses. And I want to slather Lu Fox in sunscreen and give him a book and a gentle hug.
Far From the Madding Crowd, by Thomas Hardy
Growing up, we had a set of hardback classics my parents had probably sent away for. I picked this one up when I was about 14. It was the first "grown-up" novel I ever read. I hadn't expected to understand or even get to the end of it. I was so proud of myself. It was a bit like finishing an entire can of cola all by myself for the first time, but less gassy, obviously.
The Heart Is a Lonely Hunter, by Carson McCullers
Just the title would be enough for me to love this book. I love reading about the South and the motley band of characters that McCullers has drawn; I have a soft spot for the tomboy, Mick Kelly. She's feisty and feral. There's a description of her and a bunch of scrappy kids playing at a building site, and that was my childhood; we were never out of those places.
Love, Nina, by Nina Stibbe
This book is a series of letters that a young Nina wrote to her sister back home after she became the live-in babysitter for an astonishingly interesting London family in the 1980s. She's hilarious about the goings-on. And Alan Bennett was their friend and neighbor. 'Nuff said.
A Manual for Cleaning Women, by Lucia Berlin
This relates to my Maggie O'Farrell obsession. She recommended Lucia Berlin in an interview I read a few years ago. So, like any good stalker, I checked it out. These stories feel very contemporary. I suppose if I've learned anything from reading, it's that people don't change very much through the ages. Our personal problems and our joys are entirely relatable, whatever the era. The women Berlin writes about seem entirely real. You can feel them in the room with you. There is humor and real beauty in her words. If I were the underlining type, these books would be heaving with Biro. But I'm no vandal.
Lucia in London & Mapp and Lucia, by E.F. Benson
This book entertained me during a pregnancy. It's set in a small English village in the 1930s and is a battle of wit and wills between two women. It's all fêtes and musical soirées and fighting tooth and nail to be top dog. LOL, as they say. My baby got jiggled for days on end with my laughter.
The Pursuit of Love, by Nancy Mitford
I loved this book and couldn't believe it took me so long to come across it. It's about growing up and the grown-ups that haven't quite. Set in a properly upper-class English world that I've only ever witnessed in books, I was tickled to read about these kids hiding and conspiring in airing cupboards (just like I did as a kid).
Writing Home, by Alan Bennett
I love having a look at the world through this man's iconic glasses. Once you read about Miss Shepherd (who lived in a van in his driveway), you will never forget her. He sees what we all see and finds the humor and the pathos in the quiet, everyday moments that make up our lives. Having beetroot for lunch and enjoying a full day of appointments, and then looking in the mirror at home that evening and finding your chin is splashed purple.