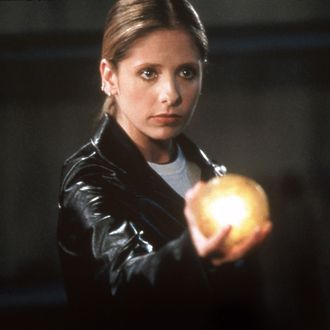 Sarah Michelle Gellar.
Photo: 20thCentFox/Courtesy Everett
According to the mythology initially established in the 1992 Buffy The Vampire Slayer movie, technically speaking, all vampire slayers are by definition a reboot of the first slayer. So it stands to reason it was only a matter of time until the mantle was passed on. According to The Hollywood Reporter, Joss Whedon is currently developing a Buffy reboot pilot written by Agents of S.H.I.E.L.D. writer Monica Owusu-Breen. In the new iteration of the enduring "teen-girl-turned-monster-stabber" role, the character played by Sarah Michelle Gellar in the initial Buffy iteration that ran from 1997 to 2003 will be portrayed by a black actress. As of yet, there is no network attached to the project, which is being produced by 20th Century Fox Television.