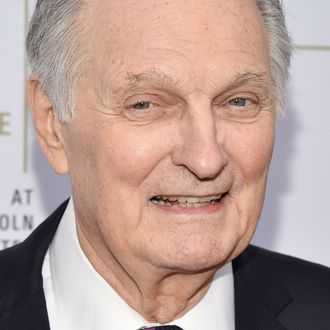 Alan Alda.
Photo: Bryan Bedder/Getty Images for Lincoln Center
Alan Alda has been living with Parkinson's disease for over three years now, and he wants us to know he's never been better. That's our Hawkeye! In a series of messages posted to his Twitter account this morning, Alda wrote how he decided to publicly reveal his diagnosis in the hopes of encouraging others to take action and get tested for the disease. "My life is full. I act, I give talks, I do my podcast, which I love. If you get a diagnosis, keep moving!" he wrote. "I take boxing lessons three days a week, play singles tennis twice a week, and take a mild pill — all Dr. recommended. I even juggle a little. And I'm not entering dementia. I'm no more demented than I was before. Maybe I should rephrase that. Really, I'm good." Need more proof? Here he is, happily doing some of that aforementioned juggling.
Alda, if you're reading this, it would be an honor to join you for a juggling session.