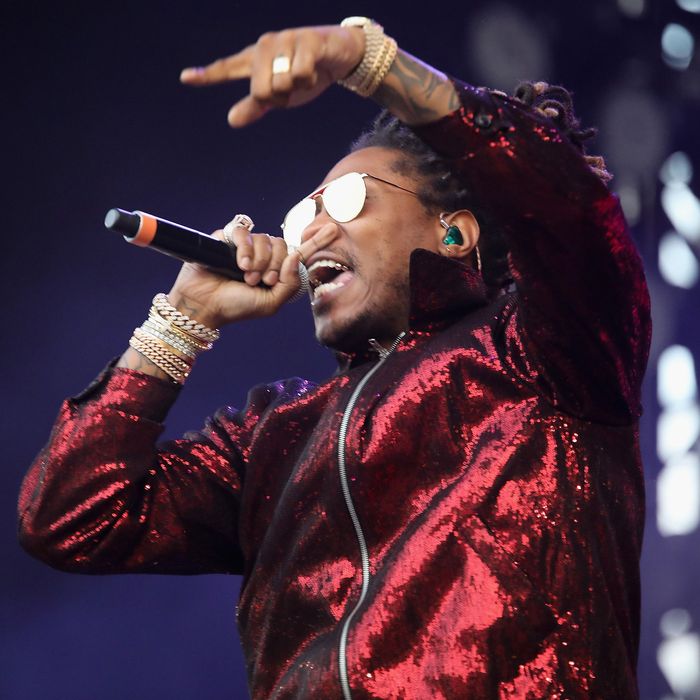 Photo: Dave Simpson/WireImage
Spontaneity is Future's gift and curse. When the Atlanta rapper hits his mark, it's like watching an epic poem unfurl in real-time. When he's off, it's like cueing up the shaky sequel to a film with a good premise, all valiant ideas and questionable execution. The good stuff — True Story, DS2, FUTURE, HNDRXX — is heartfelt but also impossibly off-the-cuff. The not-so-inspired stuff — N.E.R.D.'s "1000," the hook for DJ Khaled's Carter family loosie "Top Off," stray tracks on his live-show maestro DJ Esco's mixtapes — somehow sounds both labored and hastily conceived. (The line between great and lesser Future performances is sometimes thin; his feature on Jay Rock's "King's Dead," a lengthy taunt in a falsetto reminiscent of an upset toddler, is one of the strangest and most fiercely defended rap verses of 2018.) Sometimes you wish he spaced out releases a little more and gave his tracks time to breathe, but in the middle of a flurry of great albums and mixtapes, it's more fun to hang back and watch greatness work.
This week's Beast Mode 2, the sequel to a 2015 collaboration with Atlanta producer and pianist Zaytoven, took a little time and sweat to conceive — Zay told Fader the new mixtape's nine songs were culled from a hundred tracks created in sessions that spread out over two years — and you can hear it in the verses. Zaytoven and Future are one of the great rapper/producer duos of our time, and Beast Mode 2 is a 30-minute crash course in the hows and whys. Struggle is the beating heart of Future's art, and Zaytoven's fleet, expressive work on the piano pushes his partner to dig deep, while leaving room for Future to cut through his frantic flurries of notes with simple, undeniable melodies. The first Beast Mode's "Just Like Bruddas" and "No Basic" exemplify this dance; when producer and rapper sync up, it's hard to tell who's playing off of whom. (Zay makes beats first, and Future emotes afterward, for the record.)
Beast Mode 2 oscillates between tracks where Future locks into the beat and lets loose spitfire bars and tracks where he expresses the dizzying trek from hustler to rapper who loves drugs, from sleeping on floors to crisscrossing the globe in private jets. Opener "Wifi Lit" wants you to know that the rapper's clothes can't be bought in stores, and the planes he favors always have internet; "Cuddle My Wrist" luxuriates in nice cars and fabulous jewelry. "31 Days" is a hypnotic riff about short-stay shack-ups with sexual partners the rapper has no intention of dating long term. In the past, Future has pitched entire projects on brutish player talk like this, but the new tape is more reserved in its outlook on women than the groupie-baiting, ex-hating Monster and DS2. Beast Mode 2's lines inviting partners to chartered flights and shopping sprees are a little closer in spirit to HNDRXX — where Future is trying to be vulnerable while guarding his heart — than the crassness of Beast Mode 1.0 darts like "Peacoat" and "Real Sisters."
Smart hooks and moving ivory work award the mixtape's money talk a measure of depth. "31 Days" is horny as hell, but Zay's icy, descending synth melody and Future's nasal, ascending vocal pair beautifully. "Wifi Lit"'s appreciation of finer things — "I got Gucci socks on me, and money in every pocket / I got Burberry seats the color of teriyaki — is delivered with a lively lilt that serves as a reminder that none of the last six years of hybridized trap/R&B would play out the way it did if Future didn't take us to Pluto first. At Future's peak, it feels like melodies are just jumping out of his face. He'll stumble on a devastating arrangement of notes and repeat it for a few lines, then switch up. I keep rewinding bits that I like, wishing he was a more mannered songwriter, but part of both the fun and the frustration of following Future in this decade is that the minute you start to love something he's done, you look up and he's a mile away.
What makes Beast Mode 2 a worthy successor to one of Future's tightest, most emotional collections of songs is its fearlessness in delving into the troubles that haunted the rapper before fame and the pitfalls of being a public figure whose mishaps occasionally land him on TMZ. "Racks Blue" is a mix of much deserved relief and hard-won wisdom: "Responsibilities without humility / Longevity, cars from Italy / Fuck my enemies, get my salary / Fuck envy, ends in tragedy." "Red Light" stops flexing in the middle to wish the rapper's father treated him better in his formative years — "All the times he lied to me, gave up on my arteries / I was such a worried child, just wanted you to be a part of me" — and then thanks cocaine and project floors for teaching him how to be a man. Zay goes full Bruce Hornsby and the Range on "Some More," while Future celebrates the unwavering loyalty woman who might be a metaphor for codeine.
"Hate the Real Me" follows "Perkys Calling" and "Codeine Crazy" in the line of gutting Future songs about drugs as coping mechanisms. It's a brutal closer because by the time you get there, Beast Mode has given you eight songs of triumph and adversity. You think things are looking up when he says "I'm finally starting to embrace being famous" and celebrates being able to "pour the lean for the bastards / Take the jet across the atlas" in "Red Light." Then you get to "Real Me" and hear his resolution: "I'm trying to get high as I can." As a fan of the human, you worry. As a fan of the artist, you take stock of the cool excellence of Beast Mode 2, Superfly soundtrack gems like "Georgia," and "Mo Reala" and "Boot Up" from the recent Zaytoven album Trap Holizay, and it looks like Future has hit another streak like the fruitful stretch that yielded Monster, Beast Mode, 56 Nights, and DS2. The question is… at what cost?