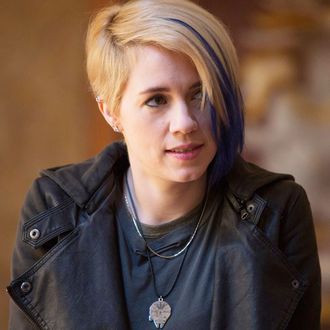 Alice Wetterlund on
Silicon Valley.
Photo: HBO
Alice Wetterlund, who played engineer Carla Walton in seasons two and three of HBO's Silicon Valley, is speaking up about her experience on the show — particularly working alongside T.J. Miller. Responding to online criticism that Miller is regularly booked on comedy shows like Kurt Braunohler and Kristen Schaal's Hot Tub and Doug Benson's podcast Doug Loves Movies despite the multiple sexual misconduct and assault allegations against him, Wetterlund tweeted about her experience working alongside Miller on Silicon Valley, which she described as "kind of a nightmare." She also called out "everyone who had any power on that (almost all male) set, including the male cast members," for enabling Miller, noting that they were "complicit in his unprofessionalism."
When asked why she decided to stay on the show, Wetterlund said she "had no idea it wasn't always toxic and weird" working on shows and called it a "learning experience."
Miller left Silicon Valley in June 2017. In December, multiple allegations were leveled against him that he punched and sexually assaulted a woman in college, sent a transphobic email to a film critic, and sexually harassed adult film star Dana DeArmond while she was working on Miller's 2012 Comedy Central stand-up series and TV movie Mash Up. This past April, Miller was arrested and charged with calling in a false bomb threat that was allegedly "motivated by a grudge" he had with the woman he accused of carrying a bomb in her bag.
Silicon Valley creator Mike Judge opened up about Miller's departure from the show earlier this year, telling The Hollywood Reporter, "There are a lot of different ways you can find out somebody doesn't want to do the show anymore … And it's not fun to work with someone who doesn't want to be there, [especially when] they're one of the main people and you've got however many crewmembers and extras and people who are [not paid as well] and they're all showing up before 7 a.m., and then are just like, 'Oh, OK, we're not shooting today.'"
Update: HBO has released a statement responding to Wetterlund's comments:
While this is the first time we have heard Alice Wetterlund comment on her experiences on Silicon Valley, we are disappointed to learn of her concerns. HBO and the producers have always taken very seriously our responsibility to create a welcoming and congenial environment for everyone who works on the show.