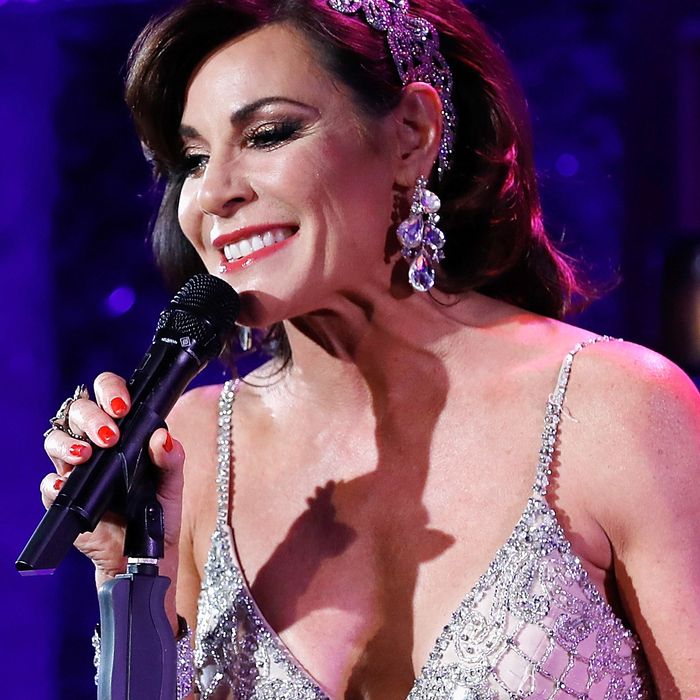 Luann de Lesseps.
Photo: John Lamparski/Getty Images
At Luann de Lesseps's cabaret show #CountessAndFriends, everyone feels like part of the extended Real Housewives universe. Some of us act like it, too: In the ladies' room at Feinstein's/54 Below, an audience member pulls out a curling iron from her expensive-looking gym bag, then commandeers one of the mirrors for a quick touch-up. It's crowded, but she takes her time to ready herself, as if for TV cameras that aren't there. But don't get it twisted: Tonight is all about the countess.
In the early hours of Christmas Eve 2017, the Real Housewives of New York City star was arrested in Palm Beach, Florida, after entering (and subsequently refusing to leave) the wrong hotel room with an unidentified man. The 53-year-old former nurse was charged with resisting arrest with violence, trespassing, and disorderly intoxication, and she agreed to a plea deal in late May. #CountessAndFriends has been hailed as her postarrest comeback tour, although her road to recovery recently got bumpier. On July 16, People reported that de Lesseps checked into rehab again. She will not attend RHONY's season-ten-reunion taping; it has yet to be announced whether her August cabaret performances scheduled in Long Island and Atlantic City will take place. "Luann loves doing the cabaret," her Housewives co-star Bethenny Frankel told People. "She's taking the necessary steps to get better so that the show can go on."
But on June 28 at Feinstein's/54 Below, there is no indication — at least not to a casual observer — that de Lesseps would soon face such difficulties. #CountessAndFriends (the hashtag is nonnegotiable) debuted right here, in the basement of Studio 54, in late February. Luann has since taken the show on the road to Los Angeles and San Francisco. Though she has three singles to her name ("Money Can't Buy You Class," "Chic, C'est la Vie," and "Girl Code"), the countess is far from a world-class singer — on a pan-Housewives musical scale of Simon van Kempen to Erika Jayne, I'd give her a five and a half — a fact that proves exhilaratingly irrelevant through the course of the evening.
I'm seated at a table with a group of three friends, women of about 30, who waste no time in introducing themselves. They'd gotten in off the wait-list (tickets have been quick to sell out), and considered pregaming at the Regency, the scene of a notorious crime among RHONY fans. The Park Avenue hotel and bar is where de Lesseps's then-fiancé Tom D'Agostino — they split last summer, after seven months of marriage — was spotted making out with another woman the day before their engagement party. (It's also frequented by ex-White House communications director Anthony Scaramucci and ex-attorney to Donald Trump Michael Cohen, if that helps paint a picture.) My tablemates take an obligatory Boomerang video of themselves toasting their flutes of sparkling wine.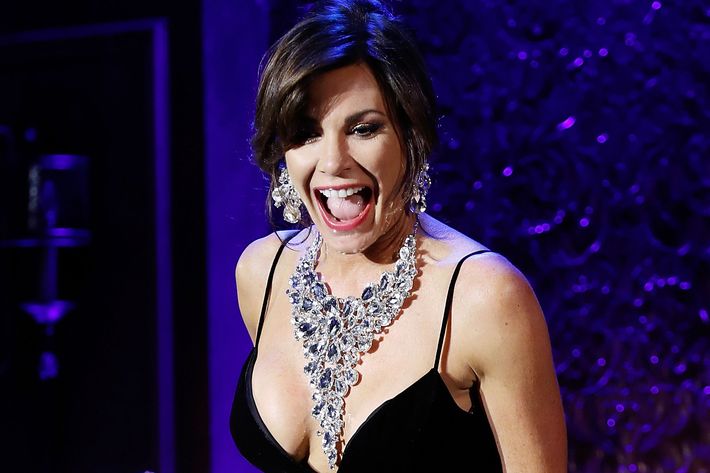 I eagerly scan the room for Bravolebrities, and seeing none, recalibrate my search parameters from "reality-TV star" to "reality-TV meteoroid." Have we seen her hunched over a laptop at Skinnygirl HQ? Did we spy him lurking in a dark corner in the back room at Beautique, with or without Dorinda? Nope. Although the other New York Housewives attended #CountessAndFriends at Feinstein's/54 Below in March — which Bravo filmed, so look forward to that — and Sonja Morgan even joined de Lesseps onstage, accidentally unraveling her wrap dress while dancing to "Money Can't Buy You Class," it seems to be a wholly ordinary crowd tonight. I find only other civilians, scrutinizing my unfamous face right back.
Eventually, I'm startled by the sight of someone I do recognize: Luann's daughter Victoria, 23, looking as willowy as her mother in a spaghetti-strap dress that, in the venue's fuchsia uplighting, appears to be a deep shade of red. She takes a seat at one of the booths lining the back wall, alongside her 21-year-old brother Noel and a man with a mane of white hair and glasses — wait, is that the count? Could it be? I try to Google a photo of Luann's ex-husband to be sure, but I don't have service. Fortunately, someone else does, and confirms that we are, in fact, in the aristocratic presence of Alexandre de Lesseps. A woman at the next table, unable to contain her excitement, leans over to us and stage-whispers, "It's the count! It's her daughter and the count!" (Weeks later, on July 12, it came to light that Alexandre, Victoria, and Noel de Lesseps have filed a lawsuit against Luann. Their suit alleges that she failed to create a trust for her children as stipulated in her divorce judgment.)
A few minutes later, a vaguely red-haired woman stops by to chat with Victoria. Her back is turned, and yet my table isn't the only one to convince ourselves that she might be iconic ex-Housewife Jill Zarin. (She is not.) "There is a Jill Zarin panic in here," the women seated across from me observes. Before the show even begins, the magic of #CountessAndFriends takes full effect. It's like viewing a familiar city through an augmented-reality lens, the kind that makes every redhead Jill Zarin, and the prospect of Aviva Drescher slamming her prosthetic leg onto a table at Le Cirque not just possible, but likely.
Luann first appears onstage 20 minutes after her 9:30 p.m. showtime, resplendent in a floor-length shimmery silver gown with a plunging neckline and black gloves nearly to her elbows. The cheers are riotous. She opens with "With a Little Help From My Friends," backed by a three-piece band with Grammy-winning composer Billy Stritch, the show's musical director, on piano. (#CountessAndFriends director Ben Rimalower, also known for his acclaimed Off-Broadway solo show Patti Issues, is a Vulture contributor.) Luann's husky voice sounds smokier in person: "Would you believe in a love at first sight? / Yes, I'm certain that it happens all the time." "It's over there," she says, pointing to the Count. I become aware that, like every one of the 150 or so people around me, I am full-on, Beatlemania screaming.
The countess plays the hits. In her case, those hits aren't songs, but winking references to the show that's the reason why we've all come (yes, she too remembers that time she fell into a bush in Mexico) and one-liners about her legal troubles (the countess won't be singing "Jailhouse Rock," she informs us early on). The silver dress is merely the first of four killer looks that she will model in her approximately 45 cumulative minutes of stage time, including a halter-neck black jumpsuit with lace panels and a rose-embroidered red gown with an Angelina Jolie–at-the-2012-Oscars leg slit, accessorized with fingerless red gloves and a matching flower in her hair. While she's changing, the #AndFriends tag in. They are uniformly excellent, even when it seems the countess isn't certain of who they are, or of which guest might come out next. Among the acts are stand-up sets by drag king Murray Hill and Catherine Cohen, a rose-throwing rendition of "Bang Bang (My Baby Shot Me Down)" by Tony winner Frances Ruffelle, and an unabashedly horny cover of "Feeling Good" by David Burnham, during which Luann remains on stage and intermittently nuzzles the Broadway actor.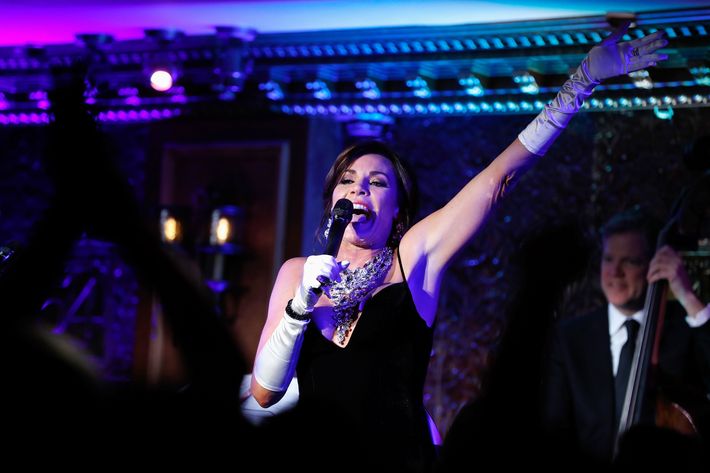 The house lights turn up for a Q&A, which quickly becomes an unofficial contest to see who traveled the farthest to see the countess. (Boston is outdone by Buffalo is outdone by Florida is outdone by Arizona is outdone by Zurich.) At the mention of D'Agostino, the crowd erupts in boos. "We've got to get video of that and send it to Tom," the countess says, plainly delighted. She is told by various fans that she looks "hot," "like a snack," and "amaaaazing." All of these descriptions are accurate. Upon request, she shares her recipe for eggs à la Francaise, which is how you pronounce "scrambled eggs" when you have a title. (Whisk your eggs, all "three, four, two, whatever" of them, with a splash of water, then cook them low and slow in butter in a saucepan, not a frying pan — that's the trick.) Fuck, Marry, Kill, co-stars edition: Sonja, Bethenny, Ramona? She'll take them in that order. "Bethenny's smart," de Lesseps explains. "She's got money!"
Not every inquiry was so well received, though. "Do they have tag lines in prison?" one woman asks. "That's a horrible question, next!" Luann responds, having apparently exhausted her patience for "Jailhouse Rock" jokes. "I don't want to be asked about prison anymore." Finally, the microphone is passed to Noel, who says that he and Victoria are "very proud" of their mother. She demands her children stand up from their seats, to the delight of all those in attendance who don't share a blood relation: "I want everybody to see you!" She needn't have worried about that.
Now in a gown dripping with pale blue iridescent sequins — and having transitioned to a grand-finale updo — the countess finishes strong with "L-O-V-E," which she once performed as a duet with the late Natalie Cole on RHONY. She leaves the stage, then turns on a high heel to return for an immediate encore of "Chic, C'est La Vie," her spoken-word 2011 release:
"Gold, diamonds, caviar / Life is but a dream / When every day you're living in is featured on TV."