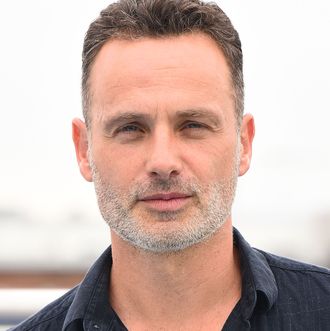 Andrew Lincoln.
Photo: Araya Diaz/WireImage
During a San Diego Comic-Con panel in Hall H Friday, Walking Dead star Andrew Lincoln confirmed that he's exiting the show. "There seems to be an elephant in the room," Lincoln told the audience, according to The Hollywood Reporter. "This will be my last season playing the part of Rick Grimes." Lincoln has played the show's starring role since its pilot. Rumors that he's leaving the show began circulating in May. (AMC reportedly offered Norman Reedus "substantial compensation" to stay.)
It's unclear how The Walking Dead will send off its leading man. "I love this show. It means everything to me. I love the people who make this show. I'm particularly fond of the people who watch this show," Lincoln said. "I'm really, really excited about this season. No one is bigger than the story, and the story this year is unbelievable." Godspeed, Andrew Lincoln! To us you are perfect.