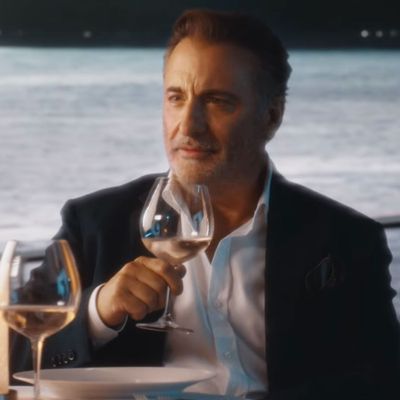 Photo: Paramount Pictures
This post originally ran after the author had seen Book Club. It has been updated to reflect her experience seeing Mamma Mia! Here We Go Again.
Every summer gets the heartthrob it deserves. Last year we had Tom Holland, Ansel Elgort, and Timothée Chalamet, bless all of their sweet, tender 20-something hearts. But now we're living in a post–"Nice for What" reality. We're like three tweets away from nuclear war and/or a presidential indictment. Kanye is dropping basically a dozen albums at once. Rihanna isn't dropping Fenty highlighter and Fenty lingerie so we could have a crush on someone born in 1996! This summer is going to require somebody with a little more … finesse. (And someone who can legally drink!) Between the blockbusters and the tentpoles, two romantic comedies have presented a summer crush for the grown and sexy set. In the words of Drake, Andy García should probably sign to Hit-Boy 'cause he's got all the hits, boy: Thanks to supporting roles in Book Club and Mamma Mia! Here We Go Again, it is the summer of thirsting after Andy García!
In Book Club, García plays Mitchell, a 60-something smooth-talking pilot sweeping Diane Keaton off her feet. But it's a very respectful, affable sort of sweeping: Diane is a widow trying to appease her helicopter kids by flying back and forth between her home in Santa Monica and their houses in Arizona. (They're in the process of begging her to move.) She happens to sit next to Mitchell on a plane, where he indulges in her flying anxiety, and laughs it off when she accidentally jumps at a loud noise and her hand ends up on his crotch. He dresses like a hip, single Big Little Lies dad, if such a thing existed: an open shirt collar, with a necklace peeking out; a few beaded bracelets just shy of Eat, Pray, Love pretension. He's a hottie, and Diane is flush! When they're exiting the plane, he sneaks a peek at her copy of Fifty Shades of Grey, the book club pick she's reading with all of her friends. When he asks about it, she blushes and stammers. "Uh … it's Moby Dick?"
Diane is jumpy and funny, and has that Diane Keaton way of talking over herself and interrupting her own sentences, which makes their eventual date extremely fun to watch. It's just a super-lush, Nancy Meyers-y time, with wine and green-screened views of the ocean. Mitchell sips his wine as Diane rambles about her first kiss, until she finally asks, "How about I tell you about my best kiss?" He grins. I gulped. "Maybe that hasn't happened yet," Mitchell says demurely. My editor, sitting next to me during a press screening, leaned over to ask me if Andy García could actually be this hot. Forget peaches, web-slingers, and the 13 Riverdales Why boys — Andy García has aged like vintage Levis, Diane Keaton's long gray bob, or "Candy" by Cameo (a.k.a. very well).
Here are things I would like to do with Andy García–as-Mitchell, in no particular order: Read a trashy YA romance on a lawn chair next to his pool (that's not an innuendo for something — I don't have access to a pool in New York, so that would be really cool and fun). Drink white wine on his pool's inflatable swan. Speed walk through his (no doubt cavernous home's) hallways, holding a Nokia 511, and flipping through leather folder full of "important papers," like Andy García-as–Terry Benedict did in the Ocean's movies. This is not an exhaustive list.
In the Mamma Mia sequel, García plays "Fernando Cienfuegos." The trailer shows him (1) dancing with Cher, and (2) lighting a tiki torch. García's daughter's Instagram shows him at the beach and posing in front of a scenic view. He's a hotel employee with a mysterious past, and lots of neck scarves. (If you learn one thing from Diane Keaton, it is the art of the neck scarf!) My tickets have been purchased, and I've already made plans to smuggle a full bottle of Chardonnay into a movie theater downtown.
Andy García gets at what's best about Book Club, a movie about having fun and getting laid: He was hot back in the '80s and then in the '90s and then again in the 2000s, but he's even hotter now in a more casual, "Yes, I actually can't wait to turn 60 and drink wine with you" way. I'm tired of group chats about young, beautiful crushes or Bachelor-style romances full of globe-trotting date nights. The best and thirstiest years of our lives aren't behind us, Book Club suggests, they're ahead of us — and couple goals can be a white-turtleneck-wearing widow and her hottie pilot boyfriend.
Update: Book Club gave us Andy García as the hot Diane Keaton–dating jetsetter. It was an Andy García snack. The Mamma Mia sequel — in which García plays Señor Cienfuegos, a dapper albeit mysterious hotel manager — is the full Andy García menu. He's running the Hotel Bella Donna, Sophie's (Amanda Seyfried) hotel, revamped in her dead mother's (Meryl Streep) memory. He putters around the grounds. He puts fresh soil in the flower pots. He lights tiki torches. He says things like, "The pleasure and privilege will be mine." (Christine Baranski utters the only logical answer to the prospect of Andy García saying the word 'pleasure' and 'mine': "Be still my beating vagina.")
Mamma Mia! Here We Go Again is the story of a mother and daughter that works as a Godfather II–stye prequel and sequel. In one truly breathtaking sequence that really makes no sense at all, Cher — Meryl Streep's mother, Amanda Seyfried's grandmother — is suddenly revealed to be Andy García's ex-lover. Grandma Cher (her character's name is "Ruby," but, honestly, whatever) locks eyes with the hotelier. Time stops. Suddenly Trump isn't president, winter is not coming, my phone isn't dying. "Mexico! 1959!" García shouts, alluding to the time of their love. (Take note: Their love story is the only suitable prequel to round out this Mamma Mia trilogy.) Cue "Fernando," fireworks, and the audience's applause. Reader: Cher has not one wrinkle on her face in this movie, and I can only assume it is because when you are loved by Andy García, you remain untouched by time!
According to the Bible, God created men so Cher would have someone to sing "Fernando" to in Mamma Mia! Here We Go Again. (I know this is true because I tweeted it.) Anyway, the point remains: This is indeed the summer of thirsting after Andy García, and Mamma Mia 2 knows it.