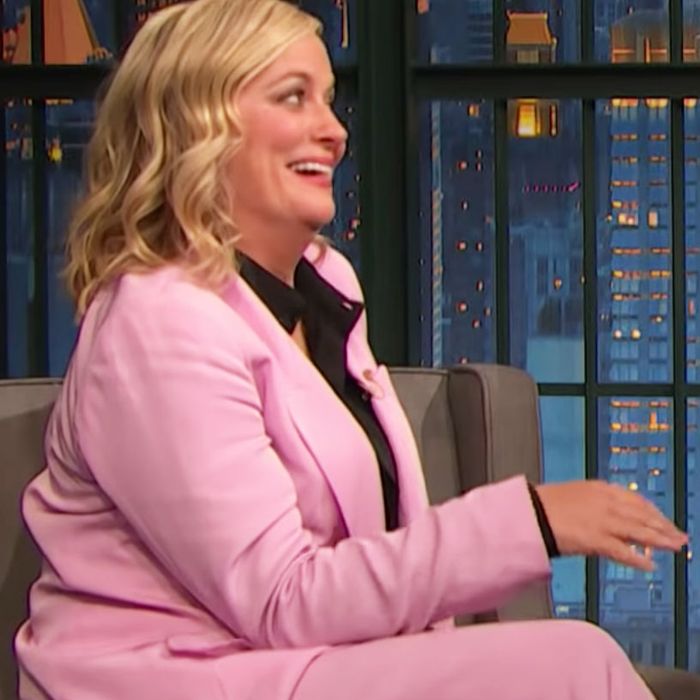 Amy Poehler and Seth Meyers on
Late Night.
Photo: NBC
In England, the various talk, game, and panel shows are lumped under one beautiful label: shiny-floor television. When I first heard the term, it lit my brain up like the slot machine in Snoop Dogg Presents the Joker's Wild. How beautiful to identify a TV format by the detail that completely separates it from the real world. Shiny floors take a lot of work. You lay down special plastic over the studio floor, then someone has to Swiffer and squeegee and generally gussy up the floor before every taping. Presumably it's a union job, and I one day hope to secure such a position for myself. Calling these shows "shiny-floor" highlights their artificiality, calling it out as an asset. We don't watch these shows for dull or dingy floors — we watch them to see celebrities fail at dancing the pachanga.
The artifice of these shows is their foundation, the shiny floor on which they are built. That works well on game shows, where the genre constraints remind us that there are rules to the competition to make everything fair. But talk shows not only need to be shiny, they need to be "real." We want to see genuine moments of connection between hot, famous people. To make a lumpy and unnecessary comparison, television is a boardwalk. Game shows are like a penny-smasher machine — you can see all the gears, see the penny get smashed, and you get a prize at the end! But a talk show is creepy and animatronic. Researchers and publicists work together to create an agenda for a conversation, then it's up to the host and star to smooth flesh over that rough armature and make it look real. Best-case scenario, it looks like Amy Poehler and Seth Meyers talking about the Thai soccer team rescue.
Amy and Seth know each other very well. And they're both trained improvisers who can do a performative conversation. Amy seems genuinely enchanted with the story, and Seth seems genuinely delighted by her enthusiasm. What's more, because he knows Poehler is not a details person, Meyers knows to ask the one thing she hasn't absorbed from the story: the number of children trapped (12). They can reminisce about how hyped she got on the Chilean miners, and segue seamlessly into Horatio Sanz's citizenship.
Sanz figured in another chummy story about off-camera hang times this week when Parker Posey floated into The Tonight Show in a turban. Posey was plugging her new book, You Are on an Airplane, and Fallon makes an appearance in the pages. "I highlighted your parts so you would know where you appear," Posey tells Fallon. "I know you're not going to read the book." Posey is pulling back the skin to show the creepy Westworld robot underneath. Fallon counters by launching into a story about Sanz requesting someone bring him spiced ham on the dance floor. Incidentally, "Spiced Ham on the Dance Floor" is an underrated Arctic Monkeys song and we shouldn't forget that.
James Corden was called out twice this week for not actually reading the books and watching the films people come on his show to promote. His former roommate Dominic Cooper put him on blast Monday for not knowing one plot detail from the Godfather II-esque Mamma Mia: Here We Go Again. Then a sketch on Wednesday highlighted the kayfabe that goes into making a nightly talk show.
Corden is forced to admit that he hasn't seen Mozart in the Jungle, or even the film David Spade is on his show to promote that very night. But what is ostensibly an audience Q&A is actually — and I know this is blowing your mind — a sketch that employs performers and writers instead of real audience members. In pro wrestling terms, it is a worked shoot, a scripted piece designed to look extemporaneous. The point of the sketch is to point out fake TV conventions, but it is itself a fake TV convention.
Both Jimmy Kimmel Live and Full Frontal exposed the genre conventions of other styles of show. Kimmel did a Hoarders parody/mini-sode, where Kimmel writer Gary Greenberg has his office of tchotchkes cleaned out. Gary seems totally unprepared for what happens. But how could Gary have missed the writers meeting when they decided to do this? Is this a true surprise? As always, great cinema asks the deeper questions.
Samantha Bee, on the other hand, used car-based comedy to try and zhuzh up America's precipitous decline into totalitarianism. Using signifiers from Comedians in Cars Getting Coffee, Carpool Karaoke, and Cash Cab, Bee and journalist Masha Gessen pointed out how much shit we're really in. Have you heard about the denaturalization task force? I Googled it because Gessen mentioned it in a car! Why hadn't I heard of it on the news? Then Jason Alexander sang songs from the public domain.
Bee's deconstruction of TV artifice was the most brutal of the week. For one thing, she pointed out that most driving scenes are actually filmed by towing a car with cameras attached to it, not by actually driving. More importantly, she pointed out that all the fun and games of shiny-floor TV might just be the last limbo contest on a sinking ship. I very much want to live in a world where I don't feel like I'm letting my rights be eroded every time I watch something dumb instead of something depressing. Maybe if the floors of newsrooms become less shiny, I can once again watch comedy that is entirely frivolous.