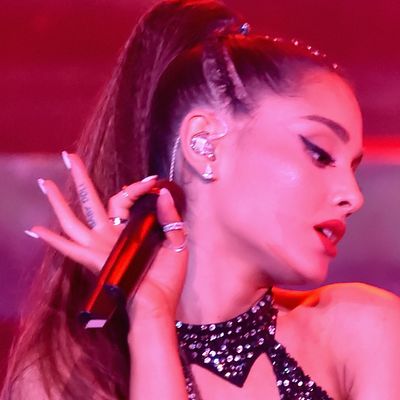 Ariana Grande.
Photo: Kevin Mazur/Getty Images for iHeartMedia
For the first time ever — and by ever, we mean the last two months — there appears to be trouble in Gravidson paradise. Some months ago, Pete Davidson made a joke about the Manchester Arena bombing at Ariana Grande's concert last May, and after staying mum since it surfaced earlier this week, the pop singer broke her silence to say that the quip wasn't funny.
According to the Mirror, Davidson decided it was a good idea to make a joke at a stand-up event last fall about the attack that killed 22 people and injured hundreds, which deeply affected Grande. Long before the couple was together, Davidson delivered a line that suggested the incident made Grande realize how famous she was because "Britney Spears didn't have a terrorist attack at her concert" — not a joke in Grande's book.
While there's been a slew of backlash over the past few days, Grande didn't address the joke until a concerned fan tweeted about it yesterday. "I don't know why she is still with Pete," the person tweeted, after which Grande decided to break her silence.
She wrote: "this has been v tough & conflicting on my heart. he uses comedy to help ppl feel better ab how f-ed up things in this world are. we all deal w trauma differently. I of course didn't find it funny. it was months ago & his intention wasn't/ is never malicious but it was unfortunate."
Whether or not the line was "taken out of context," as a source close to Davidson told People, he certainly heard Grande's message. And, if one of her latest tweets ("love u") is about it, it seems she's already forgiven him.