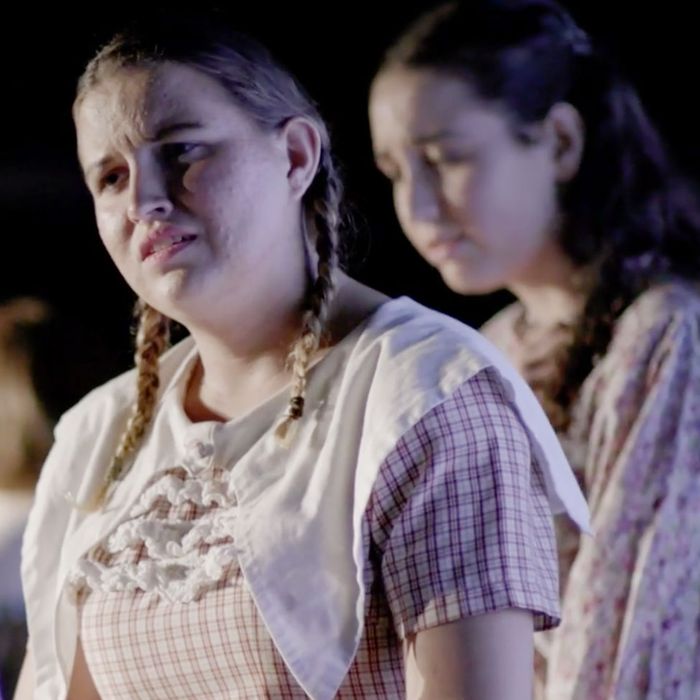 Three months after the Valentine's Day massacre at Stoneman Douglas High School in Parkland, Florida, Sawyer Garrity and four of her peers performed in a local production of Spring Awakening — a show they started rehearsing before the mass shooting that claimed 17 of their schoolmates. Their rehearsals and performances were chronicled in Awakening: After Parkland, a short documentary that premiered Monday on Topic.
A 2006 cult-hit rock musical, Spring Awakening tells the story of a group of 19th-century German teens as they navigate sex, violence, love, despair, and abusive family relationships. (Duncan Sheik and Steven Sater, who wrote the musical in response to the massacre at Columbine High School in 1999, also appear in the documentary.) After Parkland depicts what happened at Barclay Performing Arts in Boca Raton, Florida, when the lead actors of the play — Garrity and Cameron Kasky — become national figures and leading voices in the fight for gun control. Ahead of the film's premiere, Vulture spoke to Garrity and directors Darren Foster and Cristina Costantini.
Cristina and Darren, how did you get involved in this project? At what point in the rehearsal process did you begin filming?
Darren Foster: Like so many people, when the shootings happened in Parkland, we were really moved by the reaction of these kids, by their poise and their presence and how they basically captured how we all felt. By chance, Topic reached out to us after they commissioned Isaac Butler to write a piece about Sawyer and her friends doing a version of Spring Awakening. I can't remember the exact date, but we got the green light to do it in April, about two weeks before their performances. We were there for the final week of rehearsals, opening night, and their second performance. It was so well received that they actually wound up adding more performances.
So, you weren't filming when the students returned to rehearsals a couple of weeks after the shooting?
Darren Foster: We came after that. But, you know, they've been on a whirlwind. With Sawyer's song and the campaigning they have been doing, they've been very active. When we arrived, it was the first time the full cast was together again, with people missing some rehearsals for various events.
Sawyer, in the film you talk about how you auditioned for the play several weeks before the shooting. I know you've been acting in plays for a long time. Why did you want to be in this one?
Sawyer Garrity: Spring Awakening is one of my favorite shows, so that drew me in. But also, Cameron [Kasky] actually told me about it, and was like, "You should do it. It's gonna be a lot of fun, and plus, they need some girls." [Laughs.] Honestly, I just joined because it's such a fun show. It's teenagers cursing onstage and having fun and also showing actual problems that teenagers have, you know?
In the film, you also talk about how performing in the show opened the wounds you were trying to heal. How did you feel at the end of it? Did it help you or did it actually make what you were going through harder?
Garrity: I think it definitely helped to be in the routine of things. But the actual show itself, obviously, with songs like "Left Behind" and dealing with suicide and stuff like that, it does open wounds that you are trying to heal. I don't think it made it harder — if anything, it helped knowing that I was doing the show and just being who I was before everything happened.
Did you ever consider not going through with it?
Garrity: I think we all did. But in the end, we were like, "No, we have to do the show." It's all about the teenagers speaking out because adults have failed them. And that's what's happening right now.
What did you think when you learned about the documentary? Did you have any trepidation?
Garrity: At first, I was like, "Who are these strange people coming in and filming?" [Laughs.] I didn't really know what to think of it. I had been wary of the media, but once I met them, I was like, "Okay. They're, they're cool." They also told us about other work that they did, so I watched some of it. And I was like, "This is really good." It wasn't like a Jersey Shore documentary. [Laughs.]
Jonathan Groff and Lea Michele came to help you rehearse. What was that like?
Garrity: It was so cool. They're all really nice, down-to-earth people, and it was just so amazing that they actually took time out of their busy schedules and lives to come down, spend time with us, and talk to us. That night was just a really good night.
Were you able put out of your mind that you were being filmed?
Garrity: I just kind of ignored the cameras. It was less like, "Oh, I'm gonna act differently because there are cameras here," and more like, "I'm just gonna do what I do every single day, because I'm at rehearsals." It's like a job that I'm not paid for, you know?
Darren and Cristina, I was curious about your experience being there, getting to know them during this extremely tough time in their lives. What was that like?
Cristina Costantini: It was very difficult for us to navigate. We had never been through any situation like that before — coming in after the children have gone through such terrible tragedy. It was difficult as filmmakers to watch that and not want to open wounds or make them recount the most painful parts of their lives over again. Which is what the national media had been asking them to do over, and over, and over in public. So, it was a difficult thing for us. But watching the kids support one another, you could tell that they had just become such a unified unit. They had to relive some of the most painful emotions that they had gone through so recently, over and over again in rehearsal. It was incredible to see how they came together and had become a little family of their own.
I was wondering specifically about the scene in the play when Cameron's character, Melchior, is at the grave and you see the emotion bubbling up inside him. As filmmakers, you have to keep some distance and not get involved but, at the same time, you're human and you know what Cameron is going through himself.
Foster: There were definitely a few tears shed into the viewfinder during some of those rehearsals and performances. Obviously, you try to keep some distance so you can see the full picture, but it's so hard not to read into the themes of the play and how they connect with the real lives of these kids. Anyone that has a little bit of a soul is really impacted by that. I know we were. We've seen this rehearsed five times now, and it still gets us. You could attribute that to the material, but also just to the talent of these kids. Even in rehearsals, they were bringing it every day.
Sawyer, what did it mean to you that the community responded the way it did? Extra performances were added and they all sold out.
Garrity: It was so amazing to see how many people wanted to come and support us. Despite this tragedy, we still were able to come together and create a beautiful work of art. It was a little tiring after four shows. I don't think I'd be able to have handled the fifth. [Laughs.] It's just such an emotionally draining show. I don't know how they did it on Broadway where they had to do it eight times a week. Maybe it's because of where I was when we did it. It was just so raw, you know?
In the film, you talk about wanting to be a normal kid again and realizing it's not possible. How are you doing now?
Garrity: I'm good. I'm actually at a college program right now at Broadway Break Thru in Chicago. You know, there are ups and downs. Obviously, there are days where I'm not as good as other days. Creating the Shine Camp and just knowing that I'm doing things to help my community and help people try and be as happy as they can despite everything that's going on, that's what really is getting me through everything.
Tell me about the camp.
Garrity: The camp is basically four hours a day, from Monday to Thursday. We have three groups: music, drama, and art. I was there last week and I wanted to see what it was like, so I was an actual camper. We just played music and explored different ways of putting our emotions into music, like playing the drums and stuff like that. It was just so cool. There were about 25 kids, maybe a little more. All kids from our school.
Sawyer, what are you hoping people will get out of the documentary?
Garrity: I'm hoping that people will see how much art, music, and drama can help people going through something as traumatic as what happened on February 14th. And I want them to see that kids are going to make a difference. The whole show is about kids speaking up and then being themselves. And that's all that really matters, you know?
Darren and Cristina, what was the most important thing you learned from working on this project?
Costantini: It was just an honor to be there working with those kids. They're doing such an incredible thing on a national scale. I truly do believe they're gonna change the nation's laws on gun control. Being able to be around them and their energy was just a great honor for me.
Foster: I absolutely agree with Cristina. It was a real privilege to be able to tell this story. These kids are still working through a trauma that's going to take a long time to get over. And now that the media's walked away and the national spotlight has turned away, these kids are still working through it as a community. The theater is a community and it was really special to see them do this very brave thing, which is carry on with the show at a time when everybody would've been fine if they said, "No, we don't feel like doing it anymore." It was an amazing thing that they accomplished.