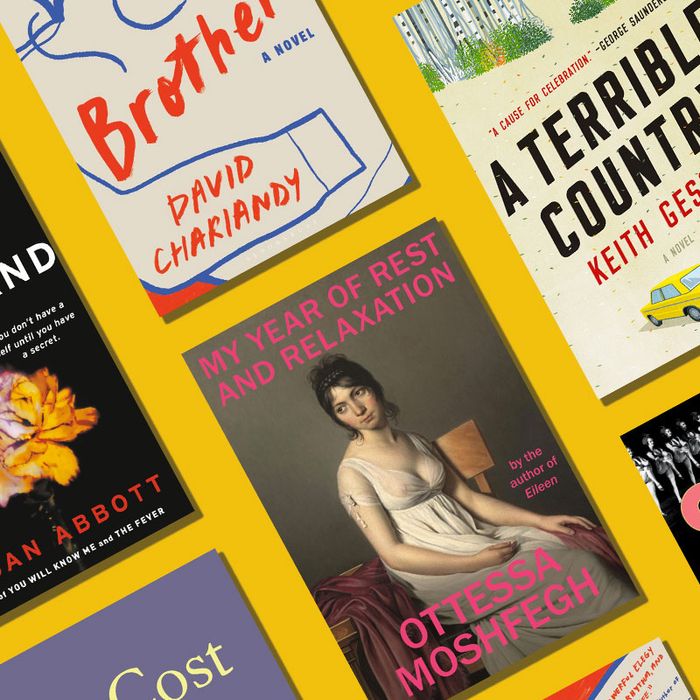 Each month, Boris Kachka offers nonfiction and fiction book recommendations. You should read as many of them as possible. See his picks from last month and next month.
City of Devils: The Two Men Who Ruled the Underworld of Old Shanghai, by Paul French (Picador, July 3)
Weimar Berlin may be getting all the attention, but as a subject of fiction and history it has nothing on interwar Shanghai, a glamorously seedy haven for refugees from political persecution or legal prosecution (and sometimes both). French's slice of history follows a rivalrous relationship between Joe Farren, a Viennese Jew turned nightclub impresario, and Jack Riley, the escaped Oklahoma convict who bankrolled him (among more nefarious activities). A tale of flash and noir demands a voice to match; fortunately, French combines the skills of a scholar with the soul of Dashiell Hammett.
My Year of Rest and Relaxation, by Ottessa Moshfegh (Penguin Press, July 10)
On the cusp of what's sure to be a dark and rancorous summer, Moshfegh, a novelist as dark as they come, rewinds past New York's darkest day, September 11, to the story of a woman greeting Y2K with a sizable inheritance and an infinite reservoir of ennui. Quitting her job and sick of her "friends," the unnamed narrator searches for the right drug cocktail to send her into months of hibernation — until she finds one that's almost too good. Moshfegh's fictional landscape is bleak, disturbing, and strangely comical: in other words, just like ours.
A Terrible Country, by Keith Gessen (Viking, July 10)
Ten years ago, Gessen's first novel, All the Sad Young Literary Men, focused on the confusions of hypereducated liberal youth emerging into Bush-era America. This follow-up, a long time coming, finds one of its characters considerably older and slightly wiser. Like Gessen himself, Andrei ends up spending time back in Russia, a nation perhaps even more totalitarian than it was when his parents fled almost three decades earlier. He falls in with a group of anti-Putin socialists — a turnabout that, eventually, indicts the values of his adopted homeland.
The Cost of Living, by Deborah Levy (Bloomsbury, July 10)
The second memoir by this increasingly celebrated British novelist (Hot Milk) hints at her master plan from the first sentence, which paraphrases Orson Welles: "If we want a happy ending, it depends on where we stop the story." Slim and spare but highly evocative and allusive, this account of a year in her life — leaving her husband, nursing her dying mother, writing the novels that will change her life — is part of an ongoing project of "working autobiography," asking and answering the question of how a woman writer should exist in the 21st century.
The Mere Wife, by Maria Dahvana Headley (MCD Books, July 17)
There might be more revisionist takes on Beowulf than there are English translations, but Headley (whose own translation comes out next year) brings the story of the hero, the monster, and the monster's mother into contemporary times with uncommon vigor and depth. Dana, a veteran with PTSD, lives with her son Gren in a cave near the suburb of Herot Hall, and an uneasy peace persists until Gren befriends the child of a town family, leaving cop Ben Woolf to sort out the good from the bad. But who is the hero and who are the monsters?
Give Me Your Hand, by Megan Abbott (Little, Brown, July 17)
No one makes better thrillers out of the relationships unique to teenage girls than Abbott. Her ninth novel follows one pair of women, Kit and Diane, far beyond high school, as they both become leading research scientists. They used to be friends, until Diane divulged a life-changing secret. They meet again a decade later in a lab, competing for a coveted slot on a team studying premenstrual dysphoric disorder. Gendered notions of emotional stability are a major theme, but this is no research paper; it's pure suspense hinging on terrifyingly real characters.
Brother, by David Chariandy (Bloomsbury, July 31)
In a time of gross American injustice, Chariandy's poignant novel of immigrant struggle plumbs prejudice and the limits of social mobility in an unexpected place. The author locates his novel in a darker corner of our supposedly enlightened neighbor to the north — Chariandy's native Toronto neighborhood of Scarborough. Wide-eyed Michael and his cynical brother, Francis, are taught by their Trinidadian mother to strive against the odds, even as her own broken state belies her cherished ideals.